While the BeeDrive's 'barely there' portable storage functionality is useful on its own, it's not unique in the market. Nor are the automated file-sync and backup apps that come with it. And yet Synology's slick software makes everything so simple that more people will likely use these features. The potentially killer capability of simply sending files and photos from a phone to PC is great. Just note that transfers are unidirectional and require Wi-Fi. And the lack of security means... don't lose it.
Pros
+

Pocktable portability

+

Simple sync, storage and backup

+

Wi-Fi transfers from mobile to PC
Cons
-

Needs Wi-Fi for core functionality

-

Not ruggedised

-

No built-in security
Why you can trust TechRadar We spend hours testing every product or service we review, so you can be sure you're buying the best. Find out more about how we test.
Synology BeeDrive: Two-minute review
In a world of commoditized personal storage, Synology's BeeDrive portable SSD offers something new. When plugging the device into a PC (USB-C cable and USB-A adapter are included), it acts like traditional USB storage, but Synology's BeeDrive online installer app appears and lets you pair the device to your PC by signing into your Synology account. You're then presented with three options: Computer Backup, File Sync and Mobile Transfer.
The former acts as expected and can automatically backup files simply by plugging it into your computer (accidentally deleted files and five previous versions can also be preserved). File Sync (one-way or two-way) is designed to ensure you have the latest versions of each file on all your PCs – it's been designed with an eye on hybrid workers who operate both at home and from an office. I've seen many similar hardware-app combos before, but the third is where Synology is focusing its attention.
The Mobile Transfer app enables you to simply send files straight to your PC over your Wi-Fi network. Choosing this option displays a QR code for downloading the mobile app via the Apple and Android app stores. Once opened, it asks you to pair your device with the BeeDrive using the same QR code.
You're then asked whether you want to back up either all or just new photos, plus which folder you'd like them stored in. If you want to simply send individual photos, you'll need to choose "Set up later", which is a little ambiguous.
Once you've followed all the prompts, you can activate a one-tap backup or use BeeDrop for more varied sharing options – there are three here. First, you can take a live photo with the app and it will immediately beam to your BeeDrive. I've not seen many apps perform this so quickly, efficiently and smoothly. You can't activate all camera functions or take videos, but you can select which of your device's cameras to use.
BeeDrop will also let you wirelessly transfer individual or multiple files and photos across to it. I saw a 350MB movie move to the PC in less than 20 seconds – a very respectable 175Mbps – but performance will obviously depend on your Wi-Fi network. This could be a game changer for content creators who hate having to tether their device and scroll through countless files before dragging and dropping the one they want. This is arguably its killer feature, but it's a shame it won't work when out and about.
Indeed, it's not perfect. You can't simply send files from your PC to your mobile device without setting up a convoluted backup/sync regimen. Also, none of the files stored on it are encrypted, meaning if you lose the BeeDrive, anyone can access everything. Perhaps we'll see a BeeDrive Pro with these features in the future?
Beyond that, BeeDrive is a regular, speedy USB-A 3.2 Gen 2 (speeds up to 1050MB/s) storage device and that's available in 1TB and 2TB variants. Both have diminutive, 65mm diameter footprints and weigh less than 50g. Ultimately, despite feeling a bit 'Gen 1,' it works well and can usefully offer features not found in competitor's portable SSDs.
Synology BeeDrive review: Price and release date
$119 / £130 / AU$279 – 1TB version
$199 / £215 / AU$429 – 2TB version
Announced on June 7, 2023
The Synology BeeDrive is available in most major markets in both 1TB and 2TB capacities. The 1TB version costs $119 / £130 / AU$279. The 2TB version costs $199 / £215 / AU$429.
These prices aren't a little dearer than other portable SSDs. Samsung's similar, speedy and more mature rivals tend to sell for around two-thirds the price. You can also find more expensive portable SSDs with data security features and ruggedisation. However, they don't have the BeeDrive's file management apps or Wi-Fi capabilities. SanDisk's rivals are similar to Samsung's and cost even less.
Alternatively, you can spend as little or as much as you want on a USB thumb drive and use third-party sync solutions.
Synology BeeDrive review: Specs
Swipe to scroll horizontally
| | |
| --- | --- |
| Capacity | 1TB / 2TB |
| Dimensions | 65mm x 65mm x 15mm |
| Weight | 43g |
| Interface | USB 3.2 Gen 2 (10Gbps) |
| Speed | Up to 1,050MB/s |
Synology BeeDrive review: Design and features
Slick, intuitive backup and sync software
Easy mobile-to-PC transfer
Core feature needs a Wi-Fi network
No security features
The BeeDrive is a cute little device that will fit comfortably into the palm of most peoples' hands. Unlike Samsung's rivals, there are no sharp edges here. However, its sub-50g lightweight nature belies its lack of robustness... you wouldn't want to drop it or step on it. By only being available in black, I also kept misplacing it in the bottom of my bag or on shadowy areas of my desk.
Installation is generally simple, but there are some caveats. The bundled BeeDrive online installer app requires an internet connection and a Synology account to install, although this does come with the benefit of always having the latest version. The other thing to note is that the software actually needs to be installed on the connect PC for the apps to work. If that sounds silly, remember that if you're wanting to sync files between home and work PCs (arguably a core selling point of the BeeDrive), few corporate IT departments will countenance this, due to both file and data-security concerns.
Still, when connected with the short USB-C cable that's included in the box (which comes with a USB-A adapter), as a straight USB storage device, the BeeDrive works as expected. It even shows up in Windows with a BeeDrive icon for quick identification.
BeeDrive's 'smart' functionality revolves around three core apps and they're mostly slick, simple and intuitive. The Computer Backup app simply involves choosing the folders you want backed up. It then facilitates this manually, or activates automatically when plugged into your PC. Up to five previous file versions can be archived in case of accidental deletion or general computer SNAFUs. You're told when the latest backup occurred and a log is available to check previous activity.
The Sync app is a little different. You can let BeeDrive create two folders, one on the BeeDrive and one on your PC, and it will keep them synchronized. You can also manually choose multiple folders to sync and (again) keep up to five previous versions of them. Plus, you can choose two-way sync or unidirectional sync – to or from the drive. You can also choose file extensions to exclude.
The Mobile Transfer app lets you send files straight to your PC over Wi-Fi. Just note, this is not a direct, device-to-device connection – both your PC and mobile device need to be on the same network. The first time you choose this option, you're presented with a QR code for downloading the mobile app for either Apple or Android. You then use the same QR code to pair your device with the BeeDrive.
Image 1 of 5
Next, you're asked whether and where you want to back up all, or only new, photos. If you want to simply send individual photos, you must choose "Set up later" here, but it's a minor niggle. You can then activate a one-tap backup or use 'BeeDrop' which has three transfer options: Files, Photos or Camera. The last option lets you take a live photo via the app which gets immediately sent to your BeeDrive. It works very quickly, efficiently and smoothly. You aren't given access to all your camera's features, though, and it won't work with video.
Still, if you hate having to tether your camera to a computer, waiting for the thumbnails to organize themselves, scrolling through potentially loads of photos before finding the one you want to drag-and-drop onto your computer, it's a killer feature. It's a shame it won't work without a Wi-Fi network.
Like I said, it's not perfect. You can't use the unidirectional file transfer without setting up a backup/sync regimen, plus there's no encryption here so you can't afford to lose the BeeDrive.
Synology BeeDrive review: Performance
USB 3.2 Gen 2 (1,050MB/S) transfer speeds
Potentially fast Wi-Fi transfer
File transfer performance to and from the BeeDrive will largely depend on your individual setup. On my Wi-Fi 6 network, my Wi-Fi 6-enabled phone transferred files at a decent 175Mbps. Only huge files might feel slow.
The USB-C 3.2 Gen 2 wired connection – which offers theoretical speeds of 1,050MB/s – managed 1,049MB/s read speeds and 730MB/s write speeds recorded by CrystalDiskMark, which is very impressive.
Still, it's worth remembering that the BeeDrive isn't really about speed: it's mainly designed to back up and sync stuff in the background, or perform casual file transfers and it does this with aplomb.
Should I buy the Synology BeeDrive?
Swipe to scroll horizontally
| Attribute | Notes | Score |
| --- | --- | --- |
| Value | More affordable competitors with similar storage do exist, but they lack the BeeDrive's file management and Wi-Fi smarts. | 3.5 / 5 |
| Design & features | The dinky design makes it oh-so-portable and transfers over Wi-Fi are largely seamless, but a lack of security features may put some people off. | 4 / 5 |
| Performance | Speedy transfers are on hand if you need them, but the background synchronization is what really impressed us here. | 5 / 5 |
Buy it if...
You want to quickly send files from a phone to a PC
If you perform this task regularly, you'll know how stupidly annoying and laggy it can be. Two-tap sending will be most welcome to many users
You want a small, pocketable device
The pleasing soft-edged shape of the 65mm-diameter BeeDrive means that it's not only nice to hold, it won't be uncomfortable in your pocket either.
You want simple backup and sync tools
The BeeDrive app is intuitive, slick and simple to use. It's quick to set up and, after that, the tools are all simple to configure and use.
Don't buy it if...
You just want cheap, portable storage
When judged as USB storage only, the BeeDrive is expensive. You're paying the premium for the apps and speed that come with it.
You want a rugged device
The problem with being light and portable is that the BeeDrive is less robust than rival devices. You wouldn't want to drop it or step on it.
You want security
It might be fair to expect a premium storage device to offer some form of password protection for important files. However, its lack of encryption means that if you lose the BeeDrive, anyone can access your data.
Also consider
If you're not quite sold on the Synology BeeDrive, below are a few other options to consider.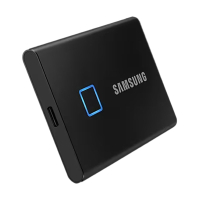 Samsung T7 Touch
Samsung's well-received portable USB SSDs have been impressing people for some years. The latest T7 Touch has a fingerprint reader and 256-bit AES security that adds a powerful layer of protection to your valuable data.
Read our Samsung T7 Touch review.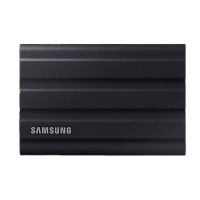 Samsung T7 Shield
If you want rugged, the T7 Shield is Samsung's tank-like alternative. It's got a full-aluminium body and is covered in rubber for additional toughness. It's got a 3m drop rating and an IP65-rating for water and dust protection.
Read our Samsung T7 Shield review.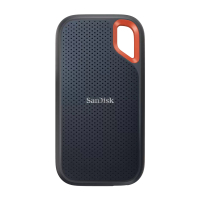 SanDisk Extreme Portable SSD
SanDisk's competitor offers 2m drop protection and IP55-water and dust ingress protection. It's only half the speed of the BeeDrive, but it's been in the market long enough for the price to be significantly lower. It also has a useful carry-loop.
Read our SanDisk Extreme Portable SSD review.
[First reviewed August 2023]