60 second review
The Samsung T7 Shield is an external rugged SSD (opens in new tab) and is the third member of the T7 family, after the T7 and the T7 Touch (opens in new tab) launched in 2020; a long hiatus. The latter left a lasting impression on us because it brought a feature that was never available at this price point - a fingerprint reader. The T7 Shield does the opposite; it brings a fairly common feature at a higher price point without bothering with anything else. Yes it is a bit more rugged and yes, its performance is decent without being exceptional. Same for the 3-year warranty. Other than the brand behind it, there's not many compelling reasons why one should buy the T7 Shield when a plethora of viable alternatives exist.
Samsung T7 Shield: Pricing and availability
The T7 Shield (opens in new tab) is available in black, blue and beige and in 1TB and 2TB capacities for $159.99 (£134.79/around AU$224) and $289.99 (£250.99/around AU$406) respectively; there's no 500GB or 4TB models.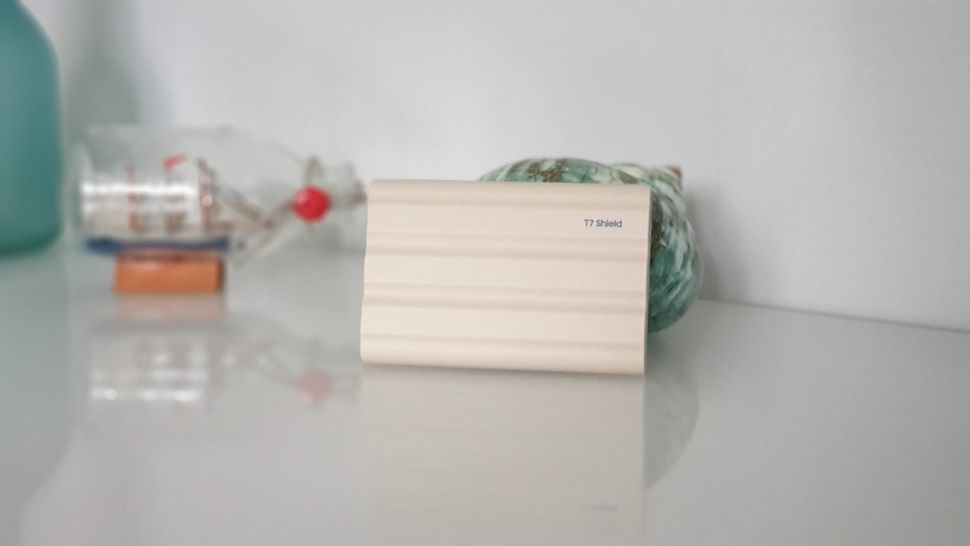 Samsung T7 Shield: Design
Following in the footsteps of the T5, the T7 and the T7 Touch, the T7 Shield adopts the same form factor as its predecessors sticking to a full metal aluminum body (great for conductivity) and covered with rubber for toughness. Samsung's latest external SSD has an IP65 rating (rather than an IP68 one) and can withstand falls of up to 3m. At less than 100g and measuring 88 x 59 x 13mm, it is very portable just like its forebears and sticks to the same overall shape.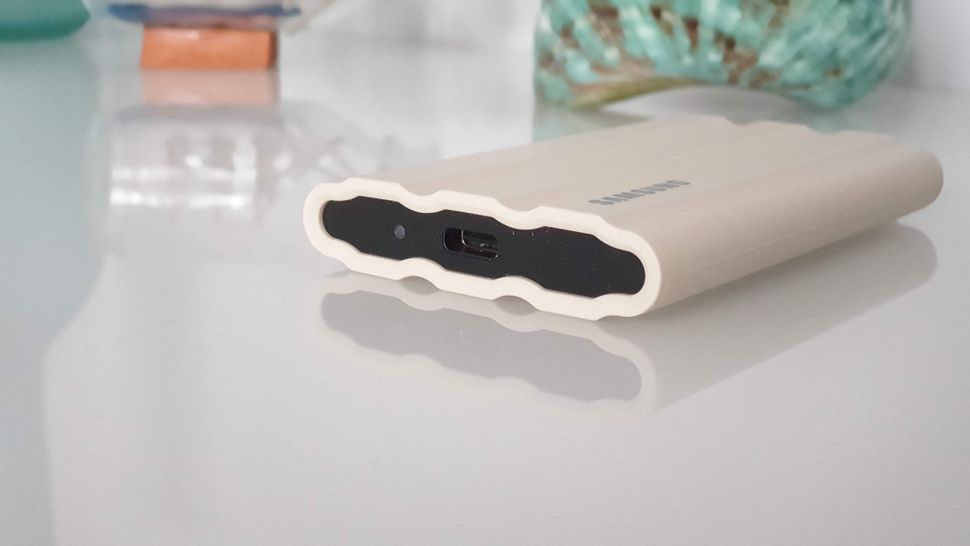 Other than the Type-C connector (USB 3.2 Gen2), there's hardly anything worth mentioning.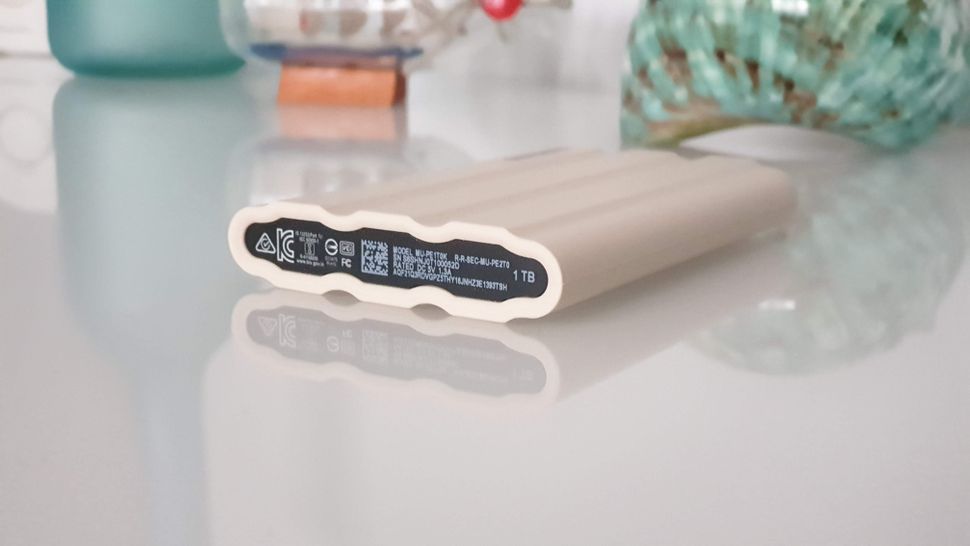 Samsung T7 Shield: Hardware
We didn't pry open the T7 Shield but a spokesperson for the brand confirmed that the T7 Shield uses the same core components (NAND and controller) as the T7 and the T7 Touch, launched nearly 18 months ago. That means the likely use of a 92-layer TLC fifth-generation V-NAND (not the sixth-generation, 136-layer one). Samsung confirmed that the T7 Shield is using the sixth-generation of Samsung V-NAND, 128-layer one with a Samsung-sourced DRAMLess NVMe controller. So, in terms of architecture, T7 Shield has better than T7.
The T7 Shield pack contains two cables, one with a Type-A connector and the other with a Type-C one. The latter allows the external SSD to easily plug into a mobile device like a tablet or a smartphone.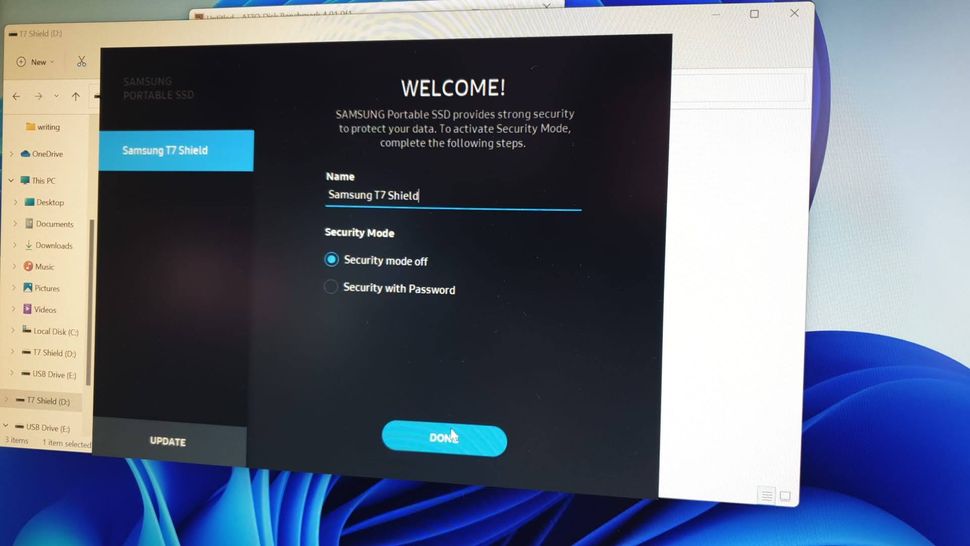 Samsung T7 Shield: Performance
Benchmarks
Here's how the Samsung T7 Shield performed in our suite of benchmark tests:
CrystalDiskMark: 970MBps (read); 944MBps (write)
Atto: 928MBps (read, 256mb); 881MBps (write, 256mb)
AS SSD: 864MBps (seq read); 833MBps (seq write)
AJA: 827MBps (read); 812Mbps (write)
Bundled with the T7 Shield are two software applications: Magician, which is a SSD storage utility, that helps keep the device in shape and Portable SSD, which allows the user to password protect (and therefore lock) the contents of the portable SSD (opens in new tab). Could these two have been combined? Absolutely. Given that Samsung bundles Microsoft OneDrive (opens in new tab) with all its recent Galaxy smartphones (opens in new tab), we'd like to see such a cloud storage (opens in new tab) deal for the T7 Shield to allow data backup in the cloud.
Samsung claims that the T7 Shield can reach up to 1.05GBps and 1GBps respectively on read and write speeds which is in line with the T7 Touch (opens in new tab). In our synthetic benchmark tests, reads ranged from 827 to 970MBps while write speeds ranged from 812 to 944MBps. In our 10GB real life file transfer, it averaged 477.3MBps which is about 20% slower than the Kingston XS2000.
Should I buy the Samsung T7 Shield?
Buy it if:
You want the peace of mind associated with a premium brand. The T7 Shield is more expensive than most of the competition and we believe that the T7 Touch, despite its lack of IP rating, may be a better choice. If you want added protection, just get a silicone bumper.
Don't buy it if:
You want the best value for money for an external rugged SSD. The T7 Shield is bang average when it comes to how it ranks against the competition. Others are either cheaper for the same performance or faster and costing the same.
Also consider
The Sandisk Extreme Portable SSD (opens in new tab) matches the T7 Shield when it comes to performance and capacity. It comprehensively undercuts it when it comes to sheer value for money. It is significantly larger and its flashy orange color may not be to everybody's taste but we do appreciate the carabiner and the fact that there's a 4TB model as well.
The SE800 by Adata (opens in new tab) is one of the most underrated external SSD around. It is a full waterproof model (IP68 vs IP65 for the T7 Shield) and undercuts all its rivals when it comes to value for money with a price that routinely flirts with $100 for its 1TB. It is no slouch as well with a USB 3.2 Gen 2 connector; its only weakness is the lack of large capacities (no 2TB or 4TB).
The Kingston XS2000 (opens in new tab) has an IP55-rating but comes with a longer warranty, a cheaper price tag and is much faster than the T7 Shield with the added benefit of being getting a speed boost if you have a compatible USB3.2 Gen2x2 system.
First reviewed April 2022