The best Electronic Medical Record (EMR) software makes it simple and easy to manage patient records by providing a secure platform to access charts, prescriptions, medical history, and lab results.
Additionally, more and more EMR software also provides a direct self-service portal for patients to access important information, such as the results of a recent blood test, without having to call the practice to find out. A patient portal can also be used to request prescription refills, which then via e-prescribing will be transmitteds directly to a pharmacy. Some will also have a telemedicine software feature for remote patient encounters.
Sometimes both the terms EMR and EHR (Electronic Health Record) software and EHR (Electronic Health Record) software are used interchangeably, but some vendors specify that EMR software is aimed at a single practice and focuses on the clinical aspects, while EHR is more for multiple practices and offices as it has an EMR but includes practice management, and business revenue aspects. Otherwise, in many ways they are very similar and cover broadly the same functions.
The best EMR software will also integrate with existing medical practice management software being used, making administration and management of patient records work seamlessly with overall patient administration. It will also have medical billing software features built in, to ensure prompt payment for treatment from the patient or their insurance company.
Here we'll feature the best EMR software currently on the market.
We've also featured the best medical transcription services.
---
Epic EMR is a robust piece of software aimed at hospitals where different specialist teams will need to have easy access to patient records. There are various screens and workflows for patient care, which extend into specialty and ancillary care. There are also billing and health insurance management options, and Epic EMR also comes with the ability to work across multiple health providers, especially community health settings.
It's a very comprehensive solution that works with a lot of data, which is both a pro and a con. By trying to do so much, users can run into problems if the platform hasn't been properly configured and customized. This is especially the case where workflows need to be shared between teams. It can also store so many data points that sometimes it can be difficult to find exactly what is needed.
All in all, Epic EMR is a solid piece of software that does what it needs to in various specialist ways, offering a wide range of options, while running from the cloud with mobile-friendly interfaces for both iOS and Android. The key to getting the most out of the software is ensuring that workflows and templates are optimized for the practice it needs to run in, which requires am investment in time to get things dialed in. Once completed, working with it should be easy, painless, and rewarding.
Read our full Epic EMR review.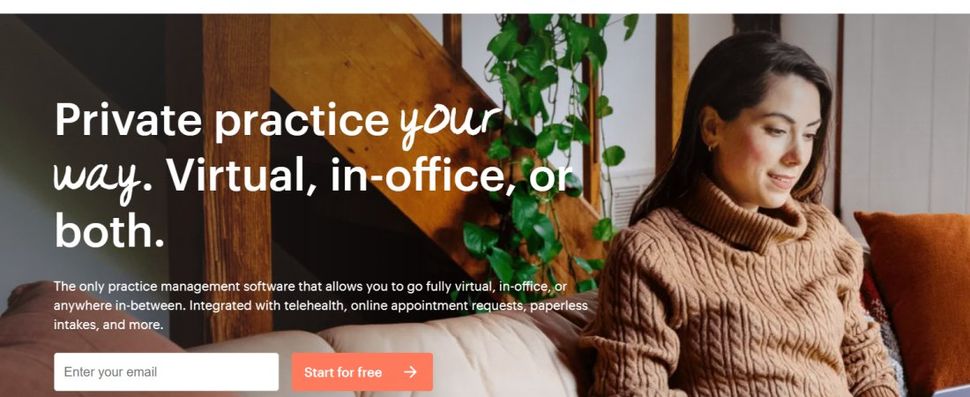 The SimplePractice EMR offers a powerful package, complete with mobile apps and upfront pricing. SimplePractice does not try to be everything to all, but rather focuses on offering a rounded feature set well suited especially to behavioral practice models.
We like the pluses such as transparent pricing, the choice of tiers, the integrated telehealth, and the app support. There are some minuses, including the highest tier required to have more than a single practitioner, the single direct support option, and that some medical specialists will not find this EMR focused at all on their needs.
Overall, balancing the two, it is hard to argue with a free 30-day trial, making this a viable option to see if SimplePractice works for your practice's needs.
Read our full SimplePractice review.

athenahealth was started back in 1997. At the center of their services is a cloud-based electronic medical record service, known as athenaClinicals. There is also an emphasis on networking for both exchange of patient information, and benchmarking of outcomes.
There is also support for a patient portal, as well as scheduling of patient appointments. Through this portal, patients can schedule their appointments, get access to practice forms, and pay their co-pays online. This then integrates with the automated messaging tool, that then sends out automated reminders to patients for their appointments, and bills.
Alerts are also messaged for test results that the patient can access in the patient portal. This level of automation is ideal for reducing staff time, and appeals to younger patients that are more likely to engage via this type of experience.
Athenahealth offers a robust platform with many useful features. It focuses more on the physician practice market than on larger institutions, with useful features for e-prescribing with PDMP, clinic note writing and accounting. On balance, athenahealth offers a comprehensive solution to both the clinical, and the business side of a physician practice.
Read our full athenahealth review.

The WebPT EMR software offers a general cloud platform that's easy to use and can be used on the go and not just from the office. It's HIPAA compliant for security and aims to make medicare compliance as simple as possible, not least through the use of an 8-minute rule that allows billing and forms to be amended.
Unlike other EMR's, WebPT's offering is "designed by therapists for therapists" so it has a more focused set of templates and workflows to work specifically within this specialty. That means intuitive SOAP notes, referral tracking, and custom evaluation profiles, as well as outcome measurement tools and scoring for evidence-based tests.
On top of reports and analytics, WebPT EMR also includes appointment reminders and document scanning, which are nice little time-savers.
As may be expected with a cloud platform, this software is easy to use and navigate and accessibility is good. It's not difficult to use and has far less of a learning curve than most other platforms, making it easy to train-up other staff members to use it.
Read our full WebPT EMR review.

AdvancedMD is a suite of cloud-based software services for medical practices, covering practice management, EHR, patient engagement, and medical billing. Everything runs through a central dashboard, so there's easy availability of reporting and analytics. Additional features include personal telemedicine, appointment reminders, ePrescribing and EPCS, as well as patient surveys to help build up your clinic's reputation. We also like the direct phone support, along with the options for self help support, including videos and webinars.
Read our full AdvancedMD review.

Kareo is targeted toward smaller practices, which means that although it still offers a wide range of features, you don't end up paying for advanced and complex ones you will never use or need. Deployment is easy as it's a cloud-based service optimized for mobile devices, and the software offers appointments and record, billing and sales, as well as built-in analytics. It's also one of the more affordable options on the market, especially considering the support for telemedicine.
Read our full Kareo review.

inSync EMR is a cloud-based platform that aims to cover all the usual bases you'd expect with EMR software, while also providing support for general practice and billing management, as well as a patient portal.
Where inSync comes into its own is their approach to working toward multiple health sectors, providing templates and workflow intended to be optimized for them. Even still, there are customization and configuration options available to ensure it's working to its full potential.
This flexibility comes at a price, however, in that implementation may require something of a steep learning curve. Support from inSync has two tiers, which doesn't help matters, with the first being connected to sales and development to ensure initial deployment, but then overseas call centers for continued customer support which may not be so easy to work with. However, once everything has been set up and customized as required, the system should be smooth, reliable, and easy to work with.
Overall, a solid and heavy-duty approach that aims to appeal to the widest range of health sectors, while delivering on both core and customized options to work with each of them. The main hurdle may be deployment and support training, but if you can properly plan for that before going live the experience should be relatively painless.

Ultra Charts from American Medical Software is an EMR solution that manages patient records, appointments, prescriptions, billing, and a patient portal. It's fully integrated and certified, and is available either via the cloud or downloadable on-premises software.
Where AMS Ultra Charts really comes into its own is two areas: ease of use, and support. It does exactly what it needs to, with EMR records seamlessly integrated into a billing and management system that works easily with insurance companies. There are also customized templates available to work across the health sector.
While inevitably there is some learning curve in using new software, AMS are known for having a strong support ethic and will usually go out of their way to walk users through the system.
Overall, AMS Ultra Charts is focused on just being easy to use while getting the job done, and if any problems come up in doing so it's usually easy to get the support you need.
Read our full AMS Ultra Charts review.
---
More EMR software options
Why you can trust TechRadar We spend hours testing every product or service we review, so you can be sure you're buying the best. Find out more about how we test.
The boundary between EMR and EHR (Electronic Health Record) software has become increasingly blurred, with the terms becoming effectively interchangeable. While we've featured companies and services that are primarily branded around EMR, here we'll list other companies to consider that normally promote themselves as EHR solutions, not least because they will cover a lot of the same services:
CareCloud Charts is built to be simple and easy to use, no matter the size of the practice. It comes with all the standard features you'd expect in a EMR/EHR platform, but the software is also flexible, allowing you to customize a number of options and features for improved ease of use and efficiency. Pricing is based on the level of support required rather than a flat fee, which can make it especially attractive to experienced professionals.
Open EMR is an alternative EMR platform and the most popular open source EMR out there. ONC certified, Open EMR contains a raft of features you'd expect with a EMR/EHR solution, but also comes with lab integration, clinical decision rules, and multilingual support for 30 different languages. Being open source it's free to download and use, and like most similar projects there's a dedicated support community.
iPatientCare EHR is one of the few to offer both cloud and on premise deployments for those that want that flexibility. Practices will also benefit that it has been certified for meaningful use. Users are also sure to like the high degree of customization built in, in particular specialists. Finally, the patient portal is well done with automatic patient reminders, and secure messaging to patients.
We've also featured the best dental practice management software.
---
Which Electronic Medical Record software is best for you?
When deciding which Electronic Medical Record software to use, first consider what your actual needs are, as the cheapest options may only provide basic features, so if you need to use advanced tools you may find a more expensive platform is better suited to you. Additionally, higher-end software can usually cater for every need, so do ensure you have a good idea of which features you think you may require from your EMR platform.
How we tested the best Electronic Medical Record software
To test for the best Electronic Medical Record software we first set up an account with the relevant platform, then we tested the service to see how the software could be used for different purposes and in different situations. The aim was to push each EMR platform to see how useful its basic tools were and also how easy it was to get to grips with any more advanced tools.
Read more on how we test, rate, and review products on TechRadar.