When you download a file on the internet, it usually comes from a single, central server. However, this can be a slow method of file sharing when many people desire access to the file at the same time. It's why torrenting services - the peer-to-peer file-sharing protocol that solves this issue - has garnered so much popularity over the years.
Here, you shares distinct parts of the file with all those trying to download it, and then each person downloads directly from each other until everyone has the whole file.
Torrenting is often used to share movies, TV, music, and games - it's legally ambiguous at best. Some industry trade groups have attempted to sue users, ISPs, and file-sharing sites for the infringement of copyright. So, many users want to hide their torrenting activities, which is why they use a virtual private network (VPN).
So how do torrenting VPNs help, and will a freebie do the job? That's what we're here to explain.
See also: high on quality and value - the best cheap VPNs
Without a VPN, people can see what you're torrenting
Some torrenting clients, such as BitTorrent, have built-in encryption. But if you use public trackers, it's still possible to identify when and what you've been torrenting. Sites like I Know What You Download (opens in new tab) highlight how easy it is to track what you've been sharing.
Your ISP and other people snooping on your connection can tell if you're torrenting because of how the traffic looks. Many ISPs automatically throttle connections that have torrent traffic, slowing your internet to a crawl. Also, if the authorities compel them to, your ISP can hand over records showing the times that you've been torrenting files.
Why is a VPN useful for torrenting?
Using a VPN when you torrent files can help protect your identity. Since all your traffic will be routed through a VPN server when you connect to other people on the torrenting network, they won't see your true IP address - only the one of the VPN server.
Plus, all your traffic will be encrypted, so it would be quite difficult for anyone to see what you're doing with your internet connection.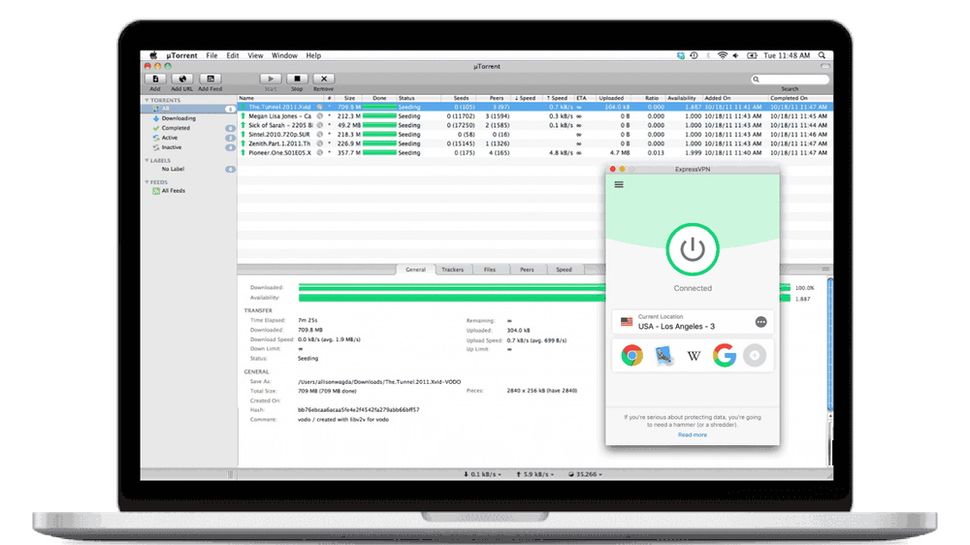 (opens in new tab)
Can I use a free VPN for torrenting?
Yes, a free VPN can be used for torrenting, but there are many caveats.
Free downloads pretty much always have usage restrictions (with ProtonVPN being a rare exception (opens in new tab)) and many don't allow torrenting at all. Others have such strict bandwidth restrictions that they're almost impossible to use for torrenting movies, games, music and TV shows.
For example, Windscribe's free plan supports torrenting, but its anonymous plan is restricted to 2GB per month. While TunnelBear also allows you to torrent on its free plan and has excellent security, but the bandwidth allowance is a paltry 500GB.
Is it worth getting a free VPN for torrenting?
If you need to torrent more than a few small files per month, a free virtual private network won't offer enough bandwidth to be useful. Going for a low-cost VPN for torrenting would be a much better solution, keeping your internet activities solely your own business.
Read more: