Making use of a VPN almost always cuts your internet speeds, which is no real surprise given all that encryption overhead.
Speedify aims to fight this by sharing your internet traffic across any available connections: Ethernet, a tethered mobile, Wi-Fi and more, up to ten in total. If one connection type is slow, Speedify seamlessly moves some of your traffic to another, maximizing your bandwidth. All this happens in the background, entirely transparent to your applications, which carry on working just as they always did (except faster, hopefully).
You don't need multiple connections to use the service, it works just fine with one – although obviously in this case, you won't get the same channel bonding advantages. However, the company still claims its other connection technologies could help improve speeds.
Speedify has its own custom protocol, for instance (no OpenVPN or WireGuard support here), using the efficient ChaCha cipher to get fast results on even the oldest of devices, or AES128-GCM on devices where there's hardware support.
(If you're looking for the full technical detail, Speedify is based on DTLS 1.2 using TLS_ECDHE_ECDSA_WITH_AES_128_GCM_SHA256, if hardware-supported, or TLS_ECDHE_ECDSA_WITH_CHACHA20_POLY1305_SHA256 for older devices.)
Yes, it's 'only' AES-128, but that doesn't mean your coffeeshop browsing is suddenly at risk. AES-GCM is more secure than the AES-CBC used by many VPNs, and a 128-bit key gives you plenty of protection. See the Speedify support site for more, or check out Private Internet Access' more complete GGCM vs CBC explanation.
Speedify provides clients for Windows, Mac, Linux, iOS and Android. This keeps setup relatively easy, and decent ratings on both app stores (3.8 on Google Play, an impressive 4.7 on iTunes) suggest the apps are doing something right.
As Speedify uses a proprietary protocol, though, there's no way to manually set it up on other platforms. You can only use it through the official apps.
The network is a little small at 500+ servers - some providers have thousands - but they're well distributed over 60 locations and 34 countries.
Features include the ability to set your VPN DNS to several popular services: Cloudflare, AdGuard, OpenDNS, Google DNS and more.
Support for DNS over HTTPS may allow you to get connected in more places, even if they're actively blocking VPNs.
New features include an experimental Streaming Mode which automatically identifies and prioritizes audio and video streams, reducing the chance that they'll be affected by downloads, browsing and anything else you're doing.
Elsewhere, a revamped interface simplifies access to Speedify's many features and presents more detailed connection statistics. Layouts are optimized for devices with smaller screens, though, keeping clutter to a minimum.
Support is available if you need it, but the support website is weak (the Using Speedify section has articles on such technical topics as following the company on Twitter and buying new products as its store) and there's no live chat. You can fire off emails as required, though, and we've generally received helpful replies within an hour or two.
Plans and prices
Speedify offers a free plan, which apparently limits you to 2GB of data a month and use on a single device. We say 'apparently' because although it says that on the website, and it's the allowance we saw on a mobile device, a Windows setup claimed we had 5GB available.
Whatever the real figure, it's dropped from the old allowance of 10GB. That's a pity, but we're not going to complain as it's still more generous than most. You don't have to register, hand over your email address or anything else, and the app doesn't have any restrictions, so the free plan is an ideal way to test the service basics (is it fast enough for you, can it unblock site x, and so on.)
Upgrading to the Individual plan gets you unlimited data and support for use on up to 5 devices.
Prices are reasonable at $9.99 billed monthly, $5.99 if you pay for a year up-front, $3.99 for two years, or $2.99 if you sign up for three.
That makes for a low headline figure, but if price is a priority, you can find cheaper deals elsewhere. Private Internet Access' annual plan is just $3.33 a month, for instance; Surfshark charges $2.49 for the first term of its two-year plan (though it doubles after that); ZenMate's $1.64-a-month three-year plan costs less than a year of Speedify ($59 vs $71.88.)
Speedify has a potentially more interesting option in its Family plan. This enables up to 5 people to use it on up to 5 devices each, yet it still costs just $14.95 billed monthly. This falls to $8.95 on the annual plan, $6 over two years, $4.50 over three. If you need five accounts, that's a spectacular $0.90 per month per user.
Businesses might benefit from a Teams plan. This supports adding as many users as you need at $9.99 each billed monthly, $5.99 on the annual plan, and throws in enterprise-friendly features such as centralized management, CLI and API access, and the option to purchase a dedicated VPN server for $75 a month.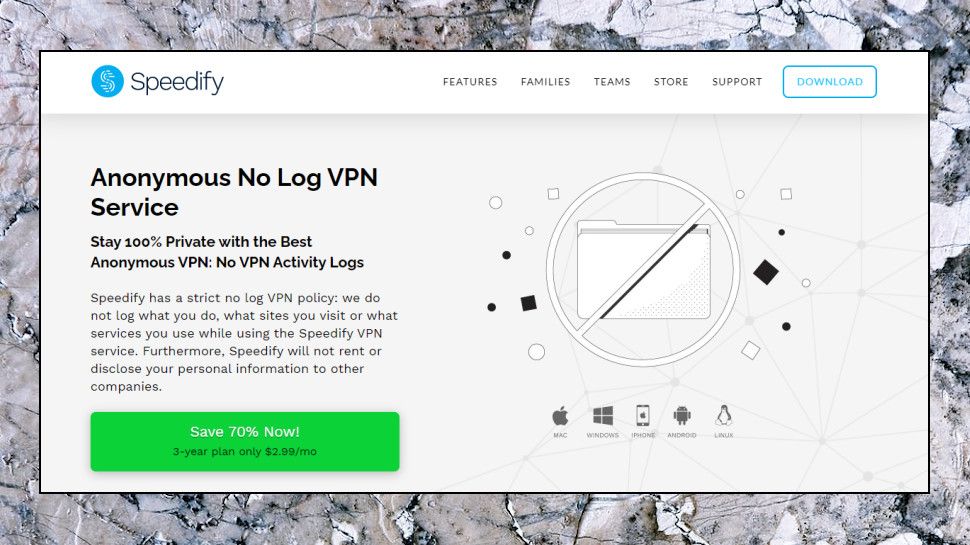 Privacy and logging
The Speedify privacy policy is far clearer and more specific than most of the competition, going into great detail on what it collects, and what it doesn't.
The good news is that the company claims it doesn't keep a history of the sites you visit, or the content of the data you send or receive.
The bad news is that there's some session logging, including the wi-fi SSID of your network, your public IP address, your device ID, the time you connected, the amount of data transferred and the length of the session.
That could be enough to identify your approximate location and generate a unique identifier for your device, allowing it to be recognized next time. It's a little more logging than we would normally expect, but is necessary to manage Speedify's free plan. (The company needs to track the data you use, and the device where you're using it, to keep you to the 2GB per device limit.)
While this isn't necessarily a problem, we're left to take it on trust that this is all Speedify does. Other VPNs are increasingly putting themselves through independent audits - TunnelBear now has its apps, website and infrastructure audited every year - to confirm that they're living up to their promises, and we'd like to see Speedify follow suit.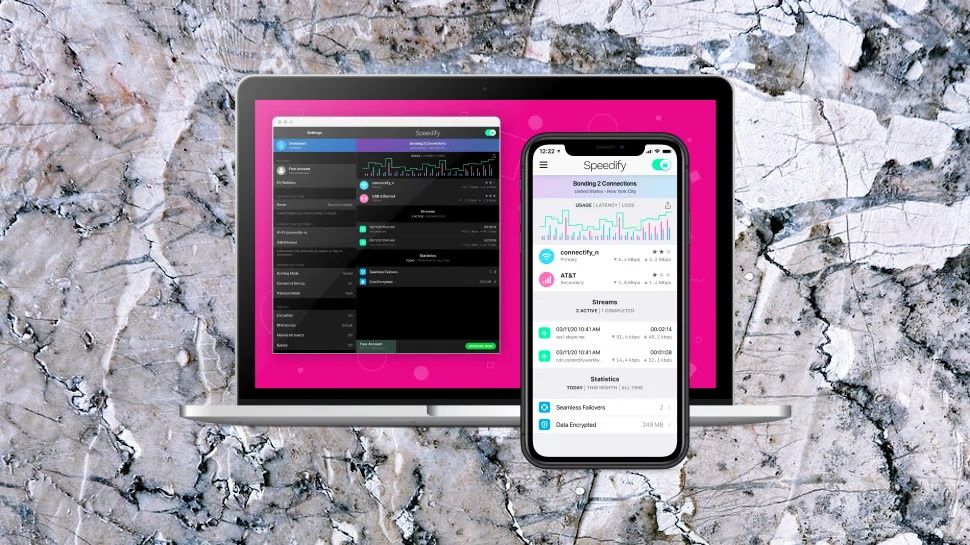 Apps
Trying Speedify is simple and hassle-free, especially if you're sampling the free plan. The Downloads page presents you with links to the Windows, Mac, Linux, Android and iOS apps; we grabbed the Windows client, ran the installer, and it set itself up fully in a matter of seconds. An opening screen explained that we had 5GB of data for free (the website says you get 2GB, but we weren't complaining), and once we dismissed that, the program automatically connected to a local UK server, and we were online.
Our client automatically identified and used our Ethernet and wi-fi connections. It displayed icons for both network interfaces, along with assorted connection stats including the total amount of data transferred, and the peak download and upload speeds. You can drill down into the data even more, if you like, and view the stats for today, this month or over the lifetime of your account. This works as advertised, but we're not sure it has much practical value or justifies the space it takes up in the interface.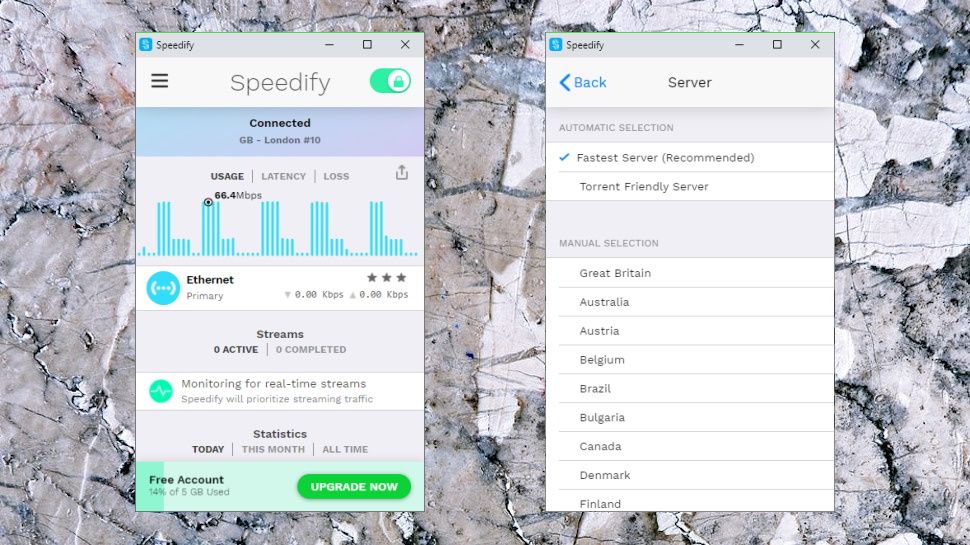 A Server panel includes options to choose the fastest server, the best server for torrents, or manually select your preferred country from the full list of 34. This is easy to use, but aside from the ability to choose locations and servers within a country, it's very short on features: there's no server load figures, no ping times, no Favorites system, no search box, no 'Recent connections' list or anything else.
The client becomes significantly more complicated in the Settings box, which is stuffed with technical features.
Bonding Mode defines how your internet connections are managed, for instance. The default Streaming mode optimizes traffic for, well, streaming. Speed mode focuses on performance only, while Redundant mode sends all traffic across all available connections to improve reliability, though at the cost of significantly higher data use.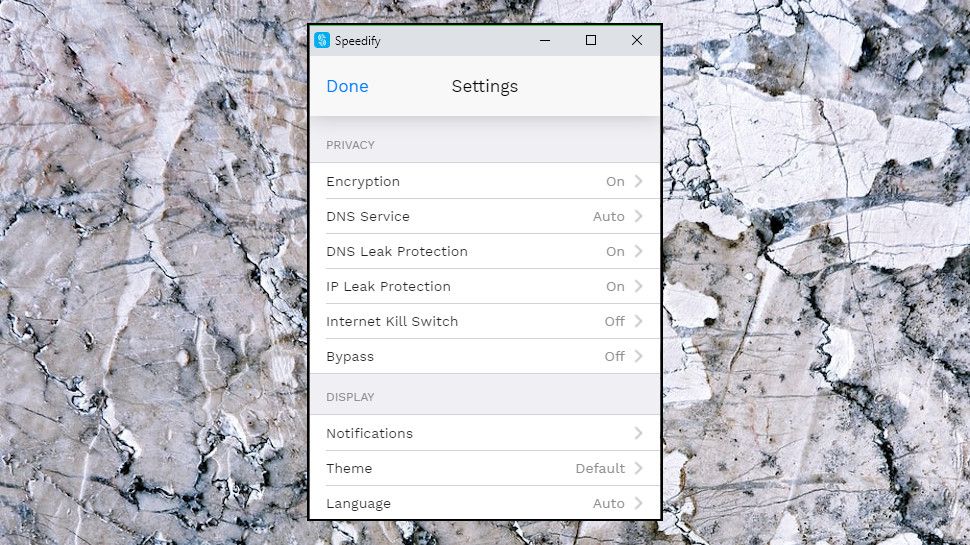 A long list of settings begins with simple on/off switches for the most basic features, such as Connect at Startup, Transport Mode (UDP, TCP or automatic), Internet Kill Switch and DNS Leak Protection.
The client gives you the option of using several external DNS services, too: Google, Cloudflare, OpenDNS and AdGuard, and there's a Custom option where you can specify whatever IP addresses you need.
Speedify's most important options cover its rules for connection handling. By default, the system uses Wi-Fi whenever it's available, for example, but you can tell it to use other connection types first, or only to use Wi-Fi when other connections are unavailable. It's possible to set daily or monthly limits, handy for metered connections, or you can even disable Wi-Fi support altogether – it's your call.
We tried Speedify's channel bonding feature using both Wi-Fi to a local router and a tethered mobile, but didn't see any conclusive performance improvement. We're not going to draw any conclusions from that, though, because results may vary drastically depending on your connections, devices, networks, internet speeds and how you configure Speedify's app. There's no substitute for trying it yourself to see how the technology performs on your local setup. (As we mentioned, you get 5GB traffic for free, no registration required, so this it easy to do.)
Channel bonding did deliver on its reliability promises, though - we streamed a video, turned our router off, and our movie carried on playing, without a glitch.
The client isn't quite as intuitive as most VPN apps. The main interface is crammed with not-so-essential data (your fastest upload speed of the day), but doesn't always show you the name of the currently selected location, so you won't necessarily know what you'll get if you hit Connect. There are one or two small usability issues, too, in particular the lack of any desktop notifications to let you know when it connects or disconnects.
Overall, though, the client does a decent job, especially considering it must implement the extra complexities of Speedify's channel bonding, and you'll find your way around its interface within a very few minutes.
The client has some capable functionality under the hood, too. We tried stress-testing its kill switch by manually closing TCP connections, for instance, to simulate a connection drop, but the client wasn't concerned. It automatically reconnected in a second or two, and our real IP address was never exposed to the outside world.
There's an interesting bonus feature in the bundled SpeedifyCLI, a cross-platform tool which allows you to initiate, control and monitor VPN connections from the command line or your own scripts.
While that's mostly for experts, there are a few occasions where it could be handy for anyone.
You could set up a quick batch file to connect to the VPN before launching a particular app, for instance. How about a scheduled task to connect, or disconnect, at particular time of day? Or you could automatically change VPN settings to suit different apps. It's all very flexible, and you can read more in the SpeedifyCLI manual (see SpeedifyCLI.pdf in the app folder, C:\Program Files (x86)\Speedify on Windows.)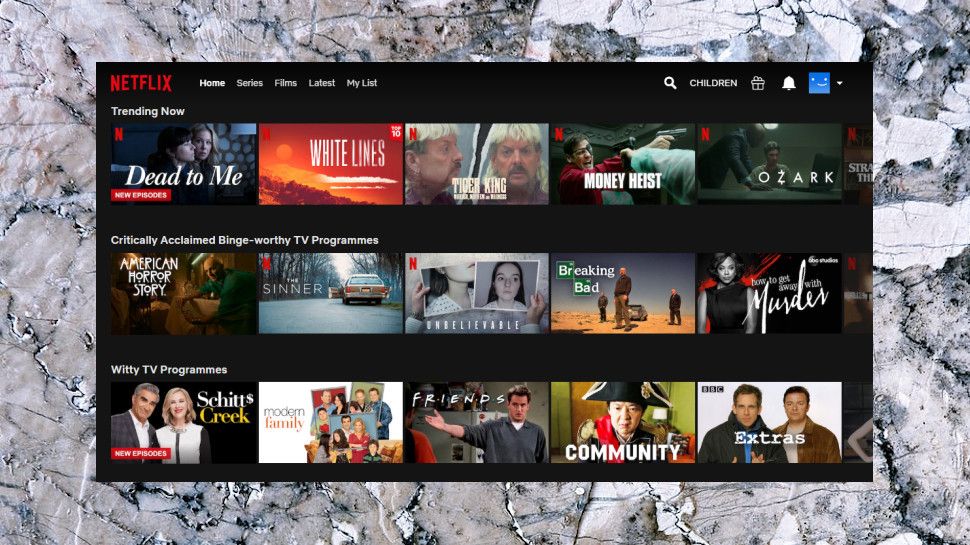 Netflix
Speedify claims that it allows you to 'watch region-locked content from back home while traveling.'
Dig into the support site, though, and you'll find a 'Does Speedify work with Netflix?' article which explicitly says 'Speedify will not give you capabilities to access other Netflix countries or unblock Disney+, HBO, and Hulu.'
The company isn't kidding, either. Its apps now have a Streaming Bypass feature which enables connecting directly to Netflix, Disney+, HBO and Hulu, rather than going through the tunnel, to stop you being blocked.
Maybe it would work, anyway, we thought, optimistically? Nope: we tried Netflix, Disney+ and (as Speedify didn't mention it) Amazon Prime Video, but all three services detected and blocked our VPN.
There was one success with BBC iPlayer, though, a better result than we saw in our last review. And although Speedify performed poorly with the best defended platforms, we had no issues accessing targets with less protection, including YouTube.
If you need to unblock a service we've not mentioned, then, there's at least a chance Speedify will be able to help. And of course, the company doesn't expect you to hand over any cash to find out: just download and install the app, and use the free plan to try and access whatever site you like.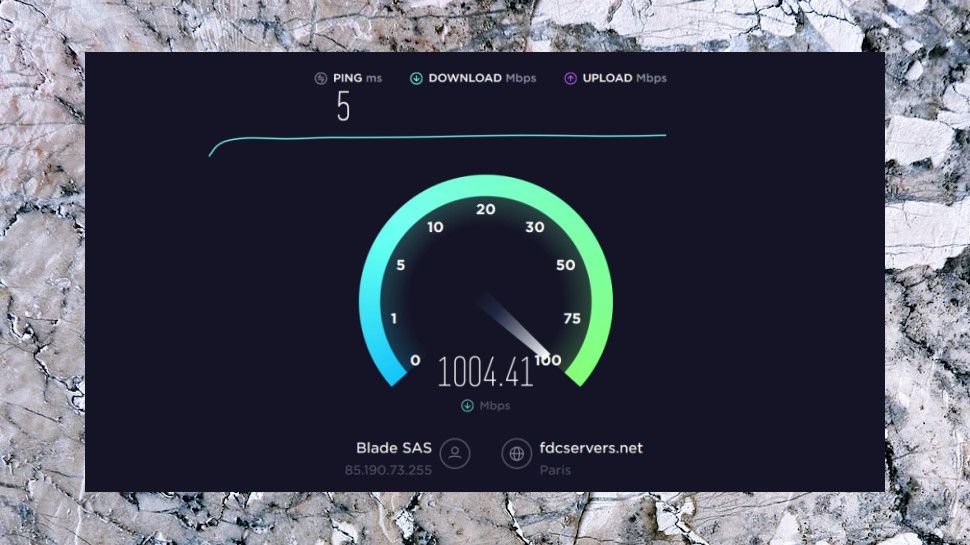 Performance
In our tests, Speedify's performance from the UK was good, with the service typically giving us 68-70Mbps, as much as we could expect from a 75Mbps test connection.
To find out just how fast Speedify could go, we next tried it from the US via a 600Mbps connection. And the results were excellent, with median speeds reaching 250-325Mbps.
Some VPNs don't reach 100Mbps, most are somewhere between 100-200Mbps, so Speedify clearly tramples all over the bulk of the competition, performance-wise.
If speed is your top priority, there are some very capable contenders. NordVPN's NordLynx protocol peaked at more than 380Mbps in a recent UK test, for instance, and performance champion Hotspot Shield beat 400Mbps in one session.
Speedify is clearly up there with the best, though, and keep in mind we weren't using its channel bonding feature during our speed tests. If your device can access multiple high-speed connections at the same time, you might see even faster results.
Final verdict
Speedify's channel bonding didn't make a noticeable speed difference to us, but when single connections are faster than just about anyone else, it's hard to care. The 2GB per month is appealing too, and the family plan is great value, but Speedify's poor unblocking performance could be an issue for some.
Also check out our complete list of the best VPN services