The Chromebook 11 is available in two color options. Dell is selling the black version at $249 (£170, AU$320), with the blue version commanding a $10 (£7, AU$13) premium. Both versions start with 2GB of RAM and a 720p HD non-touch display.
Here's how the unit sent to TechRadar for review was configured.
Read more: Dell Inspiron Chromebook 14 2-in-1
Spec sheet
Processor: 2.6GHz dual-core Intel Celeron Bay Trail-M N2840
Graphics: Intel HD for Intel Celeron processors
Memory: 4GB RAM (DDR3L, 1,600Mhz)
Storage: 16GB SSD
Screen: 11.6-inch HD, 1366 x 768 touchscreen
Camera: 720p webcam
Wireless: Bluetooth 4.0; 802.11ac (B/G/N), dual-band Wi-Fi
Ports: HDMI 1.4, 1x USB 3.0, 1x USB 2.0, memory card reader, secondary memory card reader with lock, 3.5mm combo jack
Battery: Three-cell
OS: Chrome OS
If you can afford the $70 (£47, AU$90) premium, the touchscreen version of the Chromebook 11 starts at $329 (£210, AU$380) and provides a future-proof computing experience, especially if you're looking to hang on to the Chromebook for several years. Google is starting to port Android apps to Chrome OS, and a touchscreen makes that experience better than using a keyboard and trackpad.
Additionally, a touchscreen can also help increase classroom collaboration. By laying the screen flat with the barrel hinge, students can tap on the touchscreen to share, collaborate, and interact with their content.
Performance
While the dual-core Celeron Bay Trail-M processor doesn't quite have the raw performance of the Intel Broadwell chip inside this year's Google Chromebook Pixel ($999, £799, AU$1,277), performance on the Dell Chromebook 11 is extremely smooth.
Given that most computing activity on a Chromebook will be done through the cloud rather than on the device - and that most Chromebook users won't be running heavy video editing programs anyways - "downgrading" to an Atom-based processor on the Dell model brings a lot of value for the performance.
In real-world use, performance of the Chromebook 11 is similar to the Toshiba Chromebook 2. Both models share the same processor, RAM and screen resolution, but the Toshiba model comes with a larger 13-inch display.
I had about 15 tabs running in three different browser windows without any slow downs on the Chromebook 11. The Chromebook 11 is fast, responsive, and exhibited no delays.
The Intel Celeron chipset's performance seems better than the ARM CPU on the competing Acer Chromebook 13, which runs on Nvidia's Tegra K1 processor, and exhibited slightly diminished performance when tested by TechRadar.
Multimedia
Unfortunately, lacking the in-plane switching (IPS) screen technology of the Toshiba Chromebook 2's display, the Chromebook 11 has narrower viewing angles. The 180-degree hinge design mitigates this somewhat as it allows students to still have peer-to-peer collaboration when the screen is laid flat.
In my testing, I found that even though the screen is adequately bright indoors with a 200-nit rating, I struggled with the display outdoors as the screen was too dim, even at full brightness.
Surprisingly, audio produced by the stereo speakers came out loud and clear. In fact, at the loudest volume, audio produced by the Chromebook 11 could fill a small room.
When watching YouTube review videos, instructional TED Talk videos, and streaming music on Pandora, I preferred to keep the volume between 50% and 80%. I found that there is slight distortion at volumes higher than 80%, and at that level the audio lacked fullness.
Battery life
With a stated battery life of 10 hours, the Chromebook delivers an all-day computing experience. For classroom use, this means that teachers won't need to recharge Chromebooks between classes or in the middle of lessons, and students won't need to find power outlets when using the Chromebook 11.
In real-world use, with screen brightness set to around 60%, the Chromebook 11 lasted for just over eight hours on a single charge. In my testing, I surfed the web, managed my emails, watched a few marketing videos on YouTube, edited documents in Google Docs and Google Sheets, checked the news on Feedly and performed Google search in the Chrome browser.
Eight hours is enough to get through a full school day, but students who carry their own Chromebook 11 likely will need to charge the Chromebook at some point during the day if they intend on using the netbook after-school for homework or other extracurricular functions.
Collaboration and communication
Dell has created a useful way to use technology to foster classroom engagement. The Dell activity light is a tool that encourages participation and communication.
For students who may be too timid to raise their hands or speak up in class, the activity light alerts instructors when a student wants to join a discussion or has a question. Students can tap or click the appropriate icon on the accompanying app on the Chromebook, and a corresponding light will appear on the lid to alert the instructor.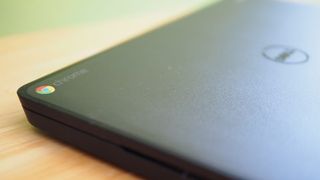 A blue light means the student wants to participate. A red light indicates that a student has a question. And finally, a yellow light alerts the instructor that the student may need more time or may not have understood the materials presented.
Chromebook management
To manage the Chromebook 11, Dell offers an easy enterprise mobility management solution through its KACE program. School IT administrators can use the Dell KACE K1000 Systems Management Appliance as a comprehensive systems management solution to inventory Chromebooks.
Dell also sells a $1,899 (£1,280, AU$2,450) mobile computing cart that can store up to 30 devices at a single time. The cart, when used inside a classroom environment, allows teachers to securely lock up the Chromebooks for safe storage. Additionally, the cart is also a charging hub, allowing educators to quickly charge up to 30 Chromebook 11 laptops overnight.
The value of running Chrome OS on the Chromebook 11 is that it requires very little maintenance. Unlike using Windows systems that require constant OS updates, antivirus software, and a powerful CPU and GPU to handle computing tasks, the Chromebook 11 is a physical device that connects to the cloud to do heavy lifting.
Students just need to sign into the Chromebook 11 with their Google ID and Google will keep Chrome OS constantly updated in the background. As users are mainly running web apps, not much computing power is needed as long as the school has a robust wireless connection.