Minis Forum Mars MC560: 30-second review
Minis Forum Mars MC560 Specs
Here is the Minis Forum Mars MC560 configuration sent to TechRadar for review:
CPU: AMD Ryzen 5 5625U (6 cores, 12 threads)
Graphics: AMD Radeon Graphics
RAM: 16 DDR4 RAM (Expandable to 64GB)
Storage: 512 GB PCIe Gen 3 NVMe SSD
Ports: 1x USB 3.2 Gen 2 Type-C, 2x USB 3.2 Gen 2 Type-A, 1x HDMI, 1x universal audio jack, 1GbE RJ45 Ethernet port
Connectivity: Intel Wi-Fi 6E + Bluetooth v5.2
Audio: 2x DMIC, 2x Speakers (3W)
Camera: QHD Camera ×1 (5MP:2592*1944, HDR@30fps)
Size: 105 x 67.88 x 152.5 mm (W x D x H)
OS installed: Licensed Windows 11 Pro.
Accessories: Adapter 19V/3.42A
Most machines built to the Intel NUC standard are small squat boxes that are designed to be bolted to the back of a monitor and typically aren't seen.
The Minis Forum Mars MC560 doesn't follow the typical form factor, even if it uses a NUC-sized mainboard and an AMD mobile chipset.
What Minis Forum designers did was put this NUC on its side, gave it some vertical stature and mounted a camera on the top, and inside put microphones and speakers.
Therefore, this NUC isn't intended to be hidden behind a monitor. Instead, it was designed to sit on the edge of a desk and provide an easy means to use Zoom, Teams or whatever your streaming flavour.
To facilitate that, it comes with a powerful AMD Ryzen 5 5625U (6 cores, 12 threads), 16GB or 32GB of DDR4 and 512GB of NVMe storage and Windows 11 Pro pre-installed.
This is more than enough power for typical office tasks, even those that need some computing horsepower, and it even has some light gaming potential.
Monitors can be connected via HDMI or USB-C, other peripherals by USB-A and USB-C, and it can be networked using WiFi 6E, Bluetooth or 1GbE Ethernet LAN.
The only significant downsides to this special design are that it can't be mounted to a monitor, and the case won't allow the user to access the inside for repair or upgrades. It also has a curious stand that tilts the unit to achieve a better viewing angle for the monitor.
Beyond those negative points, this is a well-specified design that comes at an affordable price point for those that want a simple office system with the functionality for streaming sessions.
Minis Forum Mars MC560: Price and availability
How much does it cost? $319/£339/¥49,580
When is it out? It is starting to be available now
Where can you get it? Direct from Minis Forum
Unlike many mini PC system makers, Minis Forum sells its products directly through its website, alongside Amazon and other online retailers. But at the time of writing, the new MC560 appears to be exclusive to the maker's website.
The 16GB model is $319 in the USA and £339 in the UK, with availability covering Europe and Asia. The other available SKU is a 32GB model with the same 512GB of storage, costing an extra $40 or £40 more than the 16GB model.
Given the specification, the price is remarkably competitive, especially considering that this design negates the need to buy a webcam, microphone and speakers.
Minis Forum Mars MC560: Design
Upright
Tilting mechanism
Zero internal access
As mini systems go, the MC560 is large, standing over 15cm high with a monolithic aspect ratio. The logic of this layout is to mount the inbuilt webcam high up in the chassis while keeping all the ports low down on the right side and rear.
The right side (facing) has two USB ports, one each of Type-A and Type-C, along with a 3.5mm audio jack. The rear has another USB 3.2 Gen 2 Type-A port, HDMI, a 1GbE LAN port and the pin-barrel power inlet.
The machine comes with a laptop PSU rated for 19V at 3.42A, and it can take voltages from 100-240V for global use.
Construction is primarily white plastic with a thin aluminium grill that wraps the sides and front, although colling air is pulled through slots on the back and ejected out of the top.
The designers of this device must have realised early on that having a webcam pointing horizontally 14cm from the desktop wasn't an ideal placement. The solution was to enable the camera to tilt to provide a more pleasing view of the user.
The obvious fix would be to mount the camera on an adjustable pivot, but alas, they didn't do that plan. Instead, they added a fold-out foot to the underside of the MC560 that leans the whole device back about 10 degrees.
Is that the right angle? We hope so because it's not any more adjustable if you need more or less than that. This small foot makes the MC560 less stable, so it wasn't the best choice.
But having a limited camera angle isn't the worst aspect of this design. Another choice Minis Forum made could be a deal breaker for many.
According to the MC560 FAQ, this machine isn't offered as 'Barebones', because "The MC560 needs to be assembled in a dust-free room since it has a camera."
What that statement fails to convey is that there is no way inside this NUC to replace a part or enhance the memory/storage.
The statement also makes zero sense. It should be relatively easy to have the camera assembled into a module in a dust-free area and then mounted onto the MC560 once it is sealed from dust.
Had that approach been taken, they might have put that assembly on a swivel to achieve tilted more than a 10% tilt without making the whole machine imitate the Leaning Tower of Pizza.
That you can't access the memory or storage internally is a significant irritation, and it assumes that the owner will never want more than the 16GB of RAM and 512GB of NVMe storage that Minis Forum includes.
Minis Forum Mars MC560: Features
Powerful CPU with six cores
Radeon GPU
Camera and microphones
The AMD Ryzen 5 mobile series is a good choice, as it offers plenty of computing power. And it's relatively power efficient, so it doesn't require excessive fan cooling to keep it from overheating.
This "Barceló" generation chip is fabricated by TSMC at 7nm and has six Zen 3 CPU cores that can hyperthread to process up to 12 simultaneous code streams.
From a computing perspective, this is a very effective platform and more than able to handle whatever Excel and Access might reasonably throw at it.
If this design has a weakness, it's the Radeon Graphics GPU, which is on par with the Intel UHD graphics, not the newer Intel Iris Xe silicon.
What the MC560 offers that aren't typically included with other Mini PC solutions is a 5MP Camera capable of capturing images up to 2592 x1944 resolution in HDR. That's a still image resolution, and it only captures video up to 1080p (1920 x 1080) at 30fps. That's a slightly odd still image resolution, but it's acceptable for typical streaming requirements.
Hidden behind the grill near the camera are two microphones that make a reasonable stab at detecting sound made in front of the PC. However, what's slightly odd about the microphone array is that it seems curiously selective about what it hears.
While testing, we recorded some 1080p video in which we loudly clicked our fingers and then spoke. And the speech was captured, but not the clicking sounds.
Some processing of the audio was evident, but there are no controls on how this is applied. The only controls are the volume of recording and any boost applied.
With the audio jack or Bluetooth, you could you an alternative audio source with the MC560's camera if the inbuilt microphone isn't good enough for your needs.
Minis Forum Mars MC560: Performance
Quicker at multithreaded tasks
Mediocre SDD
Not ideal for graphics tasks
Benchmarks
Here's how the Minis Forum Mars MC560 scored in our suite of benchmark tests:
3DMark Wild Life:6388; Fire Strike: 2979; Time Spy: 1178;
Cinebench R23 CPU pts: 1347 (single-core); 6639 (multi-core)
GeekBench 5: 1440 (single-core); 6436 (multi-core), 14161 (OpenCL)
CrystalDiskMark: Sequential Read: 2472MB/s; Sequential Write: 1958 MB/s
PCMark 10 (Office Test): 5720
Windows Experience Index: 8.1
AMD did an excellent job with the Ryzen 5 mobile silicon, and for those that need computing punch, this machine is at least as good as Core i5-11320H from Intel. That's the same chip appearing in similarly priced NUCs like the Beelink SEi11 Pro.
Having six cores and twelve threads provides lots of flexibility when running multiple applications and generally avoids the system bogging down under duress.
How well this works is well represented by the PCMark10 score, which has only been beaten by mini systems built around the Ryzen 7735HS and CoreT i7-1360P.
These numbers might have been even better had Minis Forum used an even better SSD than the one they included. A read speed of around 2500MB/s and write of 2000MB/s isn't spectacular. What's mildly annoying about this aspect is that because the owner can't easily get access inside, the amount of storage or its performance can't be addressed with an upgrade.
While the computing engine here is excellent, the other weakness revealed in these scores is the GPU. The AMD Radeon Graphics delivers about half the speed we've seen from Intel Iris XE (EU96), and only about 40% of that AMD offers with the newer Radeon 680M GPU seen on the new Ryzen 7735HS. The integrated GPU on this chip isn't well balanced with the processing side of the design, and as such, this isn't a mini PC that anyone would want for even occasional gaming.
If you don't play games, model in 3D or render video, then this system is powerful and responsive for most applications.
The MC560 is something of a mixed bag. The platform is an excellent performer and highly responsive, the port selection is workable, and it has an inbuilt camera, microphones and speakers. However, the lack of upgrade options and the very inelegant approach to angling the camera take some of the shine off this system.
However, given the asking price, we would still consider this good value for money without the camera and speakers.
We hope Minis Forum makes an MC570 with user access to the M.2 slot and a pivoting camera top because this design could be very popular with those that stream often.
Minis Forum Mars MC560: Report card
Swipe to scroll horizontally
| | | |
| --- | --- | --- |
| Value | Lots of technology is compressed into a small package. | 4 / 5 |
| Design | The design is innovative, but the tilting mechanism and the lack of upgrades undermine what could have been a great system. | 3 / 5 |
| Features | A powerful processor, plenty of RAM, an acceptable amount of storage, a webcam, microphones and speakers. | 4 / 5 |
| Performance | Wonderful for computing tasks but less exciting for graphics problems. The CPU and GPU sides of this equation aren't balanced.PU | 3 / 5 |
| Total | A nice concept undermined by the lack of user upgrades and a curious GPU choice made by AMD. | 3.5 / 5 |
Should you buy a Minis Forum Mars MC560?
Buy it if...
You need a small system for streaming
The inclusion of a camera could be a budget saving when all is considered. The MC560 isn't expensive, and you get plenty for that low asking price.
Better performance is needed
The six cores and twelve threads Ryzen 5 processor in this machine is a beast, even with a 15W power envelope. With the amount of RAM it has and the NVMe drive, this machine can blitz through most office tasks with ease.
Don't buy it if...
You need graphics power
The integrated Radeon IGU in this machine isn't very powerful and not suitable for gaming or CAD work. If you need graphics performance, then avoid this NUC.
You like upgrades
Because of the camera, allegedly, there is no user access to the inside of the MC560, locking the memory and storage at the purchase specifications. As the Ryzen 5 processor will address more RAM, and the M.2 slot could accept a much larger NVMe drive, this is a disappointing aspect of this design.
Also consider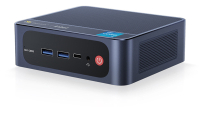 Beelink SEi11 Pro
A similar platform to the later SEi12, the SEi11 Pro uses the Core i5-11320H processor, reducing the cost to less than $350. It's fully upgradable and is in a more conventional enclosure that is designed to be mounted on a monitor.
Check out our Beelink SEi11 Pro review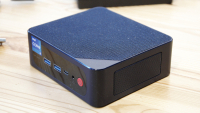 Beelink SEi12
More money than the MC560, this Intel-based design has Iris Xe Graphics that make it perform better when visuals are required. Access to the inside is awkward, but you can get inside and make upgrades, and it has an M.2 Gen 4 slot and dual HDMI.
Check out our Beelink SEi12 review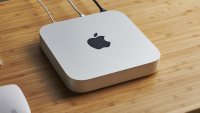 Apple Mac Mini M1 (2020)
For those that like Apple products, the Mac Mini M1 is effectively the only choice in its mini PC category. At nearly $700, you pay for that privilege, as expected. This machine can't be upgraded, and a replacement was due this year but has so far failed to materialise.
Read our full Apple Mac Mini M1 (2020) review