Not as cheap as the Beelink U59, but with enough horsepower to make many full desktop towers seem clumsy. The SEi11 Pro delivers lots of power for the desktop user that needs to crunch numbers all day long but in a highly portable package.
Pros
+

Core i5 laptop CPU

+

Iris Xe Graphics

+

NVMe and SATA storage
Cons
-

Mediocre SSD

-

Lacks Thunderbolt
Why you can trust TechRadar We spend hours testing every product or service we review, so you can be sure you're buying the best. Find out more about how we test.
Beelink SEi11 Pro Mini PC: Two minute review
Since Intel created its NUC (Next Unit of Computing) specifications, we've seen many variations on the theme of desktop PCs squeezed into a tiny enclosure.
Beelink SEi11 Pro Mini PC uses laptop silicon and a custom motherboard to deliver a tiny and highly portable computer that can do all the tasks that a regular desktop machine might be expected to do.
What's refreshing about this model is that instead of using a low-power processor, like a Celeron or Pentium Sliver, it offers the full four-core and eight-thread power of a Core i5 processor. With plenty of memory and an NVMe main drive, the result is a highly responsive machine that runs like something much larger.
The main limitation of this device is that it can't take PCIe-slotted cards, negating the possibility of a discrete GPU.
But, it can have the RAM expanded to 64GB, and with an M.2 NVMe slot and a 2.5-inch SATA bay, the amount of internal storage can be substantial.
Multiple USB 3.2 Gen 2 ports also allow the attachment of plenty of external storage or other high-bandwidth peripherals.
Dual HDMI ports allow the SEi11 Pro to drive two monitors, each up to 4K, and the system can network via a gigabit Ethernet port or via an internal WiFi 6 wireless network adapter.
The machine comes pre-installed with a clean version of Windows 11 Pro ready for use and a few useful accessories. These include a mounting plate to fix it to the back of a monitor for an all-in-one experience and short HDMI cables to make it a neat installation
The asking price is more than some Mini PC options, but it is reasonable considering the specification of the CPU and GPU and the expansion potential of this design.
Overall, as Mini PCs go, the SEi11 Pro is significantly less compromised than the majority of NUC designs and can deliver a comparable experience to a medium-specification desktop solution.
Beelink SEi11 Pro Mini PC: Price and availability
How much does it cost? Starting at $489 / £487 / € 558
When is it out? It is available now
Where can you get it? You can get it in the US, UK, and across Europe
Beelink SEi11 Pro Mini PC Specs
Here is the Beelink SEi11 Pro configuration sent to TechRadar for review:
CPU: Intel Core i5-11320H (4C/8T, 8MB Cache, 2.5GHz up to 4.5GHz)
Graphics: Intel Iris Xe Graphics
RAM: 16GB (2*8G)DDR4 RAM (Max 64GB)
Storage: M.2 2280 500GB NVMe SSD, optional SATA SSD/HD
Ports: 1x USB 3.2 Gen 2 Type-C, 2x USB3.2 Gen 2 Type-A, 2x USB2.0 Type-A, 2x HDMI 1.4, 1 x universal audio jack
Connectivity: Intel WiFi 6E, Gigabit LAN adapter, Bluetooth v5.2
Size: 126 x 113 x 40 mm (W x D x H)
OS installed: Windows 11 Pro
Accessories: Wall-Mounted bracket, Adapter12V/3A, HDMI cables
There is only a single SKU of the Beelink SEi11 Pro, which comes with 16GB of DDR4 RAM and 500GB of NVMe SSD storage.
This machine is available in the USA, UK and Europe, and the cost is $489 / £487 / € 558 at most online retailers. Beelink is currently selling it on its site for £329.
That makes it triple the price of the Beelink U59 and one of the more expensive NUC designs from a minor brand. However, compared to Intel NUC pricing, or the Apple Mac Mini M1 (2020), it's relatively inexpensive for this specification.
If you want the same processor in a laptop, like the Dell Inspiron 15 5510, it will cost a minimum of $100 more, come with less RAM, and be more challenging to upgrade.
Beelink SEi11 Pro Mini PC: Design
Simple but effective enclosure
Plenty of ports
Access for upgrades
Beelink doesn't go for elaborate designs, and the SEi11 Pro looks practically identical to the Beelink U59 we've recently reviewed.
Statistics reveal that this machine is marginally wider, but has a similar depth and height to the U59.
Where it diverges from that Celeron-based sibling is that more of this machine is made of metal, with mesh sides and a top allowing for significantly greater airflow through the structure. The corners and facia are still a distinctive dark blue plastic that has become a Beelink signature feature for its Mini PC range.
The front face has three USB ports, two being Type-A and one a Type-C. All of these are USB 3.2 Gen 2 (10Mbits), enabling external drives to transfer to the system at a maximum speed of 1,000MB/s.
Also on the facia are a 3.5mm audio jack and the power button.
The rear sports the PSU inlet, two USB 2.0 ports, two HDMI ports and a single RJ45 Ethernet LAN port.
The best aspect of this port selection is that three USB ports are the faster forms, but it would have been better if the USB-C had been to the Thunderbolt specification.
And, a single LAN port is a downgrade compared to the U59, which had two of these making it suitable to become an embedded firewall.
There also isn't an SD card reader, although an external one could easily be connected by USB.
Removing four screws from the underside reveals some of the interior space to access the DDR4 SODIMM memory modules and M.2 NVMe drive.
These can be upgraded from the factory-installed devices allowing this machine to have a 4TB NVMe module and 64GB of RAM, potentially. There is also a 2.5-inch SATA drive mounting allowing for even greater storage using either a conventional hard drive or a SATA SSD.
All the Beelink Mini PCs we've seen so far include a metal bracket that is designed to connect to the VESA mounts on the rear of a monitor, and a short HDMI cable is provided to reduce the cabling clutter of doing this.
Beelink SEi11 Pro Mini PC: Features
Plenty of Mini-PC systems use the Intel Celeron N5105 and others the more recent Celeron N6211. But the SEi11 Pro uses a singularly more powerful platform, specifically the 11th Gen Intel Core i5-11320H.
This chip is one of a few Tiger Lake-H models created for use in higher-end laptops, and it was only launched in Q2 of 2021.
It's a four-core with a hyperthreading design (8 threads) that has 8MB of Smart Cache, and in this installation, it has been capped at 28W to provide a 2.5GHz base clock and a burst speed of 4.5GHz.
Another highlight of this design is that it uses integrated Iris Xe Graphics, a dramatic improvement over the UHD graphics that many Intel systems are saddled.
While this probably doesn't make the SEi11 Pro the envy of gamers, Iris Xe Graphics is substantially better at graphical tasks than its predecessor and running two 4K displays over HDMI isn't impractical.
The only disappointment here is that the USB-C port doesn't appear to be suitable for display output, limiting the number of monitors supported to two.
Storage options include the pre-installed M.2 NVMe drive and a user-installable SATA HD or SSD. The M.2 slot has the full four lanes of PCIe 3.0, allowing for maximum performance of around 3,500MB/s and capacities up to 4TB, possibly 8TB in the near future.
All the storage is located at the very bottom of the machine, and the cooling system is at the top, venting warmed air to the rear, so it should keep the NVMe drive reasonably cool.
The only restriction to the NVMe drive is that it needs to be a design that doesn't have a pre-installed heatsink, as there isn't room for this inside the case. It may be that by removing the SATA tray, more space could be made available, but there are plenty of PCIe 3.0 drives around that don't use a heatsink and offer decent performance.
The cooling system is an active one, but the system doesn't generate fan sounds, and it remained cool to the touch during our most rigorous benchmarking. By using laptop components in a well-ventilated space, Beelink has designed a small system that shouldn't need to be thermally throttled even if the office gets warm.
Beelink SEi11 Pro Mini PC: Performance
Xe Graphics
Powerful platform
Slow NVMe drive
Benchmarks
Here's how the SEi11 Pro scored in our suite of benchmark tests:
3DMark Wild Life: 11,129; Fire Strike: 4234; Time Spy: 1637;
Cinebench R23 CPU pts: 1451 (single-core); 5240 (multi-core)
GeekBench 5: 1510 (single-core); 4755 (multi-core); 18078 (OpenCL)
CrystalDiskMark: Sequential Read: 2460MB/s; Sequential Write: 1909 MB/s
PCMark 10 (Office Test): 4878
Windows Experience Index: 8.1
When you stack the SEi11 Pro against other Mini PCs, it's hardly a fair fight since the Core i5 platform in this system eats Celeron systems for breakfast.
When you combine the eight-thread capability and the ability to boost to 4.5GHz with the dramatically better Iris Xe graphics engine, many things that wouldn't be possible on lesser solutions became achievable.
In comparison, the Beelink U59, using the four-core Celeron N5105 processor, managed only 2596 in the 3DMark WildLife test, where this machine achieved more than four times that score.
Even if you exclude the GPU, as in the Cinebench R23 tests, the SEi11 Pro is more than double the single-thread performance and nearly 2.5 times the multithread scores.
There is only one weakness in its entire testing ensemble, and that's the NVMe SSD that Beelink included; the Kingston NV1.
The quoted performance for this drive is 2100MB/s reads, and 1700MB/s writes, making it one of the slowest NVMe around. It was designed for laptops with limited physical space and small form factor PCs, but in this context, it's an underachiever.
We did get slightly better results out of the NV1 than Kingston quotes, but there are plenty of drives that could easily double these scores for a modest additional outlay.
That one minor issue aside, the Beelink SEi11 Pro is a powerful small machine that is a perfect replacement for a desktop PC that isn't required to offer workstation levels of performance.
In short, you get the performance you pay for here.
Beelink SEi11 Pro: Report card
Swipe to scroll horizontally
| | | |
| --- | --- | --- |
| Value | Not that cheap, but certainly great value for money. | 4 / 5 |
| Design | Simple, elegant and with good expansion possibilities | 4 / 5 |
| Features | Iris XE graphics are much better than UHD, and the inclusion of three USB 3.2 Gen 2 ports makes this a flexible tool. | 4 / 5 |
| Performance | It might be a mobile Core i5 processor but compared to the Celeron that many Mini PC use, this platform is a powerhouse. | 5 / 5 |
| Total | We'd have preferred dual LAN ports and a Thunderbolt port, but even without those things, this is an excellent NUC system. | 4.3 / 5 |
Should you buy a Beelink SEi11 Pro?
Buy it if...
You want a Mini PC with some grunt
Most Mini PC designs use Celeron or Pentium Sliver processors that don't offer much beyond surfing and light office tasks, whereas this one can do so much more.
PC portability is important
Being able to carry this around might prove invaluable for those that work in multiple locations. It won't make the screen easier to carry, but at least the PC is light and small.
You are likely to upgrade this machine
The potential for upgrades isn't something many small systems offer, but this one can take plenty of RAM and extra storage for those wishing to make the most of it.
Don't buy it if...
You might need PCIe upgrades
There are no slots in this machine. Therefore, with the exception of RAM and storage, there are no possible card upgrades available for it. That means no discrete GPU.
You don't need all this power
There are dozens of good Mini PCs available that cost much less than this with a lower specification. If you don't need the Core i5 processor, then investing in this much might be pointless.
You intend to use it like a laptop
Where a laptop is a combined platform that includes a screen and input devices, the Mini PC needs other items to provide the same functionality. For presenting to others in a sales context, a laptop might make more sense.
Also consider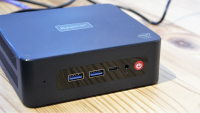 Beelink U59
A much less powerful Mini PC, the U59 comes with dual LAN ports and a price that approaches half that of the SEi11 Pro. If you don't need the Core i5 processing power, the U59 is an excellent choice.
Check out our Beelink U59 review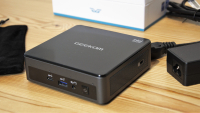 GEEKOM MiniAir 11
The MiniAir 11 is inexpensive and has a few special features, like the card slot, that make it useful for basic office users. Enough power for office work but a fraction of the price of the SEi11 Pro.
Read more: GEEKOM MiniAir 11 review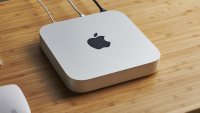 Apple Mac Mini M1 (2020)
This design probably needs a refresh, but for those invested in the Apple ecosystem, the Mac Mini M1 is a compact and elegant design. Just don't expect it to be good value when compared with Windows-based Mini PC hardware.
Read our full Apple Mac Mini M1 (2020) review
Mark is an expert on 3D printers, drones and phones. He also covers storage, including SSDs, NAS drives and portable hard drives. He started writing in 1986 and has contributed to MicroMart, PC Format, 3D World, among others.