I can't believe we're recommending SATA SSDs, but in the context of the Enterprise data center the DC600M is an excellent choice. And oddly with that use case, not an excessively expensive option either.
Pros
+

Up to 8TB

+

Huge TBW

+

Practical form factor
Cons
-

Only for >50GbE networks
Why you can trust TechRadar We spend hours testing every product or service we review, so you can be sure you're buying the best. Find out more about how we test.
Kingston DC600M: 30 second review
Kingston DC600M Spec
Here is the Kingston DC600M configuration sent to TechRadar for review:
Interface: SATA III (6Gb/s)
Form factor: 2.5-inch
Data Transfer Rate: 560MB/s read, 530MB/s write (except 480GB capacity)
Operating Temperature: 0C – 75C
Size (LxWxH): 69.9mm x 100mm x 7mm
Weight: 92.34g
Encryption: Hardware
Operating Systems: Any
Box Contents: 1x DC600M drive
SATA first appeared on computers in 2003, and mostly due to the abysmal reliability record of its ATA predecessor, it soon became the de facto standard for connecting drives to computers.
Since then, alternative technologies, like NVMe, have overtaken it in terms of bandwidth and performance for desktop and laptop applications.
The Kingston DC600M ignores all that and instead focuses on the needs of a data centre, specifically providing a high degree of reliability, low levels of power consumption and a form factor that server technology can easily utilise.
That this technology has a performance ceiling of around 560MB/s isn't critical in this context, as these are intended to be used in RAID arrays, boosting the overall bandwidth available.
But to our mind, the biggest selling point of the DC600M is the breathtaking TBW (total bytes written) specifications, where the 8TB model has been rated for a jaw-dropping 14,016 TBW.
That's the entire contents of the drive written each day for 4.8 years.
For those with an existing mission-critical server that needs to move from existing HDD media, then Kingston has defined an upgrade path that avoids the need for new server racks that can deliver improved performance and reliability.
In short, the technology here isn't groundbreaking, but it's remarkably practical.
Kingston DC600M: Price and availability
How much does it cost? From $91.99/ £77.64 for the 480GB model
When is it out? It is available now
Where can you get it? Widely available from the larger online retailers in most regions and directly from Kingston.
Kingston is offering the DC600M in five capacities that include a 480GB, 960GB, 1920GB, 3840GB and 7680GB options.
For these capacities, the USA pricing is $91.99, $122.99, $201.99, $377.99 and $829.99. UK customers pay £77.64, £104.64, £172.20, £322.08 and £707.52, which is almost exactly the exchange rate equivalent, refreshingly.
For those curious, the best value option is the 1920GB model, at under 10 cents per GB, and the worst is the 480GB option, where the cost per GB is almost double that.
The largest two drives are close to the 10 cents level, so the bigger drives don't come with a significant premium.
Comparing this to other Data Center SATA SSDs, the DC600M is significantly cheaper than the Intel S4510, half that of the Ultrastar DC SA210 or Seagate Nytro 3350. The closest cost competitor is the Micron 5400 PRO, priced within a few dollars at most.
The reason not to mention the Intel Optane range is that this product line is no longer in production, and therefore replacements will become an issue once the channel is empty of existing stock.
Kingston DC600M: Features
Conventional 2.5-inch SATA
Up to 7680GB of capacity
Hardware encryption
Hardware-based PLP
There is zero special about the outside of this drive, and it's a 2.5-inch SATA case like tens of millions of SATA SSDs that have come before it.
This one has a metal skin, not plastic, but we've seen that before.
All the clever stuff is on the inside, and the outside adheres to the size and connection standards created when SATA appeared on laptop drives in the early 2000s.
The only other detail about this mechanism is that compared to a typical SATA SSD, the DC600M feels on the heavy side, weighing in at 92g. For comparison, a popular desktop part like the Crucial M550 weighs around 65g.
What you pay for with this product is what is on the inside, and that consists of a SATA interface, NAND modules and a controller.
With the space inside the physical structure of a 2.5-inch mechanism, there is room for plenty of NAND modules, and the biggest capacity on offer is 7680GB. That is dwarfed by conventional hard drives, which are now at 22TB. Larger capacity NAND is likely to become mainstream soon, so we might yet see a 16GB or 32GB DC600M at some point.
In this instance, the NAND modules are 3D TLC NAND, and the DC600M is configured for mixed-use workloads, and not as some other drives are, dedicated to a read-focused environment.
The controller supports full hardware encryption of the drive for those with security on their minds, which avoids the performance penalties associated with software encryption schemes. The encryption is AES 256-bit standard, making it practically impossible to access without the encryption passcode.
But probably one of the most essential feature of this design is that it has hardware-based PLP or Power loss capacitors. These capacitors provide sufficient power to protect user data against unexpected power loss, and they also play a role in enhancing the performance of the system.
While all servers should have UPS (uninterruptable power supply) to avoid a server suffering power loss in mid-flight, having the PLP technology in these drives provides an extra layer of protection that any disaster recovery planner might appreciate.
Kingston DC600M: Performance
Image 1 of 8
Not NVMe quick
Attractive TBW for servers
As with all storage devices that come through Tech Radar Pro, the DC600M was put through its paces with a series of benchmarks to ascertain its worth.
We'll talk about the results in detail, but upfront the speed of this device is largely irrelevant.
Why? Because those wanting the ultimate in raw performance should be looking at a system that uses NVMe drives. Depending on the type, the PCIe bus connecting those could be 20x as fast as the SATA III connecting the DC600M.
There are two much more important aspects to the DC600M than speed, those being resilience and capacity.
While it is possible to find a few 8TB NVMe drives, they're not common and are expensive. Having this much capacity in a 2.5-inch form factor is highly practical since they'll fit in any NAS designed to take 3.5 or 2.5-inch drives.
But the deal-making feature of this drive is that it contains power loss capacitors so that if the power is unceremoniously pulled, the write buffers can be flushed in a controlled manner, and it also has incredible TBW (Total Bytes Written) numbers.
Therefore, the DC600M isn't about speed. It's all about reliability.
Our review sample DC600M was the 1920GB model, and that has a stagging TBW of 3504TB. That's the equivalent of the whole drive being written once a day for five years.
Obviously, if you have multiple drives in a RAID array, the TBW would be even greater as it scales with the amount of storage.
The only caveat to using these is that 10GbE networking probably hasn't sufficient bandwidth to pump the amounts of data that an array of these could write out or receive, as that's only 1,000MB/s of transfer bandwidth, approximately.
Until faster and cheaper networking technologies come along, the DC600M is more than fast enough for network file serving since the bottlenecks are elsewhere.
If the server is doing local computations, then that's less of an issue, but an array of six SATA DC600M drives could easily read and write 2.5GB/s without breaking a sweat.
In our benchmarking, we didn't discover anything that we couldn't find on the specifications sheet, making it mostly a moot exercise.
However, we discovered that, unlike many NVMe drives, when presented with a large file (greater than 64GB), write operations are incredibly consistent. It never drops off a cliff when the cache becomes saturated, as the drive is operating within the capabilities of the NAND, not making it seem much faster using a DRAM cache or MLC-to-SLC dynamic conversions.
The IOPs on this drive are around 94,000 reads and up to 78,000 writes, but to get that write speed, the 1920GB model and the other capacities are less.
These numbers are better than IOPs on drives like the Ultrastar DC SA210, but it only delivers a tiny fraction of a million IOPs numbers from some Gen 4 NVMe drives.
In conclusion, performance is good within the context of SATA connectivity, but that's not the critical capability of these drives.
When this first arrived on our desks, there was a moment of head-scratching because, from a desktop PC perspective, SATA is now a legacy technology.
But, in the context of network file serving, the DC600M shows that not only is SATA not dead but that it fills a specific niche in a way that NVMe and other SSD technologies don't.
Kingston should also be commended for the way that they've taken the humble SATA SSD, and through some additional electronics and innovative NAND layouts, they've managed to make drives tailored to the server environment and endowed it with huge TBW numbers.
We should say that isn't possible or practical to test TBW in the time we have to deliver reviews, but it's Kingston's reputation on the line if these devices suffer issues before their due date with destiny.
For those that have existing server technology that was built for hard drives, the DC600M is an excellent choice to add caching drives or power failure resistant storage.
Kingston DC600M: Report card
Swipe to scroll horizontally
| | | |
| --- | --- | --- |
| Value | Expensive when compared to HDD, but cheap compared to other server SSD offerings. | 4 / 5 |
| Features | Hardware encryption, capacity protection and epic resilience. | 4/ 5 |
| Performance | It's a SATA SSD! But one that can roll with the punches. | 5 / 5 |
| Total | A notch up from the previous DC500M, and perfectly specified for server applications. | 4.5 / 5 |
Should you buy a Kingston DC600M?
Buy it if...
You have old NAS/Server equipment
Replacing an existing HDD with the DC600M could boost throughput, reduce heat generation and make old equipment perform like much newer hardware. It can't fix slow network connections, but it can make the reading and writing of data flow better on the server.
Workloads is a concern
Even HDD have workload limits, even if they don't degrade with each use like an SSD. With very high throughput, server HDDs can die unexpectedly and with severe consequences.
The DC600M delivers the ability to have its entire contents rewritten every 24 hours and last for five years.
Don't buy it if...
You use 100GbE or faster network
While the speed of a SATA SSD in an array is overkill for 10GbE networks, for faster technologies, like the 400GbE switches we've seen appear, you would need many drives to satisfy the potential bandwidth available.
That's when servers with NVMe drives become necessary, and SATA just doesn't cut it.
Capacity is an issue
With a maximum capacity of just 7680GB, the DC600M won't compete with the massive amount of storage that a 22TB HDD can bring. But, it might be worth sacrificing a drive bay for one of these and then setting it to cache the bigger hard drives to achieve better performance, especially when writing large amounts of data.
Also consider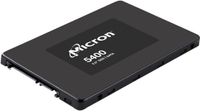 Micron 5400 PRO
Built around 176-layer 3D NAND modules, the Micro 5400 PRO offers an even wider range of capacities with a 240GB model, but the same 7680GB top rung. It quotes slightly lower TBW numbers, but not substantially less. And, for those that want even greater resilience, Micron offers the 5400 MAX model with insane TBW. It should be noted that they also make this drive in the M.2 SATA form factor.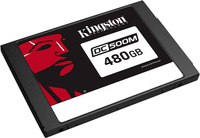 Kingston DC500M
An alternative to the DC600M, this drive is still sold by Kingston and is around the same price for the smaller capacities, but the maximum capacity is 3840GB.
It has even better TBW, with 9110TBW versus 7008TBW on the 3.84TB DC600M. However, it doesn't have a 7680GB option, and its IOPS are much less.
Mark is an expert on 3D printers, drones and phones. He also covers storage, including SSDs, NAS drives and portable hard drives. He started writing in 1986 and has contributed to MicroMart, PC Format, 3D World, among others.