30-second review
With businesses now accepting that the era where everyone came to the office is over, the market for video conferencing (opens in new tab) cameras has exploded in response.
What businesses want are reliable and easy-to-deploy conferencing systems that aren't expensive, and the new IPEVO Totem 180 ticks those boxes and a few others.
IPEVO has built a strong reputation with its excellent 4K document cameras, and now the Totem 180 takes the brand to the next stage with a PC-connectable business webcam (opens in new tab) solution that is perfect for big meetings.
Instead of a single 4K sensor and an anamorphic lens, IPEVO went with two 4K sensors and merged the two sources into a single 180-degree wide layout.
For smaller meetings, you can reduce the field of view to 120 degrees, and the camera can be set to automatically zoom and frame those that talk during a meeting.
It can also do PIP (picture-in-picture), split screen and automatic face tracking.
Compatibility is extensive, with Zoom (opens in new tab), Google Meet (opens in new tab), Microsoft Teams (opens in new tab), Cisco Webex (opens in new tab), Skype (opens in new tab) and GoTo Meeting (opens in new tab) all working with the Totem 180.
Our only reservation is that it expects a USB-C port. But for $329, it's a highly professional conferencing tool many users will adore.
IPEVO Totel 180 price and availability
When is it out? It is available now
Where can you get it? Direct from the makers in the USA, and on Amazon in other regions.
The IPEVO Totem 180 can be sourced directly from the makers' website in the USA for those in that region. But it is also available through a selection of online retailers, including Amazon.
IPEVO Totem 180 design
Solid construction
Only USB-C
Simple to deploy
The Totem 180 is a curious design vaguely reminiscent of a type of art nouveau cat sculpture that was once popular.
Standing 26.4 cm tall, the Totem provides a good viewpoint that doesn't make those around the conference table appear to be giant overlords.
With anything this vertically extended, the concern is that it will be knocked over, with the important and delicate parts of the device taking a bashing when it lands.
However, the weight in the Totem 180 is mostly concentrated near the base, making it much less likely to topple, and there is a threaded hole on the underside, the same pitch as used by camera tripods that can be used to secure it.
In the box is the Totem 180, a 2M long USB-C to USB-C cable, and a multi-lingual user guide that offers four pages of guidance for each language.
Getting the camera operational requires a PC with a USB-C port, as IPEVO doesn't provide an adapter to USB-A, and one isn't listed on the online store.
That seems remarkably short-sighted since many corporate customers will have desktop and laptop systems that lack USB-C, and not supporting USB-A provides an additional hurdle for those to overcome.
The camera will immediately become active once connected to a suitable computer running Windows, Mac OS X or a Chromebook, and it draws its power from that device directly.
The lack of a power switch isn't a surprise, as the Totem has been designed as a simplified device with the most limited of controls on it.
On the lower section are a Kensington security slot and a USB-C port. Higher up are two buttons, one is used for muting audio and the other to switch camera modes. There are coloured LED lights above those to indicate the status of sound and camera.
The only other control is a small wheel between the binocular cameras that can adjust the viewing angle.
The thinking here is that the unit is connected to a laptop running Skype, Teams or whatever, set as the default camera, and the rest is practically automatic. For those wanting a more granular experience, IPEVO has a software control package EyeStage, that allows the camera to be controlled from the connected PC.
This software is a 359MB download for Windows, and it is provided for free to users of IPEVO hardware.
What is especially nice about this software package is that it is designed to funnel two video sources into a single stream for any conferencing app. This enables a document viewing camera, like those made by IPEVO, to be alongside the conferencing visuals rather than distributed separately.
What's critical to appreciate about the Totem 180 is that it offers no hardware-independent technology that connects it to WiFi, so it either needs a dedicated PC or to commandeer one brought by the meeting attendees.
Design score: 4/5
IPEVO Totem 180 features
Dual 4K
180 or 120-degree vision
16ft Audio range
Specs
The IPEVO Totem 180 that was sent to us for review came with the following hardware:
Cameras: Dual 4K
Maximum Res: Panoramic 4.6K : 4640 x 1456 @30fps, Panoramic 3.5K : 3520 x 1104 @30fps
Standard Output: 1920 x 1080 @30fps
Focus: Fixed Focus
Focus Range: 23.6″~∞
Microphone: Two omnidirectional microphones with noise reduction, 16-ft range Audio Sensitivity: −21dB FS, SNR: 50 dB
Weight: 362g (0.8 lb)
Dimensions: (L x W x H): 66mm x 71mm x 264mm (2.59″ x 2.8″ x 10.39″)
The hardware in the Totem 180 is unique, and it enables some very interesting options that other conference cameras can't match.
Most have a 4K capable camera, but the Totem 180 has two, and these are at slightly divergent angles to provide up to 180 degrees of vision.
To make these images appear as a single seamless output, software stitches the two images together, and the resulting video is a maximum of 4640 x 1456 @30fps, with an option for 3520 x 1104 @30fps.
The snag with resolutions that large is that some internet connections and externally connecting systems might find it too much, but there are options to reduce it to 1080p (1920 x 1080).
If you are wondering why we don't get 4K + 4K, some resolution is lost in the overlap, and the very edge of the sensors is not included due to optical distortions. And, when the AI on the camera reframes individuals, the resolution naturally drops.
For those that don't hold meetings where the whole table is full, it is possible to tell the Totem to reduce to a 120-degree field of view. As each camera is responsible for roughly 90 degrees, that mode ignores the 30 degrees on either side of the 180-degree frame.
Having good vision is important, but audio relaying is also a critical part of the conferencing experience. To facilitate this requirement, the head of the Totem 180 includes a pair of omnidirectional microphones with noise reduction.
The maximum range of these speakers is 16ft, which would need a long conference table to exceed. When comparing this to professional solutions, it is probably the quality of the sound that is slightly lacking. But it is possible to use a centrally placed microphone array and tell most software to source the video from the Totem and the sound from that.
That's not to say that the sound reception on the Totem is poor. Just that sound captured from the middle of a 16ft table will always be clearer than from that at one specific end.
For the money, this is a terrific solution and perfect for small to medium-sized business meetings. The ability to capture so many attendees with such high-quality video and audio without breaking the budget is a game changer, in our opinion.
We'd have preferred some love for those with USB-A ports and maybe a more informative user guide in the box. But overall, this is one of the best conferencing solutions we've seen for corporate users and one of the least expensive.
IPEVO Totem 180 score card
Swipe to scroll horizontally
| Attributes | Notes | Rating |
| --- | --- | --- |
| Value | An inexpensive conference camera but a high-quality device. | 4/5 |
| Design | Perfect for end-of-table deployment and simple to use. | 4/5 |
| Features | AI-enhanced video and audio, ultra-wide mode and PC software controls. | 5/5 |
| Overall | A terrific piece of hardware that works with all the main conferencing software tools. | 4.5/5 |
Should I buy a IPEVO Totem 180?
Buy it if...
You need something simple
As conferencing solutions go, the Totem 180 is super simple but no less effective. All that it requires is a laptop with a USB-C port and the conferencing software of choice to get operational.
Have well-attended meetings
If the meetings you have are only between two or three people, then a camera on a laptop or a small independent camera is more than sufficient. But the Totem 180 is good when you have more flexibility.
Don't buy it if...
You have a control freak for a boss
What this conferencing camera doesn't offer is a remote control, so that your boss can play at being a film director from their study at home. Some with find this triggering, so be prepared for that.
You have laptops with only USB-A
You can get adapters and use the Totem 180 through a USB docking station, but out of the box, it expects USB-C to plug into. If you only have computers with USB-A, then you'll need to get some extra hardware or pick an alternative camera.
Also consider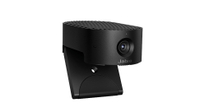 (opens in new tab)
Jabra Hybrid Working in a Box
As part of a marketing exercise, Jabra boxed its PanaCast 20 conferencing AI-enabled webcam with the Jabra Speak 750 speakerphone. The total cost of these devices is double that of the Totem 180, but when put together, this is an impressive solution.
Read our Jabra Hybrid Working in a Box review for more information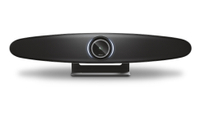 (opens in new tab)
Trust Iris 4K Conferencing Camera
This is a slightly odd-looking solution that could do with being higher off the desk than it is, but the Trust Iris 4K Conferencing Camera is solid hardware. However, it is double the cost of the Totem 180 and limited to a maximum of 120 degrees of vision.
Read our Trust Iris 4K Conferencing Camera for more information.