Atlas VPN may only have been around since 2020, but its generous free plan, lengthy feature list and strong all-round service have already earned it six million users. That's a spectacular start, and Nord Security, the company behind NordVPN, was so impressed that it acquired Atlas VPN in 2021.
The service is strong on the VPN fundamentals. There are apps for Windows, Mac, iOS, Android and now Linux, for instance. Strong encryption keeps your data safe, while the speedy WireGuard protocol maximizes performance, and a kill switch protects you if the VPN drops.
But the company goes well beyond the basics in many areas. There are no annoying connection limits, for example, allowing you to use the service on as many of your own devices as you need. And smart technical touches include a SafeSwap feature which regularly changes your IP address, even when you're connected to the same server, enhancing your anonymity.
Welcome bonus features include ad, tracker and malware blocking, while data breach monitoring alerts you if any of your personal details are found on the dark web.
Atlas VPN's network looks smaller than some, with 'only' 750 servers (CyberGhost has 8,900). But server coverage has expanded in terms of range since our last review, and Atlas VPN now offers 44 locations in 38 countries, including several that we don't often see elsewhere (UAE, Mexico, Chile).
(opens in new tab)
Atlas VPN pricing
Atlas VPN's free no-registration-required plan gives you an easy way to try out the service, though with some significant limits.
You only get three locations: Amsterdam, New York and Los Angeles. The data allowance has dropped from 10GB a month to 5GB, and the free plan doesn't include email or live chat support, the streaming-optimized servers or the more advanced features and extras (tracker blocking, data breach monitor).
Even with these restrictions, Atlas VPN's free service outperforms some of the freebie competition. Avira's Phantom VPN Free limits you to 500MB a month, for instance. And while Avast One's VPN has a more generous 5GB a week data allowance, it doesn't support changing locations. But ProtonVPN still wins our Best Free VPN award for its 3 locations but unlimited data.
Opting for a paid plan drops the data and location limits. Prices start at an average $10.99 for monthly billing (opens in new tab), and you can pay by card, PayPal, Google Pay, and – a recent addition – Bitcoin and other cryptocurrencies via CoinPayments. Upgrade to an annual account (opens in new tab) and the price drops to $3.29 a month, while the three-year plan (opens in new tab) is just $1.99 a month. (Okay, it switches to the annual plan and $3.29 a month on renewal, but that still looks like a good deal to us).
You're protected by a 30-day money-back guarantee. That's similar to most providers, but there is one small potential catch: you can only claim a refund twice. We understand why – every VPN needs to protect itself from users who keep signing up and demanding a refund on day 29 – but some providers are a little more generous. Private Internet Access won't issue a refund if you've had one in the last 90 days, for instance, but otherwise has no fixed limits.
We also noticed that plans are set to automatically renew when you sign up, and there's no way to change this or cancel your account from the control panel. You must contact support via live chat or email and ask for help.
Privacy
Atlas VPN has the privacy basics covered with its WireGuard support, AES-256 encryption, kill switch and private DNS system.
Unusual extras like rotating IP addresses along with ad and tracker blocking bring extra privacy protection.
Atlas VPN has been through what it calls an independent security audit, but this is just about as limited as we've seen.
The exercise only covered the iOS app, for instance. It was a black box review, which means the auditors tested the functionality of the app, but didn't see the source code. And although Atlas VPN quoted some of the results in a blog post, it hasn't published the full report, so there's no way to judge it for ourselves.
Okay, this is better than nothing, but only just, and it can't match the best of the competition. TunnelBear has annual audits of its apps, servers and backend infrastructure, for instance, and publishes the results for everyone to see.
Logging
Atlas VPN claims to have a 'solid no-logs policy', saying 'we do not collect details on our users' activities, DNS queries, or other data that could be linked to our users.'
The privacy policy says Atlas VPN's apps collect some device data, though. This includes: 'device type, model, brand name (e.g., Samsung, Apple), OS version, device ID, language, time zone, coarse location (city scale).'
It also mentions using 'attribution analytics to track install source and traffic source', and 'advertising IDs to measure performance of our campaigns.'
Put it all together and there's nothing to indicate Atlas VPN logs any of your online activities. It does have enough data to build user profiles, though, including details on user devices, when they connect and the amount of data they use. And as Atlas VPN hasn't had its no logging claims audited, there's no independent evidence to tell us if the company is living up to its promises.
Windows app
Atlas VPN's apps have an unusual password-free login process. There's no need to invent and remember some cryptic passphrase – just enter your email address, the service sends you a link, click it and you're in.
That should make for an easier life in many situations, but there are potential issues, too. The app says you should click the link on the device requesting the login, for instance, but that assumes you've set up email on all your hardware. You may not have done (or want to do) that on a general-purpose tablet that's used by the whole family, for instance.
Atlas VPN's Windows app is simple, and covers the VPN basics. Getting started is as easy as choosing a city or country, and hitting the Connect button. A handful of settings includes a 'Start on launch' option, an On/Off toggle for the kill switch, and a choice of WireGuard or IKEv2 protocols.
The location list is basic, with no ping times to help choose the best servers, and no way to mark your most common selections as Favorites. But it has improved since our last review, with locations now sorted alphabetically, and a Recents list making it easier to access whatever you were using last time.
(The app has one handy Favorite-like setting with the ability to change what happens when you click the Connect button. By default this connects to your nearest location, but if you mostly access the US streaming server to unblock Netflix, for instance, you can have the Connect button use that, instead.)
Connection times were good at 2-3 seconds for WireGuard. There's none of the 'stare at the Connect animation for 20 seconds' business that you might remember from older OpenVPN apps.
The kill switch did a decent job, too, instantly blocking our internet whenever the VPN connection dropped. There's no 'auto-reconnect' option, unfortunately, so you're left to do that yourself. That's a very minor issue, but it just seems a little odd that having completed the really difficult part of this task (creating a kill switch that works), Atlas VPN seems to have forgotten the relatively easy bit at the end.
The app includes a Tracker Blocker (a caption says it blocks ads and malware, too). We tested this by trying to access 150 common trackers, and found it blocked 102. That's a very acceptable result, and in the same area as most other VPNs. (Surfshark's CleanWeb blocked 80, for instance, but Private Internet Access scored 111.)
A bonus Data Breach Monitor raises an alert if your email address appears in a data breach. This works as advertised, but you can do much the same for free by entering your emails at haveibeenpwned.com. If you're looking for real dark web monitoring, you're still better off with a security suite such as Norton 360.
SafeSwap and MultiHop VPN
Connect to one of Atlas VPN's three SafeSwap locations (Singapore, Netherlands or United States), and the app regularly changes your IP address, while also keeping the connection active (there's no disconnect-then-reconnect process involved).
Atlas VPN says SafeSwap changes your IP address 'on each new request you make when browsing', which concerned us a little; might such rapid changes cause problems with some apps or websites?
Our Windows tests found something a little different, with Atlas VPN's IP address changing every minute or so rather than per request. That's still quick, but we didn't notice any issues with general browsing and streaming.
Offering this feature on three locations only is a little restrictive (Surfshark's 'Rotating IP' works on all its regular servers), but the system worked more or less as promised for us, and it does give you a little extra protection against tracking.
Atlas VPN also supports a very basic form of MultiHop VPN. This routes your traffic through more than one server before passing on to its destination, making it even more difficult for anyone to connect you to your internet actions.
The app gives you very little control over how this works. Other providers supporting this feature (NordVPN, Surfshark, Hide.me, Windscribe, ProtonVPN) allow you to choose both the entrance and exit servers: connect to the UK and get routed to Germany, for instance. But Atlas VPN only gives you a choice of two locations (Europe and North America), and decides everything else itself.
This is more limited than we'd like, but still, it could be handy if anonymity is top of your priority list.
Mac app
Atlas VPN's Mac app looks and feels much like the Windows edition, although there are some inconsistencies (there's no Recently Used section in the location list, for instance).
Mostly, though, the Mac client has the same core feature set as Windows: WireGuard and IKEv2 support, the kill switch, Safebrowse Plus ad and malware blocker, MultiHop+ and the IP address-rotating SafeSwap. The only missing items we noticed were the configurable Connect button and Atlas VPN's data breach monitor.
Although it's good to see this level of consistency, both the Mac and Windows apps are missing features we commonly see elsewhere: sortable location lists, Favorites, 'auto-connect when accessing untrusted networks', split tunneling and more.
Still, although this isn't the best Mac offering we've seen, it's a little above-average, and proved speedy and reliable in our tests. Check out the free version if you're interested, see how it works for you.
Mobile apps
Desktop VPN apps normally beat their Android VPN cousins for features, but not here. Atlas VPN's Android offering doesn't just have WireGuard, SafeSwap, MultiHop+, the tracker blocker and data breach monitor, it also outperforms the Windows product in one or two areas.
The most significant of these is probably support for split tunneling. If you have apps which don't work properly with the VPN, you can have Atlas VPN route their traffic through your regular connection instead, making your life very much easier.
There's a smaller bonus in optional haptic feedback, where your device vibrates when the VPN connects and disconnects. It's really important to know when you're protected and when you're not, and the more ways a VPN can alert you to this, the better.
VPN apps for iOS are often underpowered, but it looks like no-one remembered to tell Atlas VPN. Its iOS offering doesn't support split tunneling, but otherwise has the same feature set as the Android app.
It's not all good news, as with the Mac. Yes, the mobile apps are consistent, but that means they're also missing the Favorites system and 'auto-connect on Wi-Fi access' features we often see elsewhere.
The interface isn't as adaptable as we'd like, either. There's no landscape mode, and we noticed the iOS app's Data Breach page didn't display correctly, with only the top half of a button visible at the bottom of the screen, and no way to scroll it fully into view.
Still, these are likable mobile apps with a lot of functionality, and the generous free data allowance gives you a risk-free way to try them out.
Support
Atlas VPN's support website has simple tutorials covering various setup, usage and troubleshooting topics.
These do a good job of covering the core details you need to know. 'How to install Atlas VPN on iOS (opens in new tab)' doesn't just have an App Store link, for instance. There's a text description and a screenshot for every step, followed by more guidance on launching the app, connecting, changing location and browsing settings.
Articles are generally short, and there's not a lot of technical detail. That makes them easy to follow for beginners, but also means there's little expert-level help for solving really tricky problems. Searching for DNS at Atlas VPN's knowledgebase returned just one article, for instance; searching at ExpressVPN got us 56.
If you can't find what you need, though, Atlas does now have email and 24/7 live chat support. We found our requests for help received very generic advice at first (uninstall the app, download and install the latest version and see if the problem goes away). That may well be enough to solve the issue, though, and the good news is Atlas VPN doesn't keep you waiting for a reply. We had live chat responses within seconds, and even email replies generally took only 10 minutes or thereabouts.
Netflix and streaming
Atlas VPN claims its streaming-optimized servers allow you to bypass geo-blocks and 'access anything you want regardless of your location.' We ran tests on top streaming platforms around the world to see just how effective it really was.
Netflix results were mixed, with Atlas allowing us to stream exclusive content in the US and UK, but failing in Australia, Canada and Japan.
The service was more consistent with other US platforms, getting us access to both Amazon Prime Video and Disney Plus.
UK results were unusual. Generally, Atlas VPN allowed us to stream BBC iPlayer, ITV and Channel 4 without difficulty, but we also had occasional unexpected failures for no apparent reason (even with the same server and IP address).
Our Australian results didn't vary, at all, no matter how many tests we ran: Atlas VPN always unblocked 9Now, and always failed with 10 play.
These are decent results, and better than many competitors. The intermittent UK failures leave us fractionally less confident in the service than usual, but that's easily tackled in your own tests. If you sign up, try every streaming platform you'd like to unblock, several times, to make sure Atlas VPN delivers the unblocking success rate you need.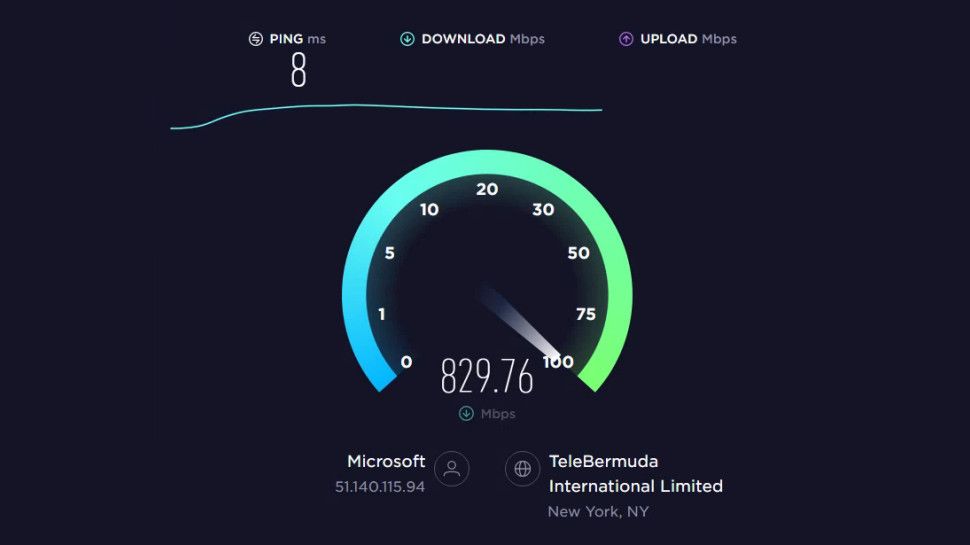 Performance
We measure VPN performance by running several benchmarking services – SpeedTest's website and command line app, SpeedOf.me, nPerf – from both a UK data center and a US residential location. We run each benchmark five times using WireGuard and OpenVPN (where available), run them a second time several hours later (that's a minimum of 120 tests), then analyze the data to see what's going on.
Atlas VPN doesn't support OpenVPN, but its IKEv2 speeds were reasonable at a mid-range 230-240Mbps in the UK.
Connecting via a Three 5G router capable of 250-300Mbps saw Atlas VPN reach a solid 200Mbps.
Switching to WireGuard made a big difference, though, with speeds reaching 740Mbps from our UK data center. That's not the fastest we've seen – TorGuard and Surfshark both hit 950Mbps – but it's better than most, and saw Atlas VPN rate 8th fastest out of 20 VPN providers in our most recent reviews.
Atlas VPN review: Final verdict
Atlas VPN may not have the best network, or apps, or support site. But low prices, high speeds and commendable unblocking results mean it's already better than many VPNs, and we suspect there's a lot more to come.