There isn't much that's elegant about this design, though it will handle plenty of abuse. The bigger issues here are how heavy it is and how long it takes to recharge. That last aspect makes having spare batteries a necessity, increasing the cost.
Pros
+

Very rugged

+

Swappable batteries

+

Exceptionally bright touchscreen
Cons
-

Heavy

-

Awkward stand

-

Slow battery charging

-

Limited external ports
Why you can trust TechRadar We spend hours testing every product or service we review, so you can be sure you're buying the best. Find out more about how we test.
DT Research DT301Y-TR: 30 second review
DT Research DT301Y-TR Specs
The DT Research DT301Y-TR that was sent to us for review came with the following hardware:
CPU: Intel Core i7-1165G7 (4 cores, 8 threads)
GPU: Iris Xe 96EU
RAM: 8GB LPDDR4 (up to 16GB optional)
Storage: 256GB, M.2, PCIe 4.0 NVMe (up to 1TB)
Screen: 10.1" Full-HD capacitive touch screen, 1920 x 1200, 800 nits
SIM: Optional LTE
Weight: 1.6kg (3.5lb)
Dimensions: 198 x 280 x 21.9 mm
Camera: 5MP front camera, 8MP back camera
Networking: Intel AX210, Wi-Fi 802.11ac, 2.4/5GHz dual band, Bluetooth 5.2, Dual Frequency GNSS Module
Ports: 1x USB 3.0 Type-A, 3.5mm headphone jack, Smart Card/CAC Reader, Gigabit Ethernet
OS: Windows 10 IoT Enterprise
Battery: 61Whr Li-ion battery
PSU: 65W AC adapter
For those that work in a hospital, battlefield or construction site, platforms that can handle these environments are important, and that's precisely what DT Research specialises in.
The DT301Y-TR Rugged Tablet is one of its flagship products, offering up to a Core-i7 class processor running Windows in a waterproof and impact-resistant shell.
The 10.1-inch screen has exceptional brightness and can be operated either with fingers or a pen accessory, and DT Research offers a wealth of other accessories that can attach the unit to a cart or vehicle.
Those mountings are beyond helpful. Because at 3.5 lbs or 1.6 kg, this isn't anything you want to be carrying throughout a working day.
Where this design differs from typical 2-in-1 designs is that you can't use the PC in laptop mode without some support, as the hinge connecting the keyboard is only magnetically attached. A support foot was included with our review machine, and this is critical if laptop use is intended. As a tablet, the DT301Y-TR has all the advantages and disadvantages of using Windows 10 IoT Enterprise as a Tablet operating system and the battery life you might expect from a mid-range laptop.
If using the machine on battery for a full working shift is an issue, the battery can be detached and replaced, and DT Research will supply extra batteries and a means to charge them independently of the PC.
Overall, this is a built-for-purpose solution without the restrictions of conventional 2-in-1 hardware, but it comes with a price point to match.
DT Research DT301Y-TR: Price and availability
How much does it cost? $2000-$3500
When is it out? It is available now
Where can you get it? You can get it via a DT Research-approved reseller.
The exact price that a DT301Y-TR will cost is highly dependent on the processor options, memory, storage and accessories you might need. Prices start at around $2,000 for a basic model and go up to $3,500 for a better CPU and larger memory configurations.
When budgeting for this equipment, other considerations, such as extra batteries and charging, service contracts and replacement schemes, should also be factored.
DT Research sells through its reseller networks, and to get a quote any potential customers will be directed to contact a local one of these.
For equipment that is so specialised, affordability isn't one of the aspects that takes much priority.
DT Research DT301Y-TR : Design
Heavy and Water-resistant
Limited USB ports
Bright screen
If you've ever seen a video of a soldier using a laptop to program a weapons system, then you should have a good idea of what to expect from the DT301Y-TR.
Heavily reinforced rubberised corners protect an IP65-rated, MILSTD-810G and MIL-STD-461F compliant case made from a combination of ABS, PC plastic and magnesium-aluminium alloy with an anti-microbial coating.
Ports on both sides have sealed covers that lock into place, completing the go-anywhere aesthetic of this aggressively styled tablet.
What's notable is the large border around the 10.1-inch display that contains some additional touch controls along with four physical buttons.
Our review machine had a kickstand mounted on the rear that was critical for using the magnetically attached keyboard accessory. Some of the obvious problems with this stand are that it is narrow and not centrally mounted. That suggests it was an afterthought to the design of the DT301Y-TR.
However, this leg wobbly it might be, and the lack of angle adjustment, without it extended, you can't use the keyboard.
The keyboard is narrow, doesn't have a numeric pad, and in our review hardware, it came with a US keyboard layout. Due to the lightweight nature of the keyboard, it doesn't offer any extra battery or even USB ports. It's merely a keyboard.
The official quoted weight for this machine is 1.4 kg or 3.1 lbs, but this is an understatement that might assume that there is no kickstand or rubberised webbing on the rear of the machine.
On some accurate scales, our review machine alone weighed 1.6 kg (3.5 lbs) and with the keyboard connected, that blossomed to 2.05 kg or more than 4.5 lbs.
Therefore, those looking to tone upper-body muscles need to carry one of these for a working shift rather than going to the gym.
A more welcome feature of this design is how the ports are protected with lockable covers, allowing the ports to be both protected and yet easily accessible.
There is one exception to this model, the power inlet for the PSU, which uses a simple rubber plug. Given that this is the most critical port to keep dry, using a friction-fit rubber plug to protect it seems silly, given that the other ports get intrinsically better and less wear-impacted covers.
But there is another problem with this port that we'll get to in the battery section that's even more unfathomable.
On the rear of the machine is a rubber webbing that is meant to be a way to hold the tablet with one hand while using the touch screen with the other. Or it would be if you possess the physical strength to do this. While it makes the machine easier to handle, the rubber webbing makes changing the removable battery pack more difficult.
With the webbing partly detached, a sliding lock enables the battery to be detached, and there is some capacitor power in the DT301Y-TR that enables a hot swap to be successfully achieved. Exactly how long the machine will remain operational without a battery isn't documented, so we'd be smart about doing the swap.
On the front and rear are two cameras, neither of which is better than the cheapest smartphone model, but they work.
The edge connector used to connect to the keyboard was designed with other items in mind, and an alternative docking keyboard accessory is available that uses it. But oddly, no docking station.
If this design has a major weakness, it's the lack of USB ports, with only two USB ports, one each of Type-A and Type-C. The good news is that both of these ports, contrary to the datasheet, which describes them as USB 3.0, are USB 3.2 Gen 2 specifications, allowing for 1,000Mb/s file transfers.
Its standout feature is the screen, which with 800 nits of brightness in such a small panel, is remarkably strong and easily visible in direct sunlight. It was so bright that when photographing this device, we turned it down from peak brightness to get better-exposed results.
DT Research DT301Y-TR: Hardware
11th Gen CPU
Limited RAM and storage
Slow Gen 4 SSD
It needs to be accepted that both Intel 10th and 11th Gen mobile processors weren't the company's finest achievements since they remained stuck on a 10nm process that limited core counts and clock speeds.
Our DT301Y-TR came with the Intel Core i7-1165G7 that has only four cores and eight threads, a 2020 Tiger Lake design that pre-dates the move to performance and efficiency cores.
This chip was used in numerous laptops, including the Dell XPS 13 (late 2020), Lenovo IdeaPad, Lenovo Yoga Slim 9i and Asus Chromebook, and within the context of its power consumption, was considered a decent performer for its period.
By the latest Intel and AMD standards, it is not amazingly power efficient, but more than adequate for office applications of primary application use.
Our review hardware had 8GB of DDR4 and just 256GB of main storage, a modest amount for frontline equipment. However, if the primary use of this device is to access a bigger system and not be a self-contained data collection device, it's probably enough.
We chose not to start ripping the DT301Y-TR apart, but it might be possible to upgrade the amount of RAM and storage, but doing so might invalidate your warranty and service agreement. We recommend that those wanting the maximum 16GB of RAM and 1TB of storage should have those options built into the machine at the factory.
The storage in our machine was a Samsung PM9A1, an OEM Gen 4 specification NVMe drive with quoted sequential read and write speeds of 7000MB/s and 5,200MB/s. Or rather, if you have a capacity of 2TB drives, those are the ballpark speeds.
On the 256GB model used in our machine, the write speed is only 2700 MB/s, and the read performance is just 6400 MB/s, making it half the write performance of the larger models.
Given the few dollars difference between the 256GB and the 512 GB versions of this SSD, this appears to be a cost saving that has a very detrimental impact on the speed of writing data.
One special feature of this specific model is that it comes as standard with a dual frequency GNSS Module allowing for a high degree of accuracy for mapping or surveys. But to get the most out of that item requires the Helix antenna option that wasn't included with our review machine.
DT Research DT301Y-TR: Performance
Decent CPU and GPU
Mediocre storage option
Battery swap needs
DT Research DT301Y-TR Benchmarks
This is how the DT Research DT301Y-TR performed in our suite of benchmark tests:
3DMark Wild Life: 7,196; Fire Strike: 2715; Time Spy: 1168;
Cinebench R23 CPU pts: 1239 (single-core); 2740 (multi-core)
GeekBench 5: 1331 (single-core); 3896 (multi-core), 11845 (OpenCL)
CrystalDiskMark: Sequential Read: 6309MB/s; Sequential Write: 2681 MB/s
PCMark 10 (Office Test): 4337
PCMark 10 (Battery Test): 7h 8m
Windows Experience Index: 8.0
The head-scratching aspects found in these results are twofold. The first is how much slower this machine is with the same Iris Xe GPU compared to a remarkably similar Techno Megabook T1 using the i7-1195G7 processor.
With the same number of cores and threads but slightly lower clocks, this machine can only 70% of the performance on 3DMark, curiously.
But what really is shocking is how it doesn't perform well in the multi-threaded tests of CineBench 23, where it only offered a 2.21 ratio over a single core speed.
This outcome was so mystifying we ran the test again under PSU power and forced the system into performance mode. The results weren't any better, and the GeekBench Multi-core tests were equally underwhelming.
The other disappointment here is the 256GB PCIe Gen 4 SSD that has a write speed of just 2681 MB/s. That's less than many Gen 3 drives we've tested. To achieve the greater potential of the Samsung PM9A1 design, capacities greater than this are required. As the 512GB version sells for around $50 retail, compared to $20 for the 256GB, write performance has been halved to save $30 or less for the bulk purchasing of system builders.
As a tablet with portable use in mind, the use of battery power is critical, and we looked at both the battery life and other choices that were made in respect of this feature.
Our PCMark battery test revealed a running time of just 7 hours and 8 minutes on a full charge, but that is with the 5400 mAh battery that comes as standard with the unit. There is an optional larger 8000 mAh battery that will probably get you through a working day (unless you are a junior doctor), but this probably makes this machine even heavier.
But the limited capacity of the stock battery wasn't the worst part. That accolade is awarded to how slowly the 65W PSU included with the unit took to charge from being fully depleted. We estimate it would take more than four hours to fully recharge, which could be a bit of a workday nightmare for anyone who forgot to charge the machine at the end of a previous shift.
Therefore, the ability to hot-swap batteries and charge them independently of the machine is less of a nice-to-have, but more of an absolute necessity.
Why this machine doesn't have a bigger PSU or batteries designed for faster charging we've no idea. But buying it without at least one spare battery and the external battery charger might be a big mistake.
Overall, the performance of the DT301Y-TR is acceptable but nothing special. The extra cores and threads of 12th and now 13th Gen processors deliver a better user experience and extend battery life, but this system is workable with spare batteries.
Assessing a machine like the DT301Y-TR isn't easy. That's because we're reviewers, not a soldier concerned about being hit in an artillery exchange or a nurse on duty in an emergency ward.
But we'd have liked to have seen a more concurrent processor in this machine, better consideration of the storage used and the ability to charge the battery more rapidly without resorting to previously charged batteries.
But what this machine has will work well if the initial configuration is appropriate and the accessories are fully budgeted.
DT Research DT301Y-TR: Report card
Swipe to scroll horizontally
| | | |
| --- | --- | --- |
| Value | Nothing with this level of ruggedness is cheap | 4 / 5 |
| Design | Chunky and heavy, a daily workout for those that might carry this around. | 3 / 5 |
| Hardware | 11th Gen technology is adequate but not exceptionalcrete GPU | 4 / 5 |
| Performance | Slow SSD, power-capped CPU/GPU combination, slow battery rechargeediocre GPU that is outclassed by the RTX 4060. | 3/ 5 |
| Total | Built to handle tough environments, but it needs lots of optional extras to be fully ready for action. | 3.5 / 5 |
Should I buy a DT Research DT301Y-TR?
Buy it if...
Your working environment is a concern
The ability of this machine to take knocks and potentially liquid or dust makes it ideal for many environments that would rapidly compromise a conventional laptop.
Mains power isn't guaranteed
The ability to hot-swap batteries is remarkably useful if you often experience power loss or are away from mains power.
Don't buy it if...
Expect to work all day without a recharge or battery replacement
The stock battery won't get you through an 8-hour shift even if you turn the brightness down on the screen. You can mitigate this with a battery charger and extra batteries if you can be organised enough to make sure they're all kept charged.
Your budget is for a typical laptop
While the base cost for the machine is about the same as a premium laptop, once you factor in the accessories, your budget might be easily overrun. As a rule, we'd take the budget for a similarly specified laptop and double it for this type of device.
Also consider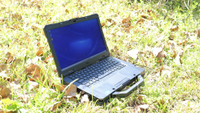 Dell Latitude 5430 Rugged Laptop
Based on the same Intel 11th Gen platform, this design has a Thunderbolt port and HDMI out, allowing for external displays. What it lacks is full ruggedisation and the ability to swap batteries, but it does have some discrete graphics upgrades that the DT301Y-TR lacks.
Read our Dell Latitude 5430 review for more information.
Mark is an expert on 3D printers, drones and phones. He also covers storage, including SSDs, NAS drives and portable hard drives. He started writing in 1986 and has contributed to MicroMart, PC Format, 3D World, among others.