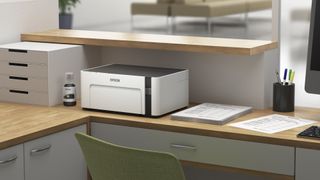 They look similar. Their functions, even more so. And they all come with the same grievances – pricey cartridges, messy refills and the hassle of ink running out at the most inconvenient moments.
It's just not surprising that people have fallen out of love with printers.
This is where Epson shows their trump card. The company's latest EcoTank black and white printer has proven itself to the doubters, from cost per page and reliability to environmental impact. That printer is the EcoTank Monochrome ET-M1100, and you're in for a surprise at what it can do.
You can forget cartridges
Epson's EcoTank range has done away with cartridges altogether. Instead, what they've come up with is remarkably simple – ink bottles.
When the tank runs low, you fill it up. If that sounds potentially messy, don't worry – the keyhole design means topping up ink is simpler than filling a car with petrol. No squeezing, no dripping. And when the tank is full, the ink automatically stops pouring. How about that for efficiency?
Low costs, high yields
But what about the numbers? A bottle of Epson's 6,000 page black ink bottle costs just $24.99. That translates to a cost per page (CPP) of less than half a cent!
Unlike regular printers, the ET-M1100 comes filled with 5,000 pages worth of ink, which is about two-years' supply. Wonderful as those bottles are, you won't need to get one anytime soon after purchasing an EcoTank printer.
As you can expect, the ET-M1100 isn't going to feature rock-bottom prices. It starts at $339 apiece, but keep in mind that the lure of cheap printers is almost always a recipe for paying a great deal more for cartridges in the long run!
Economical and eco-friendly
While cost savings are the star of the show, the EcoTank range addresses an issue no one likes to talk about: ink cartridges are a major environmental bugbear.
Planet Ark, of which Epson is a top-tier partner, has rescued some 30 million cartridges from Australian landfill alone.
By replacing cartridges with larger (and less frequently used) ink bottles, the environmental footprint of printing becomes dramatically smaller. This, in addition to not needing to constantly heat up the fuser-unit of laser printers means that Epson's EcoTank range saves electricity every time you print.
Better, faster, speedier
By not having to heat up printing elements, Epson's inkjet technology affords a much-faster response time: it can print immediately from a cold start. This is boosted further by not having to process an entire page before starting a print job unlike laser printers.
It all means that even a smaller four-page job reaches speeds of between 15-20 pages per minute on the ET-M1100.
The future of printing – available right now
Whatever the case you're arguing for, the ET-M1100 stands above many in the field, which in this sea of sameness, says a lot.
If you're printing customer receipts at work, forms in a doctor's office, corporate letters or quotations from a dealership, Epson's EcoTank ET-M1100 gives you peace of mind for your wallet and your conscience to boot.
So it might finally be the time to ditch laser printers and embrace the cutting edge of Epson's mono inkjet printing technology.
To find the right EcoTank printer for your needs, click here to visit the official Epson Australia website.
Sign up for Black Friday email alerts!
Get the hottest deals available in your inbox plus news, reviews, opinion, analysis and more from the TechRadar team.