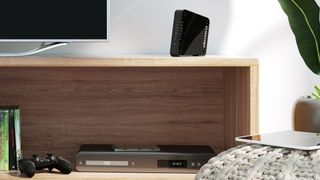 Home broadband can be expensive, so it feels like an insult when you can't get the best Wi-Fi signal in particular spots around your home, especially if you are signed up to super-fast broadband.
However, there is a way to solve it– the GigaGate is a Wi-Fi bridge to help you get the best connection possible in hard to reach areas of your home, even when it's really far away from the main router.
The devolo GigaGate is capable of reaching speeds of up to 2 Gbps and is perfect for that corner of your living room that's full of internet connected devices.
If you've got a games console, smart TV or PC in a corner where it's hard for the connection to reach, this little device may be the best way to solve the problem.
It uses new 4x4 quantenna chip technology to make sure your devices will be able to get the best available internet your home broadband provider supplies.
You won't need to replace your home router either. You can plug one part of the GigaGate into the router itself and then place the second device near to the other devices you want to get a super charged connection.
One of the best parts of GigaGate is you won't need to stress about setting it up either.
You need to connect the base into the router then find a location for the satellite. The rest is done by the GigaGate itself, which is already configured. After two minutes it is ready to start.
The satellite unit also features one gigabit port and four fast Ethernet ports for any wired devices you may have to give you even more connectivity options. This means that you'll be able to connect a games console, TV, a smart home speaker system and even have one spare for when you're using your laptop in that part of the house.
There's also 2.4GHz Wi-Fi as well that offer speeds of up to 300 Mbps.
By using the GigaGate, you can ensure you get the best connection for when you're gaming online so you won't be kicked off an online match at the worst time possible plus you can be sure you'll get the top buffering speeds while streaming TV from Netflix, Amazon Prime, BBC iPlayer and even more apps.
You can solve most of your Wi-Fi woes around your home with the GigaGate for only £219.99. That includes both the base unit and a satellite to use in another part of your home.
More satellite units are then available for £129.99, which will make sure you have better connections all around the house no matter how big your home is. Soon your connection woes can disappear entirely with the help of GigaGate.
You can buy the GigaGate here from devolo's website.
devolo also produce a range of Powerline adapters, designed to boost internet signal as well as Home Control, a smart home system designed to improve comfort levels, energy savings and safety.
Get daily insight, inspiration and deals in your inbox
Get the hottest deals available in your inbox plus news, reviews, opinion, analysis and more from the TechRadar team.