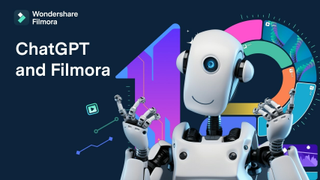 (Image credit: Wondershare)
People can't stop talking about ChatGPT, and with good reason. Over the past few months, the chatbot's generative AI has taken the world by storm. Trained on a more or less unfathomable volume of web data, ChatGPT is capable of disarmingly humanlike responses to virtually any query.
With the recent launch of GPT-4, ChatGPT has become even smarter, capable of doing everything from writing code to recommending a grocery list. It's not an exaggeration to say that the potential applications of this technology verge on limitless. As it turns out, market-leading software developer Wondershare agrees wholeheartedly.
Which is likely why the latest release of Wondershare Filmora, its video editing software, now features a ChatGPT plugin for AI-supported copywriting.
The launch of Filmora 12 makes Wondershare Filmora the first major video editor to integrate ChatGPT. Through the feature, known as Swift Script, videographers will be able to generate video scripts, titles, chapter themes, social media captions, video descriptions, and any other copy they might need for their projects. More importantly, they can do this from entirely within Filmora — no tool switching required.
"ChatGPT is a game-changer for video editing," Wondershare CEO Tobee Wu explained in a recent press release. "By integrating this plug-in into our software, we are providing our users with an innovative solution to improve their creative efficiency. Whether you are a business owner, creator, influencer, or professional videographer, Filmora plus ChatGPT boosts efficiency by generating text content without leaving the Filmora editing platform, streamlining the editing process and enhancing video content."
Smarter, Better, Faster, Stronger Video
One thing a lot of people don't seem to realize about artificial intelligence is that it was never supposed to replace or supplant human intelligence. Trying to force machines to think like humans only hobbles their true potential. The reality is that artificial intelligence only truly shines when paired with human creativity.
Wondershare clearly recognizes this — streamlined copywriting isn't the only way Filmora 12 taps into AI. The video editing software includes a number of innovative AI-driven features designed to make life easier for videographers. These include:
AI Smart Cutout. Remove people and objects from frames with a single tap.
AI Audio Stretch. Intelligently stretch and tweak a soundtrack to fit the length of an entire video recording. No more clumsy transitions, cross cutting, or unnecessary looping.
AI Audio Denoise. Remove background noise from your video for cleaner, crisper, clearer sound.
All this is in addition to several major quality of life features:
Multi platform support.
Asset backup and synchronization.
Live/collaborative video review.
Custom workspace layouts.
Streamlined draw mask.
Enhanced keyframe, now extended to all parameters.
3D titles.
Adjustment layers that allow you to apply the same effect to multiple clips simultaneously.
New filmstock effects.
Filmora 12 also supports AV1 dual encoders based on the new NVIDIA GeForce RTX 40 series GPUs — meaning faster video exporting speed for you.
Experience the Freedom of Creativity
Wondershare has always been about enabling digital creativity by empowering creators. By all appearances, Filmora 12 is no exception to this rule. Already powerful and easy to use, the latest iteration of the video editing software promises to supercharge both productivity and creativity thanks to built-in artificial intelligence (and with a little help from ChatGPT).
And it's only going to get smarter from here.
Wondershare Filmora is compatible with Windows PC, Mac, Android Phone, iPhone, iPad, and Android Tablet. The software is available for purchase starting at $49.99 per year via Wondershare. For more information or to stay up to date with product announcements, you can also check out the official Filmora Facebook page.
Sign up for Black Friday email alerts!
Get the hottest deals available in your inbox plus news, reviews, opinion, analysis and more from the TechRadar team.