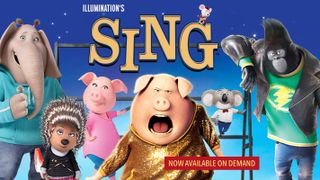 If you watch a lot of TV or movies then there's a good chance you subscribe to at least one video streaming service.
From Netflix to Amazon Prime or Now TV, such services give unlimited access to a huge array of films and TV shows for a monthly fee.
But there are certain situations where streaming simply isn't an option, and even the biggest content library in the world is useless if you don't have the internet connection to access it.
Here are the top five times you'll inevitably wished you just bought and downloaded that movie rather than relying on streaming.
On a plane
Plane journeys are made for movies, but the selection on offer with most airlines can be...interesting...to say the very least.
Thankfully, the modern world means that most people now have at least one very capable movie player at their disposal, which can fill even the longest of plane journeys.
Except if you rely on streaming then you'll find your precious signal whisked away from you the moment the plane leaves the runway, before you've even got a chance to get to the first musical number in a movie such as the recently released animation, 'Sing'.
Sure you could fork out for the horrendously expensive and horridly slow in-plane Wi-Fi, but wouldn't it have been cleverer to just buy the movie outright and download it so that you can enjoy it without having to worry about being cut off from the outside world for a few hours?
On the underground
Work sucks, but a well-equipped commute can make the daily grind that much more enjoyable. Just load up your favorite video streaming service…
...before suddenly realising that you're underground, and even though you're just meters away from that sweet sweet 4G signal there's no way it's ever getting down into the muggy warmth of the underground system.
At your grandparents
What is it with grandparents and terrible internet? Whether it's the fact that they're still using that modem that you're almost certain is a dial-up model, or the fact that it's located right in the corner of the house next to that aging desktop that gets turned on once a month, spending a weekend at your grandparents can sometimes feel like stepping back into the 90s when it comes to accessing the internet.
We're not suggesting that everyone should start watching animated musicals as soon as they arrive at their grandparents, but at a certain point in the afternoon, when your grandad has disappeared behind a copy of the Daily Telegraph with a cup of tea you should probably have a film downloaded.
On a beach or by the pool
Some people might argue that simply getting a spot by the pool while you're on holiday is relaxing enough, but we'd argue that after around the second hour, hanging out by the pool loses a lot of its appeal.
Sure you could read a book, but it's a lot more fun to disappear into a film.
Except you better be prepared to pay some pretty horrific roaming charges if you want to stream it, because data abroad can get very pricey, very quickly.
Why not save yourself the hassle by downloading a movie (we've heard 'Sing' has recently been released and ain't half bad) while you're still in the country and saving yourself the hassle.
You'll thank us when the pool related boredom sets in.
Sign up for Black Friday email alerts!
Get the hottest deals available in your inbox plus news, reviews, opinion, analysis and more from the TechRadar team.