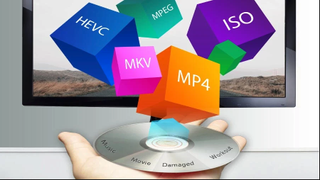 (Image credit: WinX)
You've spent years amassing that stunning DVD collection, so it's only right that you want to make sure it's secure and easy to watch. That's why it's a great idea to rip your DVDs to your computer.
By backing up your hard copy you no longer need to worry about damaging and losing those rare copies of movies you can't find anywhere else. It also makes watching them easier, no matter where you are, since you can enjoy on your laptop, phone, tablet and more.
So, you've realised ripping your DVDs is a good idea. Why is it important to get the right software to do it with? This is because that choice could make the difference between getting the best quality version of the original DVD, and a sub-standard copy where you lose some of the original quality and, frankly, the magic.
There are ways to rip a DVD on the cheap using software like Handbrake, but as the old adage goes, you get what you pay for and when it comes to WinX DVD Ripper from Digiarty Software, you get a whole lot more.
Remember to check the intellectual property laws in your own country before starting ripping though - there are varying levels of permission from different governments regarding the legality of ripping a DVD, and Digiarty Software has a great guide to picking your way through it.
Even if it is legal in your territory, it will only be for personal use or possibly educational purposes, so do spend time making sure you're clear on the law before installing any new software.
How to rip a DVD with WinX DVD Ripper
All you need to get your DVD ripped is a computer with a DVD drive and the WinX DVD Ripper software. As long as the machine is powerful enough to run the software, the rest of the process is super simple.
Load the DVD you want to rip into the DVD drive. Then open the WinX DVD Ripper application. At its most simplistic the software can be up and running in three steps.
Step 1. Select the Disc option in the top left. (You can also load ISO images and DVD video folder)
Step 2. Select an output profile you want to create, like MP4, ISO image, iPhone, iTunes, Huawei, etc.
Step 3. Simply hit the Run icon and you'll be up and ripping.
Of course you can dive deeper for more features in Output Settings, like cropping, codec type, bit rate, aspect ratio and plenty more besides.
If you want to run everything at maximum hardware potential for the quickest result, enable CPU Core Use or the Hardware Accelerator box. Then select Use High Quality Engine or Deinterlacing for the highest quality.
How to rip a DVD with Handbrake
Once downloaded and installed, Handbrake can be used to rip DVDs. However, it can't bypass the copyright protection on commercial disks - and nor should it if that's not allowed in your region, so again do check regarding the local laws in your territory.
If you are legally allowed to create a copy for personal use you'll also need to download and install the libdvdcss. Then you'll need to load in a disc and dip into the files to find the actual video that you need.
Unfortunately you'll usually just need to guess this based on timestamps, which isn't ideal for DVDs with lots of shows on it, for example. Then you'll want to select the Presets which gives you a few output options, before hitting the Start button and beginning the wait for the process to finish.
Why rip a DVD with WinX DVD Ripper instead of Handbrake?
The most important features that WinX (download this DVD ripper) sports over alternatives like Handbrake is the ability to rip discs at a fully hardware accelerated speed, in high quality and with a lower end result file size.
So while WinX DVD Ripper will rip a DVD in nine and a half minutes at 355 frames per second, maintain 98 percent quality and leave a 1.24GB file; Handbrake is limited to 297 frames per second, takes 11 and a half minutes to rip, only maintains 70 percent quality and leaves a massive 6GB file. The test is done on a Windows 10 (64 bit) PC [Intel Core (TM) i7-8700K CPU]. WinX can rip your DVD even faster based on different computer/DVD drive speed.
WinX DVD Ripper doesn't require extra plugins to run, while Handbrake does, yet WinX is able to offer over 210 file types to output to, where Handbrake only offers MP4, MKV and sometimes M4V.
WinX DVD Ripper is also able to rip damaged DVDs, special Japanese DVDs, the latest movies and workout DVDs plus region-free 99-title DVDs – all of which Handbrake cannot.
Another advantage of WinX DVD Ripper is its ability to let you copy a DVD to hard drive as an ISO image or MPEG-2 file with original quality and 5.1 Channel AC3/DTS Dolby audio for later burning. Handbrake can offer ISO files but not backup DVDs without quality loss.
WinX DVD Ripper does all this while also putting less strain on your computer meaning it is an excellent longer term choice. Go to WinXDVD homepage to dig more information.
Sign up to receive daily breaking news, reviews, opinion, analysis, deals and more from the world of tech.