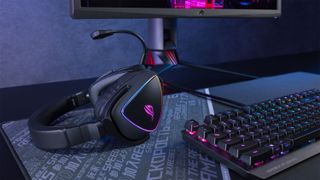 (Image credit: Asus)
The best gaming headsets combine cutting-edge design and unparalleled sound quality to truly boost your gaming experience – and the latest model from Asus is a new contender for the crown, thanks to its clever onboard audio technology.
The Asus ROG Delta S is the world's first MQA-enabled gaming headset, and it's set to deliver impeccably detailed, true-to-life audio for an exceptional listening experience every time you settle down for a gaming session or tune into your favourite songs.
That's because MQA's award-winning technology delivers "studio-quality" audio that reveals every detail of the original recording; global music and entertainment streaming platform Tidal offers easy access to millions of MQA tracks.
Music matters
When you listen to MQA music on Tidal, the headset's inbuilt renderer completes the unfolding of the MQA files to deliver the best audio quality possible, unveiling hidden details in your music and letting you fall in love with your favourite songs all over again.
So, as well as being a great solution for gamers, the Asus ROG Delta S makes a stunning pair of headphones for listening to your music.
That best-in-class sound quality is further enhanced by the headset's hi-res ESS 9281 codec with Quad DAC technology – in plain terms, there are four DACs (digital-to-analogue converters) inside the Asus ROG Delta S, with each one dedicated to a specific frequency range, from the deepest bass to the crispest trebles.
These signals work together to create an impressive 130dB signal-to-noise ratio (which is much higher than any other device on the market, according to Asus), allowing you to hear every sonic detail of your music or gaming experience.
Light it up
For when you're playing online with friends, the Asus ROG Delta S contains an AI noise-cancelling microphone, which can reduce typical background noises (like the clacking of your keyboard or mouse clicks) by up to 95%, allowing your teammates to hear your voice clearly.
You can easily detach the microphone when not in use, and an indicator light on the tip of the mic flashes red when it's muted, so you can easily check its status – but that's not the only cool lighting effect you're getting with this headset.
The Asus ROG Delta S also comes with an exclusive Soundwave light effect, which makes lights flash in sync with your voice as you talk; this feature complements the inbuilt RGB lighting in the headset, and can be customised or switched off via the headset's buttons.
Connectivity comes courtesy of USB-C, which means you can get high-fidelity audio with your PC, Mac, Nintendo Switch, or mobile device, while the included USB-C to USB 2.0 adaptor means you'll have no trouble hooking it up to your PlayStation, too.
So, if you're looking for your next gaming headset and you want the best audio quality possible (as well as nifty microphone features and easy connectivity to whatever platform you use), look no further than the Asus ROG Delta S, to satisfy your inner music lover while optimising your gaming sessions.
Sign up to receive daily breaking news, reviews, opinion, analysis, deals and more from the world of tech.