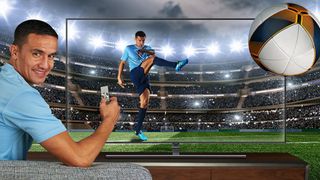 Sponsored by Samsung
Australia's peak season for sports watchers is almost upon us, with the AFL and NRL ramping up and State of Origin just around the corner… not to mention big international events over the next couple of months. Even if you can't make it to the game, you can still score yourself a spectacular sports-viewing experience with a Samsung QLED TV. We can't think of a better way to cheer on your favourite team and witness all the exciting action as it happens than with the monster-sized 75-inch QLED!
Samsung's 75-inch Q9 QLED television brings an exceptional sense of colour, clarity and scope to sports broadcasts – something that will only add to the experience of watching sports at home.
There are certain key elements you should look for when choosing a truly sports-ready TV, such as fantastic visual clarity, superb viewing angles, quick refresh rates, life-like colour vibrancy and contrast, terrific audio quality and a screen-size worthy of your favourite sporting event. And if you want a set that incorporates them all, you need look no further than Samsung's 75-inch Q9 QLED TV.
If you're planning to enjoy this season's big sports events from the comfort of your living room, here's why Samsung's 75-inch Q9 QLED television is your best option.
Size does matter
If you want to experience a sporting event in its full glory then Samsung's epic 75-inch Q9 QLED is the ultimate option. Thanks to the Q9's 4K resolution and impressive upscaling capabilities, you'll be able to see the massive crowds, the players on the pitch and track all the ball movements with stunning visual clarity.
Best of all, watching the games on a huge screen really immerses you in the action and makes you feel like you're there. Quite frankly, if you want to watch the best football players face-off on a TV that does them justice, you'll be hard-pressed to find a better choice than the 75-inch Q9 QLED TV – it just wouldn't be the same on a smaller set!
Incredible colour accuracy
With the ability to display over a billion colours, the Q9 QLED is the ideal television to watch any – and every – big sports event on. From lush green pitches to vivid multi-coloured uniforms, everything about sports looks amazing on a Samsung QLED TV.
So how do Samsung's QLED televisions achieve such stunning colour accuracy and detail? Thanks to their use of Quantum Dot technology, Samsung's premium TVs are able to bring vivid light to the colour spectrum, achieving life-like colours that pop with additional vibrancy and remarkable accuracy – with no chance of the scorecard burning into the screen for years thanks to their 10 Year No Screen Burn Guarantee. Just think, those face-painted fans in the crowd will look even more sensational (or outrageous) on a Samsung QLED television.
Wide viewing angles
Of course, the best way to experience 2018's big sporting events is with a big crowd of friends and family beside you. To properly accommodate that, you need a television that will give everyone in your living room a great view, regardless of where they're sitting – meaning wide viewing angles are an absolute must. Thankfully, all Samsung QLED TVs offer just that, with dazzling images that continue to be bright and clear even if you happen to be sitting at the edges of the room.
Super smooth motion
Thanks to the Q9 QLED TV's ability to display at a staggering 200Hz motion refresh rate, you can watch the sports events with super smooth clarity. Why's that important? Well, taking soccer as an example, the additional smoothness makes it much easier to see and follow the ball – even when it's being kicked to the other end of the pitch. Quick camera pans also appear smoother, avoiding the juddering that many televisions experience in similar situations. In short, the higher your TV's refresh rate, the closer you'll be to feeling like you're actually at the match.
Samsung's 2018 family of QLED TVs are now available in Australia at selected online stores and retail partners.
To discover the full range, visit the official Samsung QLED TV mini-site here.
This article is proudly brought to you by Samsung Australia.
Sign up for Black Friday email alerts!
Get the hottest deals available in your inbox plus news, reviews, opinion, analysis and more from the TechRadar team.