If you're off on holiday, the chances are you're going to get close to some water, whether it's a hotel pool or the deep blue sea. It's also likely you'll want to capture some snaps of your aquatic adventures – and most cameras won't thank you for taking them anywhere near water.
However, this bunch of waterproof wonders are right at home capturing subaquatic scenes, and will let you dive as deep as 30 metres to fish out the perfect shot. They're all shock-proof and freeze-proof too, and some are even crush-proof.
The fun doesn't stop there, as you'll also find many rugged cameras come packed with features such as GPS location tagging, Wi-Fi connectivity and even action-orientated extras like a compass or altimeter.
Pick the right camera, and image quality will also give a typical land-loving compact a run for its money. The only compromise you'll need to make in exchange for the ability to shoot during some rough and tumble is a below-average zoom range.
If you want a camera for holiday with a longer zoom range, take a look at our pick of travel zoom compacts.
So don't let your camera hold you back – all of these waterproof and rugged snappers are cut out for the wet and wild life.
1. Olympus Tough! TG-5
As the name suggests, this is one tough camera
Sensor: 1/2.3-inch, 12MP | Lens: 25-100mm | Waterproof: 15m | Freezeproof: -10° | Shockproof: 2.1m | Monitor: 3-inch, 460K dots | Movies: 4K | User level: Beginner
Raw format support
Range of accessories
Image smoothing at high ISOs
Zoom control is fiddly
Few rugged cameras can match the TG-5's exceptional build quality and confidence-inspiring rugged feel. Certainly, from our time using it, the TG-5 is built to survive pretty much anything you could throw at it, literally. A chunky, ergonomic design and well-designed controls make the TG-5 a pleasure to use in any weather. Olympus has taken the unusual step of actually dropping the pixel count from 16MP on the TG-4 to 12MP on the TG-5. While resolution drops a bit, it means the pixels are not quite as densely packed in, delivering a better noise performance. The TG-5 borrows the built-in Field Sensor System we've seen on the TG Tracker, which consists of a GPS sensor, pressure, compass and temperature sensor. The data gathered can be displayed with images and videos using the Olympus Image Track app. It also gets the latest TruePic VIII processor found in the E-M1 Mark II, and can now capture 4K video at 30p or high speed footage at 120p in Full HD. Our pick of the bunch.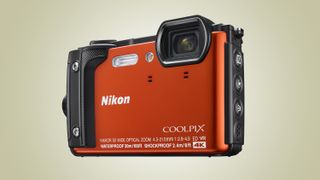 2. Nikon Coolpix W300
The ideal choice if you want to go deep underwater
Sensor: 1/2.3-inch, 16MP | Lens: 24-120mm | Waterproof: 30m | Freezeproof: -10° | Shockproof: 2.1m | Monitor: 3-inch, 921K dots | Movies: 4K | User level: Beginner
Waterproof down to 30m
Wide zoom range
Fiddly controls
Exposure inconsistencies
The Coolpix W300 comes fully-loaded with a host of features - there's 4K video for starters, a terrific GPS system, interactive world map and Wi-Fi connectivity, plus an altimeter and underwater depth gauge to boot. The W300 also offers a high resolution, 921k dot OLED monitor, but perhaps most impressive of all is that the W300 can function down to a depth of 30 metres - as far as an Advanced Open Water diving certificate will get you.
3. Panasonic Lumix FT5 / TS5
Despite its age, the FT5 is still one of the best rugged compacts around
Sensor: 1/2.3-inch, 16.1MP | Lens: 28-128mm | Waterproof: 13m | Freezeproof: -10° | Shockproof: 2m | Monitor: 3-inch, 460K dots | Movies: 1080p | User level: Beginner
Fast AF performance
Full-featured GPS
Image smoothing at high ISOs
Weak flash
Panasonic's FT5 (called the TS5 in the US) may be getting a bit long in the tooth now, but it can still cut it against the best of today's waterproof compacts. A 4.6x optical zoom lens provides a focal range of 28-128mm and is optically stabilised to smooth out camera shake. However, a 5cm minimum focusing distance does fall short of the 1cm macro modes offered by many competitors. An impressively bright LCD monitor makes it easy to compose your shots, while the swift and reliable autofocus system and accurate exposure metering ensure images turn out how you'd planned, whether you're above or below water. Factor in extras like GPS, Wi-Fi with remote camera control and NFC pairing for easy image sharing, and the FT5 shapes up as a great all-rounder.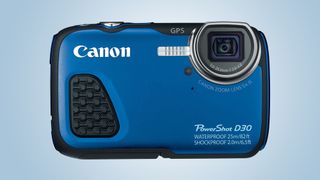 4. Canon PowerShot D30
Looking a little dated now, but still a well designed compact
Sensor: 1/2.3-inch, 12.1MP | Lens: 28-140mm | Waterproof: 25m | Freezeproof: -10° | Shockproof: 2m | Monitor: 3-inch, 460K dots | Movies: 1080p | User level: Beginner
Good ergonomic design
White balance performance
Poor GPS functionality
No built-in Wi-Fi
The D30's design features oversized controls that makes the camera exceptionally easy to operate, even when underwater as we found or while wearing gloves. The D30 is certainly a pleasure to use, but it's let down by underwhelming image quality. Its 12.1MP sensor and DIGIC 4 processor are starting to show their age, and are prone to generating noticeable levels of noise at ISO 400 and above. At least detail levels are relatively high and there's little evidence of smearing. The D30 features GPS location tagging, but doesn't record altitude or depth data, while their is no Wi-Fi connectivity either. There's no doubt that the PowerShot D30 is a waterproof wonder, going down to 25 metres, but aside from this and it ergonomic benefits, its been surpassed by the competition.
5. Fujifilm FinePix XP120
Simple to use, perfect for the beach or on the slopes
Sensor: 1/2.3-inch, 16.4MP | Lens: 28-140mm | Waterproof: 15m | Freezeproof: -10° | Shockproof: 1.75m | Monitor: 3-inch, 920K dots | Movies: 1080p | User level: Beginner
Cheap compared to rivals
Advanced filters
Disappointing image quality
No GPS included
Compared to ultra-rugged competition, the XP120 doesn't have quite the same credentials. That means that it might not be quite up to some of the more active users, but still more than up to the job of a family beach or skiing holiday. There are a host of fun filters included, and Wi-Fi connectivity, but no GPS. Simple to use, this is a great option if you're after a durable point-and-shoot compact camera for family use. With the arrival of the XP130, which offers modest improvements and tweaks, don't expect the XP120 to be available for long.
Also consider..
GoPro Hero6 Black
The best action camera out there
Sensor: 1/2.3-inch, 12MP | Lens: N/A | Waterproof: 10m | Freezeproof: -10° | Shockproof: N/A | Monitor: 2-inch touchscreen | Movies: 4K | User level: Beginner
Slick 4K video at 60fps
Improved image stabilization
Expensive
Touchscreen can be fiddly
Action cameras have overshadowed dedicated waterproof cameras a little over the last few years, but it depends on what you want to shoot. If video's your main priority, then GoPro's Hero6 Black is a brilliant choice. It's our pick of the action cams and can shoot super smooth 4K video at up to 60fps, while it can take pretty decent 12MP still photos too - it can even shoot raw files.
Read our in-depth GoPro Hero6 Black review