Advertisement Feature
Need a laptop that doesn't skimp on power or design? Try Huawei's new 16-inch laptops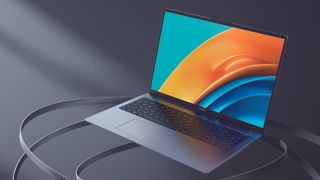 (Image credit: Huawei)
Huawei might have been a name you more commonly associate with smartphones, or maybe wearables, but the company has been in the laptop arena for quite some time - six years, in fact, Now, Huawei's MateBook series has established itself as a premium brand for notebook buyers, up there with the top vendors for high-end laptops.
There's no easier way to see how Huawei has advanced its own cause than by looking at two of the latest MateBook models. Both of these products are superb choices for those looking for a laptop with a large (16-inch) screen that offers high performance without compromising on design – they are beautiful machines to look at.
The Huawei MateBook 16s is a creative's dream – offering an abundance of performance – particularly the top-end model with an Intel Core i9 processor as its engine – and the MateBook D 16 delivers plenty of pep at an even more competitive price point.
So, let's take an in-depth look at these respective notebooks, their relative strengths, and what kind of users they'll suit – and how they might be a great fit for your next laptop purchase.
Huawei MateBook 16s
The MateBook 16s is a cracking laptop for those searching for a powerhouse that can cope with work demands and take everything in its stride. Its 16-inch touchscreen gives you plenty of space to work in, and with a resolution of 2.5K (2,520 x 1,680 pixels), the display is very sharp (189 ppi) and configured in a 3:2 aspect ratio for better productivity.
A 3:2 ratio means the screen is taller than the traditional 16:9 affair, so you can see more content vertically on a document, web page, or whatever you're looking at. It's the kind of change you don't really appreciate until you use a laptop like this, and once you're used to that extra space, you'll find it difficult to go back to a 16:9 screen.
The display also covers 100% of the sRGB wide colour gamut, with 300 nits brightness and good contrast levels, producing an image quality that is great for creatives looking to work on editing photos or videos, for example. It's also pretty useful for when you want to kick back and watch a movie, of course.
Raw power definitely isn't a problem with the Huawei MateBook 16s, as you can buy the laptop with a Core i9-12900H processor inside. That's a 14-core CPU (with 20-threads), capable of boost speeds of up to 5GHz, meaning that it's up to tackling more demanding tasks that creative pros may be faced with – and easily multitasking between different apps, too. The added bonus with this being a 12th-gen Alder Lake processor is that some of those cores are specifically efficiency cores, which can run the show when the system is idling or engaged in light work, thereby extending battery longevity.
The 12900H sports integrated Intel Iris Xe Graphics which delivers plenty of power to cope with the likes of video editing, or even a spot of casual gaming when it's time to stop work and relax. You also get 16GB of LPDDR5 RAM with this notebook, which is plenty to go around, and a 1TB NVMe SSD for storage.
The MateBook 16s doesn't just perform well, but it's also a thing of beauty, featuring premium looks including a metal chassis finished with a ceramic sandblasting process to give the device a pleasingly textured surface. It's seriously well-built and robust too, surprisingly thin at just 17.8mm, and weighs under 2kg, so it's pretty portable for a 16-inch laptop.
Part of the key to this portability is that the laptop is almost all screen, owing to the vanishingly thin bezels which give it a screen-to-body ratio of 90%. That allows for a considerably smaller form-factor than would normally be seen with a laptop that benefits from a display this large, making this a notebook that is easy to take to work, or use at home.
And when you are working from home – which a good many folks may now be doing, with hybrid working having become widespread these days – another benefit of this MateBook model is Huawei's Smart Conference tech, catering for all your videoconferencing needs.
This consists of a 1080p wide-angle webcam with AI-powered features like the camera automatically keeping you centred in the video (FollowCam), and an 'eye contact' mode to generate that feeling of a real face-to-face meeting, with natural eye contact. It's clever stuff, and is combined with extra goodies like AI Sound which reduces background noise, and Sound TrueHD which ensures your voice comes across loud and suitably clear (via the laptop's dual mics).
Further advantages the MateBook 16s confers include a keyboard with soft-press keys for a very comfortable typing experience – which is crucial if you're going to spend hours at a time working on this portable.
There are also a bunch of bonuses for those who already own other Huawei hardware, thanks to Huawei's new Super Device tech. For example, if you have Huawei peripherals like a mouse or keyboard, speakers or earphones, just bringing them near the MateBook 16s will trigger automatic pairing, a very convenient touch. Moreover, wirelessly hook up a Huawei tablet with the MateBook, and you have a handy second screen or a slate that creative types can use as a pad for drawing on. There are some really nifty extra features for those who own multiple Huawei devices, for sure.
To sum up, the MateBook 16s is an excellent proposition for creatives or anyone that need some serious power to get through their work. It's priced starting from £1,299.99, and if you want to discover more about the Huawei MateBook 16s then head over to the official website for a whole boatload of additional details and pics.
Huawei MateBook D 16
The MateBook D 16 takes a rather different angle to the MateBook 16s, while still offering that capacious 16-inch screen slotted into a relatively compact metallic chassis – with the added bonus that it's lighter too at 1.7kg.
Not only is the MateBook D 16 lightweight, it'll also lighten your wallet to a much lesser extent than rival laptops with a comparable spec, and represents seriously good value for money. Indeed, you can pick up one of these laptops starting from an RRP of as little as £749.99, so let's take a look at what you get for that kind of money (spoiler alert: it's a lot).
That 16-inch IPS screen is again framed with thin bezels – just like the MateBook 16s, the screen-to-body ratio is 90% – and it offers a 16:10 aspect ratio rather than 16:9, to give you a bit more vertical space to work in, which can be invaluable when it comes to productivity and being able to see more of any given chart or document at once. The screen has a resolution of 1,920 x 1,200 and covers 100% of the sRGB colour gamut, offering low blue light tech to protect your eyes, too.
The MateBook D 16 is powered by Intel's latest Alder Lake processors, and you can get up to a Core i7-12700H (with 14-cores, and up to 4.7GHz boost speeds). That's a very powerful laptop processor, offering more than enough performance for daily work duties and serious multi-tasking, and Huawei's innovative 'Shark Fin Fan' cooling system helps to ensure that it won't overheat. Furthermore, that Core i7 CPU comes with Intel Iris Xe Graphics, offering the ability for the D 16 to cope with some light gaming if needed. System RAM can be configured as 8GB or 16GB, and storage comes in the form of a 512GB NVMe SSD.
Another major boon worth highlighting is the laptop's 'Metaline Antenna' tech, which helps increase download speeds by a considerable amount – to the tune of 50% – when the Wi-Fi signal is weak. Not to mention helping to keep videoconferencing smooth and less prone to stutter when poor wireless signals are an issue.
Speaking of videoconferencing, the Huawei MateBook D 16 has all the same AI-powered features to make for a much-improved video chatting experience as seen on the MateBook 16s. That means the natural eye contact function, FollowCam, AI-facilitated noise reduction (with the laptop having a quad-mic array), and all those other benefits, alongside features like being able to change the background (blurring it, or using a virtual backdrop if necessary).
Another addition in the productivity stakes is the number pad present on the keyboard deck, and those keys are designed much like the MateBook 16s, to be very comfy to type with over long periods of time.
MateBook D 16 buyers also get all the same synergies with other Huawei devices they own as outlined above, such as being able to use a Huawei tablet as a second screen, and the other goodies mentioned in the discussion of the MateBook 16s.
To find out more about the MateBook D 16, head over to Huawei's official web page for the laptop, where you can read up on all the details of its specs and full range of features.
Why laptop buyers should consider Huawei
As we mentioned in our introduction, Huawei has established itself among the premium players in the laptop space, and that's not surprising given the many highlights of the two MateBooks we've discussed here. They offer a multitude of benefits, from high levels of performance to excellent portability for laptops with 16-inch screens that are well-suited to productivity and hybrid working by their very nature. Plus these machines deliver a whole host of additional benefits as we've seen, such as those AI-powered video conferencing features.
These MateBook laptops are strikingly good, and great value for money to boot, with the MateBook D 16 starting from a recommended price of £749.99 for the Core i5 version, and £999.99 for the Core i7-toting model. The Core i7 MateBook 16s is also sterling value at £1,299.99, and the Core i9 is just £1,499.99.
So, if you're ready to take your creativity or productivity to the next level and start your Huawei MateBook journey, check out the full range on Huawei's website.
Sign up to receive daily breaking news, reviews, opinion, analysis, deals and more from the world of tech.