Amazon Alexa outage: 'the Alexa service is now operating normally'
A major Amazon outage took Alexa offline for two hours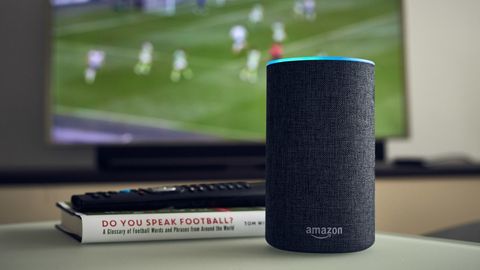 (Image: © Amazon )
Amazon's smart voice assistant, Alexa, went down for two hours today, but Amazon has confirmed to TechRadar the service "is now operating normally" with Echo speakers back to being fully operational.
According to Down detector, Amazon, Alexa and Amazon Web Services started to see a spike in issues from around 2am ET / 7am GMT on January 21, 2022.
The service went down in the UK, but also across Europe, with our colleagues in Italy and Germany confirming Alexa issues on the continent.
---
Refresh
Widespread reports from around the internet suggest there are major issues with Amazon's Alexa network, rendering the smart assistant useless for owners of Amazon Echo speakers and other devices which support the AI.
We have contacted Amazon for comment, and will bring you all the latest on the service outage right here, as it happens.
Amazon outage in the UK
The Amazon outage is definitely affecting UK users, with our own Carrie Marshall providing this nugget of information.
---
"Just had my dad on the phone complaining all his Echo devices say 'something has gone wrong' when he tries to use them. Mine are working but are taking a long time (around 20 seconds) to process the request."
There appears to be a variety of issues people are facing with their Alexa and Echo devices today.
Devices showing as 'offline'
A red light ring (rather than the normal blue)
Voice prompts such as "I'm having difficulty understanding right now" and "'something has gone wrong"
Very slow to process requests
Not gonna lie, I'm sitting here smugly at home as I went down the Google Assistant route for my smart home setup, rather than opting for Alexa, and everything is working smoothly for me.
However, it just goes to show how fragile the smart home is, with a heavy reliance on connectivity and external factors that can render it relatively useless at the drop of a hat.
Today it's Amazon suffering the outage, but it could just as easily be Apple's Siri or Google's Assistant next time. Robots aren't quite ready to take over the planet just yet then.
Have spoken to the in-laws, and they confirm their Echo Dot is not working, even after a hard reset.
And we're seeing plenty of you experiencing the same problem - let us know the issues you're facing this morning by tweeting us @techradar.
Alexa, why are you so mean?
#Alexa is just flat-out refusing to acknowledge us. 😅 pic.twitter.com/Rqv6MACeXVJanuary 21, 2022
Reports from my German and Italian colleagues confirm Alexa is also experiencing issues in the rest of Europe - this is a major outage for Amazon which is affecting millions.
This is interesting - some users with multiple Echo speakers in their homes are finding that some are working, while others are not. Curious.
Half the Amazon Echos in our house are down, the other half are working - I approve of this impartial approach to the outage 😁January 21, 2022
Perhaps some early signs of the service returning. My brother's Echo Dot wasn't working earlier, but Alexa has now perked up and appears to be fully operational once again.
Down detector reports suggest the service is indeed recovering - which will be a relief for many.
The Amazon Alexa service appears to be recovering - this device wasn't working earlier, but it's now fully operational. 🍋🍋🍋 (video from @TheMcCannic) pic.twitter.com/aup0QkTxHVJanuary 21, 2022
The folks over at Down detector do a great job, and it looks like we're almost at "normal service has resumed" levels for Amazon. I'm sure Jeffrey will be pleased to hear that.
Our software & downloads writer, Daryl Baxter, is happy to report his Amazon Echo Dot is now working again.
"Alexa, put the kettle on... it's been a morning."
Still no word from Amazon on exactly what happened to cause this outage, but we'll update this page when/if we hear from the firm.
In the meantime, with a now fully working Alexa speaker, why not try out some of these top things to do.
Amazon speaks: service has resumed
An Amazon spokesperson has told TechRadar "This morning we had an issue that impacted some Alexa customers' ability to interact with the service. The Alexa service is now operating normally."