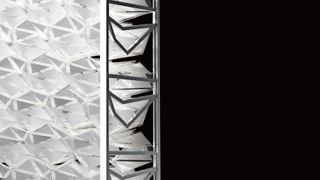 (Image credit: Lexus)
The Lexus Design Award is an annual contest, a platform for the most dynamic creators and designers to show their ideas to the world. It is open to professionals, students and enthusiasts from across the globe.
If you think you have an idea that can make a positive impact through design, you should apply. Entry to the Lexus Design Award 2020 is open until October 14.
Last year's winners show what's possible when creativity and design meet. The USA's Lisa Marks submitted a 3D modelled and hand-weaved bra for post-mastectomy women.
Australian architect Ben Berwick designed an ingenious origami-inspired blind that uses solar cells to generate power when closed, and actually improve room lighting when open.
The Lexus Design Award is no average contest, because the prize is not simply money, but the chance to receive mentoring from some of the most influential figures in design and technology. And the funding to produce a prototype.
John Maeda is one of the Lexus Design Award 2020 judges. It is in part down to him which projects make it to the prestigious Lexus exhibition of winners during Milan Design Week, and which is chosen as the ultimate Gran Prix winner.
Maeda was highlighted as one of the 75 most influential people of the 21st century by Esquire. A quick look at his career shows the breadth of his talents.
He studied computer science at MIT, spent years working as an engineer and went on to become an artist and educator. His knowledge of technology and engineering informed his art and design work, which has seen him often referred to, including by himself, as a "humanist technologist."
This approach is at the core of the Lexus Design Award, its aim to uncover the ways design and tech can, and perhaps should, intersect harmoniously with people.
Maeda is also a member of the board of directors at Sonos, a leader in Hi-Fi and smart speakers that complement the homes of millions across the world.
His new book, How to Speak Machine: Laws of Design for a Digital Age, explores how today's algorithm-formed world is affected by computational design. And he explains what that term means in a way those without Maeda's computer science background can understand.
"It's clear that the fusion of classical design and computational design is now happening especially in the minds of designers looking to solve our world's biggest problems," Maeda said at last year's Lexus Design Award screening.
How to Speak Machine: Laws of Design for a Digital Age will be available from November 14.
To have Maeda's eyes over your project seems an honor in itself. Previous Lexus Design Award judges and mentors who are experts in areas of tech include game designer and producer Robin Hunicke, and Jessica Rosenkrantz, artist and expert in 3D printing and digital fabrication.
Should your project be picked as a finalist by the panel of judges this year, Joe Doucet is one of the mentors who will help you develop your ideas.
Doucet was the 2017 winner of the Smithsonian Cooper-Hewitt National Design Award for product design, and is founder of OTHR.
OTHR is a design-led homewares brand that uses advanced techniques such as 3D printing to create "unique objects with minimal environmental impact." It is centered around the idea we should have "fewer and better" objects in our lives.
Doucet is also behind countless clever projects. In 2014 he was commissioned to design furniture for the Cooper-Hewitt National Design Museum in celebration of New York Design Week. He devised a collection of "Snap fit" marble coffee and side tables, playing with what flat-pack furniture can be.
More recently Doucet created a multi-seat concrete bench installed in Times Square, New York. The 3D printed structure is beautiful and practical, but also functions as an anti-terror structure, designed to protect people from vehicle ramming attacks.
Other members of this year's Lexus Design Award judging panel include MacArthur fellow Jeanne Gang, MoMA curator Paola Antonelli and Yoshihiro Sawa, president of Lexus International. They are joined on the mentor panel by Bethan Gray, Philippe Malouin and Shohei Shigematsu.
You can read more about the judges here.
For more information on how to submit your application to the Lexus Design Award 2020, visit DiscoverLexus.com.
Get daily insight, inspiration and deals in your inbox
Get the hottest deals available in your inbox plus news, reviews, opinion, analysis and more from the TechRadar team.