In 2017, Intel reacted to the threat of Threadripper by pumping out high core count (HCC) Skylake-X processors in the consumer space. And, while processors like the Core i9-7980XE outperformed the highest-end Ryzen Threadripper 1950X, they were also much more expensive, leading more enthusiast consumers to go with AMD's high-end desktop (HEDT) solution.
Now that Threadripper 2nd Generation is all but here, Intel has been mysteriously silent about its next-generation (HEDT) processors. However, we recently got our hands on some leaked roadmaps that suggest that Intel is planning to release its next HEDT platform later this year. Whether this 'Basin Falls Refresh' is Cascade Lake-X remains to be seen, though.
Unlike last year, when Intel announced and then released Skylake-X processors at Computex 2017, all Intel had to show at Computex 2018 was a vague 28-core processor. While Intel has since clarified that this 28-core behemoth was running a 14nm architecture and can overclock to 5GHz, we still don't know which microarchitecture it's based on.
However, shortly after its mini debut, multiple sites labeled the 28-core CPU as a Cascade Lake-X processor that utilized the a LGA 3647 socket typically reserved for Xeon chips. This leads us to believe it could either be a preview of what's to come – even if it's just a overclocked server-grade chip redesigned for the consumer market – for Cascade Lake-X.
Still, we don't have a lot of official information about Cascade Lake-X, so its existence right now is all purely based on rumors and speculation. Make sure you keep this page bookmarked, though, as we'll keep it updated with any new information that comes our way.
Cut to the Chase
What is it? Intel next line of high-end desktop CPUs
When is it out? Late 2018 or early 2019
How much will it cost? TBD
Intel Cascade Lake-X release date
The release schedule for Cascade Lake-X is kind of a mess. Now, while we know that the unbelievable 28-core processor Intel showed off at Computex 2018 is supposedly releasing in Q4 2018.
According to a report from ExtremeTech, Intel's roadmap shows the Cascade Lake-X HEDT processors debuting next year. This would make sense, as it'd coincide with the rumored release of Cannon Lake next year. However, we've also seen leaked roadmaps that point to the end of 2018 as the release window for Intel's next HEDT platform. Either way, we're sure we'll find out soon.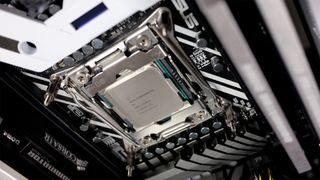 Intel Cascade Lake-X price
This is where things might get uncomfortable, so brace yourself. Intel doesn't exactly have a history of releasing HCC and HEDT processors for what we would call 'reasonable' prices. So, we expect the pricing of Cascade Lake-X to fall in line with, or exceed Skylake-X's pricing.
We've taken the liberty of listing the pricing of Skylake-X processors below.
Intel Core i7-7800X: $383 (£329, AU$519)
Intel Core i7-7820X: $589 (£509, AU$799)
Intel Core i9-7900X: $989 (£819, AU$1,309)
Intel Core i9-7920X: $1,189 (£990, AU$1,589)
Intel Core i9-7940X: $1,387 (£1,099, AU$1,899)
Intel Core i9-7960X: $1,684 (£1,399, AU$2,279)
Intel Core i9-7980XE: $1,979 (£1,649, AU$2,729)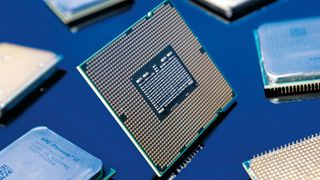 Intel Cascade Lake-X specs
Assuming for a second that the 28-core CPU showed off at Computex is indicative of what we can expect from Cascade Lake-X, things are about to get bananas.
Skylake-X was able to offer significantly higher core counts than the previous generation of HEDT CPUs precisely because it was manufactured on a smaller die. Cascade Lake-X won't have the same advantage as its based on the a similar 14nm++ process and die-size as its predecessor.
So while it will be able to offer slightly higher core counts, core clocks and power efficiency than Skylake-X, the leap in performance isn't going to be as breathtaking.
However, if Intel is able to use this process refinement to deliver a better value proposition – maybe offering a 10-core processor for under $1,000, it might actually attract a lot of enthusiasts to this upcoming HEDT platform, instead of the cheaper mainstream chips.
And, because Intel has announced a 28-core processor, followed by rumors of a 22-core one, we actually have reason to believe that's what Intel is planning on doing. Maybe we'll see a 10-core Core i7 X-series processor – that would certainly put AMD on the defensive.
We have seen a listing of a Cascade Lake processor, though it was quickly taken down. It pointed to a Xeon server-class processor, rather than any kind of consumer-grade product. However, don't worry because you probably wouldn't want to drop $50,000 on a server running a Xeon CPU.More than likely, this is merely a preview of what's to come with the Cascade Lake-X processors.
We just have to wait for Intel to reveal what's in store – and we'll be sure to update this page the second we know more.