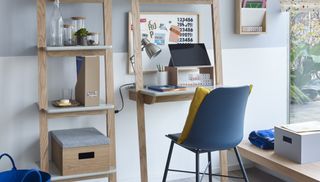 If you're heading off to university at the end of the summer, you've probably already got plenty to think about. A new city, new housemates and the wonderful chaos of Fresher's week, so looking for the perfect laptop to take with you for your studies may seem like an extra complication you could do without.
This is where John Lewis can help, as it has a wide collection of excellent laptops that have been specially picked to help you find a laptop that can do everything you need it to.
The following laptops have been expertly chosen by John Lewis, along with its partners, to offer a brilliant balance of features for both work and play, and these recommendations will help you narrow down your search for the perfect laptop, leaving you more time to get excited about your new life at university.
HP ENVY x360
The HP ENVY x360 is a brilliantly-versatile convertible that has a 360-degree hinge that lets it transform into tablet mode. It's thin and light design means it can be slung into a bag and comfortably carried to lectures, and the included pen makes it great for inking directly on to your device to scribble down notes, or drawing technical designs.
It packs a solid state drive (SSD) for superfast boot up times and access to your files and programs, while also giving you plenty of room to store your important documents and media. The AMD Ryzen 5 processor that drives this laptop is great for email, word processing, presentations and even a spot of casual gaming when you want to let off steam.
The 360 hinge can also be used in a 'tent' formation, turning the HP ENVY x360 into a compact screen for binging Netflix in between lessons, perfect when coupled with its quad speakers tuned by the experts at Bang & Olufsen.
Lenovo IdeaPad laptop
The Lenovo IdeaPad laptop is a slick and slim laptop that crams a lot of power into its slimline chassis. It comes with an Intel® Core™ i5 processor and 8GB of RAM, which provides plenty of oomph for handling multiple apps and programs at once. It has a gorgeous 15.6-inch full HD screen for getting the most out of movies and TV shows, and can also display your photos in all their glory.
If you're a keen multitasker that often has a load of web browser windows open, Spotify playing in the background, and several apps running at once, then you'll love the Lenovo IdeaPad. It features a 256GB SSD to help everything run quickly and smoothly, while also providing plenty of space to store your files, and comes with a large and responsive keyboard that is comfortable to type on.
HP Pavilion 15
The exclusive to John Lewis HP Pavilion 15 proves that you can get a brilliant productivity laptop for studying on without having to pay a huge amount. Its £479.95 price tag means your student loan will remain relatively unscathed (parents helping to bankroll their kids' university move will also breathe a sigh of relief).
For the cash you get some great specs, including the latest 8th generation Intel® Core™ i3 that will power your work projects, and ample SSD storage for quick and easy access to all your stored documents and media. The HP Pavilion 15 comes with a battery that can last up to nine hours between charges, which means you don't have to worry about it switching off halfway through a lecture.
The full-size keyboard is comfortable to write on, no matter how long the essay, and when you want to unwind, the brilliant Bang and Olufsen PLAY tuned speakers will turn it into an excellent portable jukebox.
Dell Inspiron 15
If you want a no-nonsense laptop for university at a brilliant price, then the Dell Inspiron 15 is for you. It features the latest powerful 8th-generation Intel® Core™ i5 processor and a huge 1TB hard drive. This gives you the power to work on complex projects, while having a large amount of storage space to store your important files. If you're taking a course where you'll be handling large files – such as photography or a video editing course – then this space is going to be seriously handy.
Just because the hard drive is big, doesn't mean it's slow, though, thanks to Intel® Optane™ technology which accelerates the hard drive to SSD speeds, meaning less waiting, more creating!
The Dell Inspiron 15 comes with a vibrant and large 15.6-inch full HD screen that makes working on it a breeze, and makes movies and TV shows look fantastic as well. There's also a HDMI port for connecting it to a larger screen for presentations, and Bluetooth connectivity lets you wirelessly send data between the laptop and compatible devices.
Pop into your nearest John Lewis store, or visit the John Lewis website, to find out more about these brilliant laptops for university. All of these excellent laptops also benefit from the John Lewis two year guarantee, so you can buy in complete confidence.
Sign up for Black Friday email alerts!
Get the hottest deals available in your inbox plus news, reviews, opinion, analysis and more from the TechRadar team.