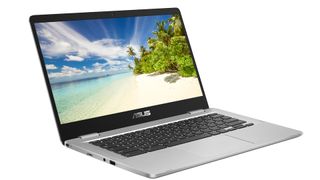 (Image credit: Asus)
The Google Chromebook started as an idea from Google to create its own operating system, one that meant faster and better performing laptops without the high charges.
Since then, lots of manufacturers have got involved creating their own Chromebooks which are now so powerful, battery efficient and good looking that they're a truly viable laptop – only you don't have to pay the usual laptop prices.
However, they're not laptops as you know them, with cloud-based storage and Google-only apps, which might sound constrictive, but actually has lots of benefits.
Since Chromebooks are all about portability and performance, they are a great way to get work done on the go. They often have battery lives which can keep going all day, or at least the 10 hours most normal humans can manage in one go, without needing a charge.
Thanks to Chrome OS running the show, software is efficient and cloud based, which means all your files, apps and settings are easily accessible no matter where you are in the world. It also makes for ease of jumping between devices and sharing files with others, without physically moving data around.
Read on to find our pick of some of the most versatile Chromebooks money can buy, with models that will suit all kinds of needs – and which can be picked up at AO.com.
Battery performance
Generally the battery life on a Chromebook is excellent, as the hardware is all built around a specific operating system. That means the memory is always used efficiently and the battery is only pushed when absolutely needed.
As a result you can generally expect a good 10-hour battery performance, but there are exceptions to that.
The Acer CB3-431 offers a stunning 14-hour battery life on a single charge. That should mean all-day use without the worry of carrying around a charging block. And that's with a well proportioned 14-inch display running with clear brightness day or night.
Tablet skills
Just because you've decided to go for a Chromebook doesn't mean you've turned your back on 2-in-1 laptop-tablet combination devices. Chromebooks can do that too.
The Lenovo C330, for example, features a fantastic hinge that allows it to fold the screen over so the unit can be held like a tablet where the 11.6-inch LCD display lets you touch interact with your device just like a tablet.
Or, use the device in folded mode to have the screen stand up, ideal for presentations or just to watch a movie at the right angle.
Superb synchronicity
One of the really superb features that Chrome OS offers to Chromebooks is the ability to work or play in the cloud.
Thanks to Google apps like Docs, Gmail, Sheets and plenty more besides, you have all your changes immediately uploaded and saved in Google's cloud. Technically that makes your files more secure than leaving them on a single solid state drive.
Another feature that online filing offers is super simple sharing. You can add other Google users to a document to live edit, or share a link to let someone else read or edit at their leisure, even if they don't use Google.
Your YouTube viewing can be enhanced with recommendations for you, which applies even when you jump from phone to smart TV to Chromebook.
Design excellence
Despite the fantastic prices on Chromebooks, that saving doesn't mean losing out on design and build quality. In fact some of the Chromebooks available on AO.com are better looking than many laptops. Since Chromebooks are super portable it makes sense to look good when out and about.
The Asus C423 is ideal for this as it offers a beautiful silver metallic finish to the body while the keyboard and display bezels sit defined in opposition, in jet black. This looks very much like a certain other tech brand that is famed for its design know-how, yet at a far, far more affordable price.
Or, you could go for the Ink Blue HP 14-db0000na that delivers classic styling and a solid form factor that will leave you reassured all is safe even when thrown in a bag between meetings.
Sign up for Black Friday email alerts!
Get the hottest deals available in your inbox plus news, reviews, opinion, analysis and more from the TechRadar team.