Dragon Age 4: Dreadwolf is in development which means we're getting ready for our next adventure in Thedas.
Though Dragon Age 4: Dreadwolf has already been in development at BioWare for a few years, there's still a lot we have to learn about the game. We now know its official title but we're still clamoring for story details and, of course, that all important release date
BioWare promised in June 2022 (opens in new tab) that it will be "talking more about the game later this year". It hasn't given us any more solid date than "later" but with EA sitting out Gamescom 2022, it's hard to predict. The Game Awards is still on the horizon, at least, and the title is no stranger to that show.
It's looking like Dragon Age 4: Dreadwolf is going to pick up after the Dragon Age: Inquisition's Trespasser DLC, bringing back familiar characters like Varric and Solas while telling a new story with a brand new hero.
While we wait for more official news, keep scrolling to find out everything we've learned about Dragon Age 4: Dreadwolf so far.
Dragon Age 4: Dreadwolf cut to the chase
What is it? The fourth installment in the RPG franchise, Dragon Age
What can I play it on? TBC but Xbox Series X and PS5 as well as PC are likely
When can I play it? TBC but 2023 or later seems most likely
Dragon Age 4: Dreadwolf release date and platforms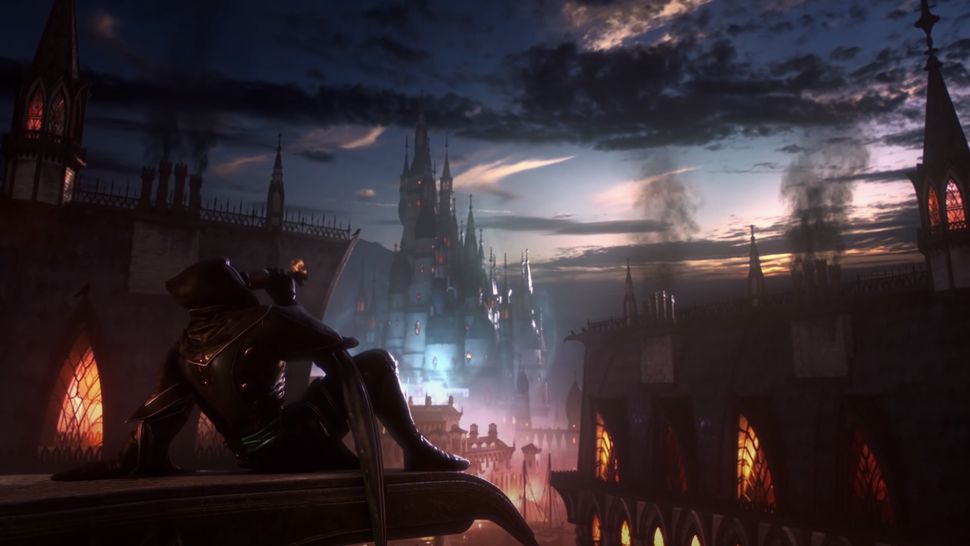 Despite the fact that the game's development had long been an open secret, Dragon Age 4 was only officially announced by BioWare a couple of years ago. Since then, BioWare has kept its cards pretty close to its chest. Neither a release date nor a release window has been announced, though BioWare has been clear (opens in new tab) that it won't be 2022.
"Hey everyone, we have been working on a new Dragon Age game for quite a while now and I am pleased to finally tease the existence of this project," said Mark Darrah, executive producer on a BioWare blog post.
"While we won't be sharing any details for now, I can tell you we have been building a new team around a core of Dragon Age veterans, people I've worked with on Dragon Age, Jade Empire, and some of whom I've worked with since the Baldur's Gate days. I'm so excited to show you more!"
EA's 2019 earnings call (via Eurogamer) had a note about Dragon Age 4 that suggests we won't see it released for several years yet. During the call, the company's CFO Blake Jorgensen said that the game "probably comes after fiscal '22". This lines up with a 2021 report from GamesBeat's Jeff Grubb, who claims that multiple sources familiar with the project have said the game is on track for a 2023 release.
Jeff Grubb stuck by his 2023 estimate in a February 2022 episode of his GiantBomb video series GrubbSnax (opens in new tab). In that, Grubb said that the game is in "very good shape" but that it's "still at least 18 months out" and suggested that we may not get our hands on it until "maybe late 2023" at the earliest.
Shortly after this report, BioWare posted an official development update (opens in new tab), stating that the game is "right in the middle of Production" and promising further updates "later this year". Basically, it looks like the game won't be with us until 2023 at the earliest.
Platforms haven't been officially confirmed yet. Given its release date seems to be a while off and a Gamescom 2020 clip made mention of "next-generation technology", it's likely that Dragon Age 4: Dreadwolf will skip PS4 and Xbox One, coming to PS5, Xbox Series X|S and PC instead.
Dragon Age 4: Dreadwolf trailers
The Game Awards 2020 brought hungry Dragon Age fans a brand new CGI trailer to enjoy. Though it doesn't reveal very much, it does feature the characters Varric and Solas, alongside some extremely pretty locations that we will likely explore when we can finally become the new hero of Thedas.
At Gamescom Opening Night Live, we got a behind-the-scenes video with the developers at BioWare who are keen to start talking about their plans for the fourth installment of the game. Take a look for yourself below:
The Game Awards 2018 had plenty of reveals but one of the biggest was a teaser trailer for Dragon Age 4. At only a minute long, the trailer doesn't give much away but the hashtag #TheDreadWolfRises, as well as the appearance of Inquisition's Solas, is enough to pique any fan's interest.
You can watch the teaser trailer below:
"I suspect you have questions..." #TheDreadWolfRises pic.twitter.com/oT7L6LOFKADecember 7, 2018
Dragon Age 4: Dreadwolf story and setting
BioWare hasn't confirmed the exact storyline for Dragon Age: Dreadwolf just yet but that title and the game's trailer makes one thing clear: Solas is going to be involved somehow. This time as the main antagonist. Now, we've put together a guide on exactly who Solas is for those keen on digging into the details but suffice it to say he's a murky character who made a strong impression in Dragon Age: Inquisition.
This is BioWare's description (opens in new tab) of him: "Solas, the Dread Wolf. Some say he might be an ancient elven god, but some say not. Others say a betrayer of his people…or a savior who now seeks to rescue them at the cost of your world. His motives are inscrutable and his methods sometimes questionable, earning him a reputation as something of a trickster deity—a player of dark and dangerous games."
Intriguing, right? The return of Solas as well as characters like Varric certainly suggests that Dragon Age: Dreadwolf's story will pick up not too long after Dragon Age: Inquisition. However, like all the previous games in the series, it'll see players step into a brand new protagonist's shoes with the official website stating, "Thedas needs a new hero; one they'll never see coming."
New heroes and fresh starts make sequels accessible and we also know that playing Dragon Age: Inquisition isn't going to be a prerequisite for getting stuck into Dragon Age: Dreadwolf, as BioWare has confirmed (opens in new tab) that "if you're new to Dragon Age, you have no need to worry about not having met our antagonist just yet. He'll properly introduce himself when the time is right".
Dragon Age 4: Dreadwolf news and rumors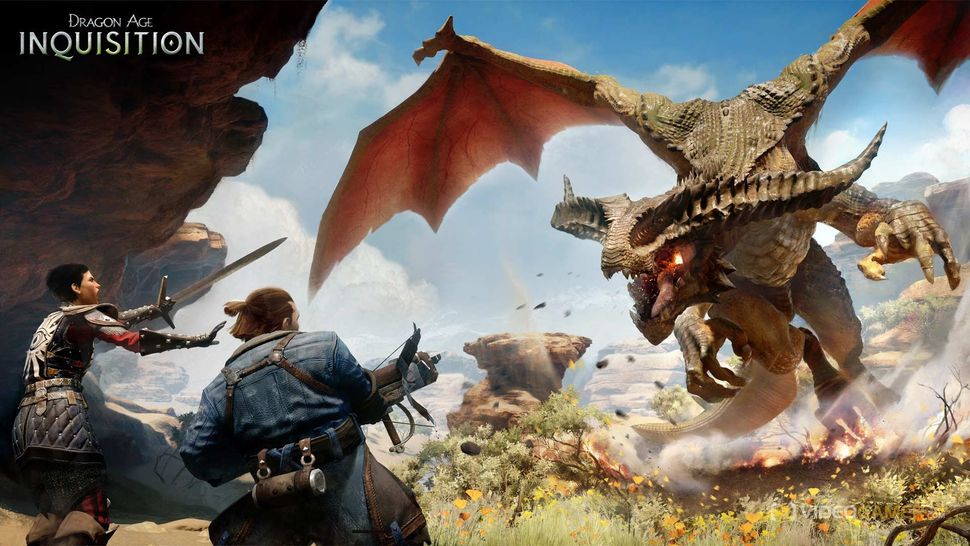 Dragon Age: Dreadwolf name confirmed
BioWare (opens in new tab) officially confirmed this next entry will be called Dragon Age: Dreadwolf. Confirming we'll hear more game details later this year, the team stated:
"We suspect you have questions and they'll be answered in time. While the game won't be releasing this year, we're growing closer to that next adventure. Rest assured, Solas is placing his pieces on the board as we speak. That's all we have for now, but we hope knowing the official title has sparked some intrigue, as we'll be talking more about the game later this year!"
Characters will have 'more personality'
BioWare has given a brief community update on Dragon Age 4 in an April 2022 blog post as part of the developer's efforts "to further pull back the curtain for a more transparent look into the process of making the games you love".
In the post (opens in new tab), Dragon Age technical director Maciej Kurowski says that a principal of the game's development has been to have "

the right tools that best fit our game" so that "developers are able to be at their most creative".
Kurowski adds that he "can't wait to talk more about some of the interesting things we have done on the tech side for Dragon Age. We take characters very seriously and do a lot of work to give them more personality than they have ever had in the past."
Though he couldn't reveal any more than that, Kurowski says more will be revealed "over time" and that "it's shaping up to be something amazing."
It's "in the middle of production"
BioWare has posted a development update (opens in new tab) on Dragon Age 4, describing it as being "in the middle of production."
In the February 2022 post, BioWare general manager Gary McKay said that there are "are a few different stages to a game's development" and that Dragon Age 4 is currently "right in the middle of Production, which is a great feeling. Our blueprint was completed last year, so we're now focused on building out our vision: creating amazing environments, deep characters, strong gameplay, impactful writing, emotional cinematics – and much more. The blueprint for the game is well understood and the team is focused."
McKay went on to announce that the game's executive producer, Christian Dailey, is leaving BioWare. With Dailey's departure, McKay explains that "A strong leadership team of industry and Dragon Age veterans is in place to carry us through Production and beyond." Mac Walters, who led development on Mass Effect Legendary Edition, is production director; Dragon Age design director, Corrine Busche, is game director; and long-time Dragon Age team member, Benoit Houle, is director of product development. McKay says that he will also be working closely with the team.
McKay closed out the Dragon Age 4 news with a promise that fans will "start to hear more from the Dragon Age team in the form of blogs and social content" later this year, adding "As we move through development we'll also be in regular communication with players who sit on our community council. As passionate fans like you, we take their feedback seriously. We are also listening to all of you as you share your thoughts and experiences, so keep talking to us!"
"Built on choices that matter"
In a brief update on the development of Dragon Age 4, BioWare general manager Gary McKay dropped a small, but substantial, detail about Dragon Age 4.
"We have a veteran group of talented developers working on the next iteration of the franchise," McKay wrote. "We are focused on a single-player experience that is built on choices that matter."
The details also came alongside further comments, in which McKay emphasized how the game is being developed to rebuild goodwill among the studio's long-time fans, with many having been left disappointed by the studio's most recent releases.
"When I took on the GM role, I talked about rebuilding our reputation, and that remains a huge priority," he wrote. "We are laser-focused on building back the trust of our fans and community, and we plan to do that by delivering the types of games that we are best known for and ensuring they are of the highest quality."
McKay went on to say that he wants future BioWare releases, like Dragon Age 4, to represent "seminal moments in the industry" that garner similar reactions that last year's Mass Effect Legendary Edition received.
Commitment to single-player
BioWare, has confirmed that Dragon Age 4 will be a "single-player focused experience." The confirmation comes by way of a 2021 blog post (opens in new tab) celebrating Dragon Age Day, which takes place on December 4 each year. In the post, the Dragon Age team thanked the community for their passion and said that they're "still hard at work" on what will be a "single-player focused experience for Dragon Age."
In the post, BioWare also said that we can expect more updates on the game in 2022, stating that they're "excited for next year when we can talk more about what we're working on".
Current-gen only?
Dragon Age 4 reportedly won't be coming to either PS4 or Xbox One, instead opting for a current-gen only release on PC, PS5 and Xbox Series X/S, as reported by Destructoid (opens in new tab).
The news comes after a LinkedIn post from one of Dragon Age 4's lead designers described the game as being in development for "PS5/Xbox Series X+S/PC," omitting mention of last generation's consoles. The report was corroborated by insider Jeff Grubb (opens in new tab), who claimed he's heard the same thing from his sources.
Potentially, this is very good news. It means that Dragon Age 4's development could go a lot smoother, not having to optimize or scale the game down to support older consoles, and will allow the game to look as good as possible on the best hardware available right now.
Antivan Crows
Dragon Age fans have been living on crumbs of concept art and the latest features what appears to be the Antivan Crows. Dragon Age 4 executive producer, Christian Dailey, shared the new image on Twitter with an accompanying message that reads, "sorry for no EA Play news this year but please know that the team is heads down with a lot of momentum and making great progress. We are excited to share more when the time is right. Please stay safe and have a great weekend!"
Hi Friends – sorry for no EA Play news this year but please know that the team is heads down with a lot of momentum and making great progress. We are excited to share more when the time is right. Please stay safe and have a great weekend! @SerGoldman @dragonage pic.twitter.com/eveXFbJtgYJuly 2, 2021
Based on the insignia in the corner of the image and the clothing of the characters, the art Dailey shared features the Antivan Crows, an organization of thieves, assassins and spies with a long, important and bloody history in Antiva and Thedas as a whole.
Return of the Grey Wardens?
Dragon Age fans have been treated to a hint that the Grey Wardens will make an appearance in the game. The tease came in the form of an image of the game, tweeted by executive producer Christian Dailey.
@SerGoldman I got you! Is this the right amount of pointy and gray?Happy Friday all. I hope everyone is staying safe and doing well. :) 🐉⚔️🛡️🐉 pic.twitter.com/LbAmD1SKGRApril 30, 2021
New character concept art
Brace yourself for another piece of Dragon Age 4 concept art. BioWare Austin Executive Producer, Christian Dailey, tweeted the art out in March 2021 with the message "Happy Friday my friends - I hope you are all staying out of the rain! Stay safe. Have a great weekend!!". The image shows a mage standing in a rain-drenched alley, wielding a staff carved to look like a snake.
@SerGoldman perfect!Happy Friday my friends - I hope you are all staying out of the rain! Stay safe. Have a great weekend!! pic.twitter.com/ViYBms8GngMarch 20, 2021
Set in Tevinter
It looks like, as long-suspected, Dragon Age 4 is going to be set in Tevinter, if a recently released BioWare book is anything to go by. As spotted by Eurogamer (opens in new tab) in early 2021, BioWare: Stories and Secrets from 25 Years of Game Development confirms that Tevinter is the setting for Dragon Age 4.
This will make it the first time players will get to visit Tevinter, which was set up as the next location at the end of Dragon Age: Inquisition's Trespasser DLC. According to Eurogamer, the book also hints that Dragon Age 4 will take us to other locations, too, as Antiva City, the capital of Antiva, is also shown in the book.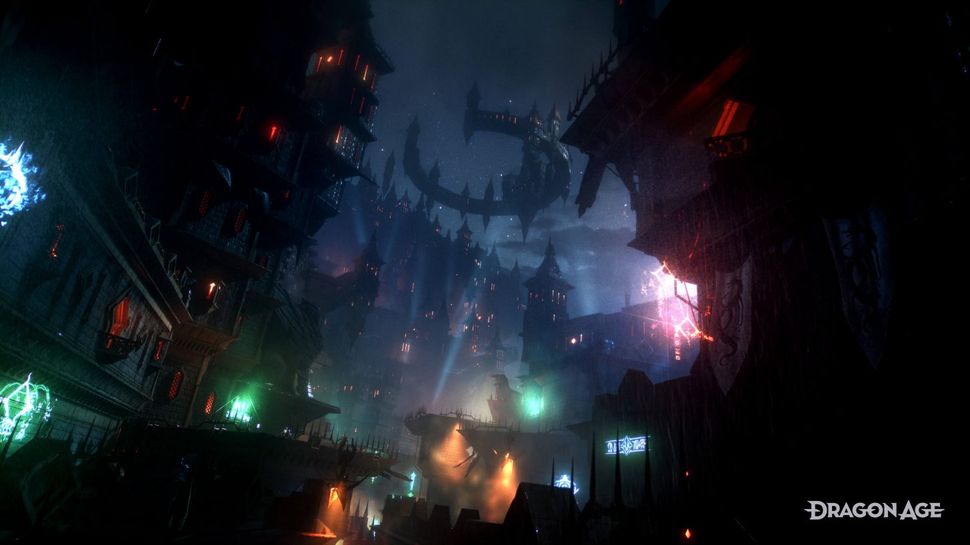 Casey Hudson and Mark Darrah leave BioWare
In what could be perceived as a blow to the development of Dragon Age 4, Casey Hudson, the general manager of BioWare, and Mark Darrah, the executive producer on Dragon Age, are departing the studio. BioWare and Darrah have reassured (opens in new tab) fans that the Dragon Age franchise is still in good hands with Christian Dailey who will replace Mark Darrah.
Gamescom 2020
Gamescom 2020 gave us an update Dragon Age 4 with a behind-the-scenes video (scroll up to watch) featuring the development team at BioWare.
Although there weren't too many specifics, the video gave a rousing look at some voice recording footage, some in-development game footage as well as interviews with developers. At the beginning of the video then-General Manager of BioWare Casey Hudson mentioned the game is still in "early production" but added that the studio is making use of "next-generation technology" in the development of the game. Developers also mentioned that Dragon Age 4 will have "new things" and "new places" and chance to "interact with people who live and grew up in these spaces as well."
The game will explore "what happens when you don't have power, what happens when the people in charge don't address the issues" and will allow players to form "close relationship with game characters" who will be "loved or hated", with a particular focus on the divisiveness of Solas.
EA Play 2020 screenshots
It was largely quiet on the Dragon Age 4 front during EA Play 2020 but it's possible the game wasn't completely absent. A montage of images was shown while EA chief studio officer Laura Miele discussed how "Generation shifts are an opportunity to push beyond the boundaries of gaming as we know it today, and this time is no different," adding that "Our studios are taking their crazy, ambitious ideas, and making them real."
Miele then moved onto BioWare specifically, saying that the studio "imagines and creates worlds where you become the hero of your own story. And we're using this next generation of technology to make those fantasy worlds your reality."
The images shown during this elaboration on BioWare's next-gen plans were not explicitly tied to a specific game but they certainly look like they're from Dragon Age 4, largely because of what appears to be the presence of red lyrium, which appears often in the Dragon Age universe, usually to cause trouble.
Fernando Melo departure
On the heels of Anthem's lead producer, Ben Irving, Dragon Age 4 lead producer, Fernando Melo has left BioWare. Melo worked on Dragon Age: Origins and Dragon Age 2 before being appointed lead producer on Dragon Age 4 (codenamed 'Morrison'.)
In a thread of tweets, Melo explained that he is taking "time to disconnect" after 12 years at BioWare and in an email to his colleagues he said that "Morrison is well underway to becoming the definitive Dragon Age experience" which bodes well for fans.
(1/4) Today was my last day at BioWare. After 12 years.. that's a heck of a lot of feels. :)Tonight I got to write my name up at our local pub, alongside many other amazing peers over the years, and it reminded me of a lot of folks no longer here that I miss dearly. pic.twitter.com/MFQELPM2jrAugust 17, 2019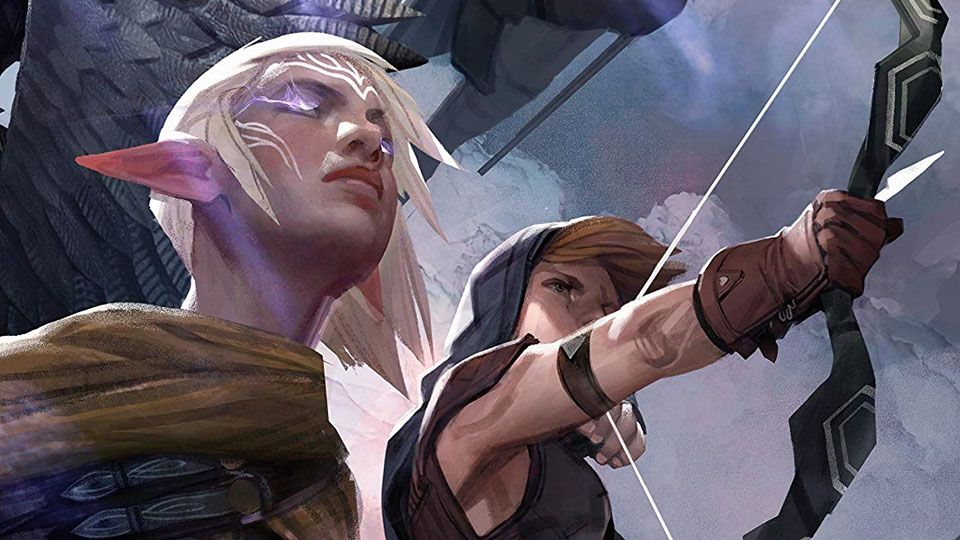 Story and character focused
Every game in the Dragon Age franchise has had a heavy emphasis on story and character and fans will be glad to know that Dragon Age 4 isn't likely to be any different.
After Mark Darrah tweeted that he was working on the game in 2018, BioWare general manager Casey Hudson chipped in with his own elaborative tweet. In this tweet he said it was "too early to talk details" but the game would be "story & character focused."
Reading lots of feedback regarding Dragon Age, and I think you'll be relieved to see what the team is working on. Story & character focused.Too early to talk details, but when we talk about "live" it just means designing a game for continued storytelling after the main story.January 25, 2018
It seems that the game will continue on from Inquisition's Trespasser DLC in some senses given the appearance of Solas and Varric in its teaser trailers, though the 2020 trailer has confirmed that players will step into the shoes of a new hero rather than the Inquisitor.
We've known for some time that writers are working on lore and side quests, following Alexis Kennedy's interview with Eurogamer (opens in new tab) in 2017 in which he confirmed he was working on a part of the game that's "well-segregated" from the rest and focuses on some lore that's not been widely addressed.
Kennedy, who has worked on titles such as Sunless Sea and Fallen London, said the subject matter would not be surprising to those familiar with his work. To us this implies that his quest (or quests) will include thoughtful choices, themes of tragic love and desire and an underlying sense of unease.
The Game Awards 2018 - official announcement
After years without an update, BioWare officially announced during The Game Awards 2018 that it will be returning to Thedas in a new Dragon Age title.
The announcement was made with the game's first 1-minute-long teaser trailer that re-introduced Fen'Harel, the elven god of betrayal, and Solas from Dragon Age Inquisition.
Dragon Age 4: what we'd like to see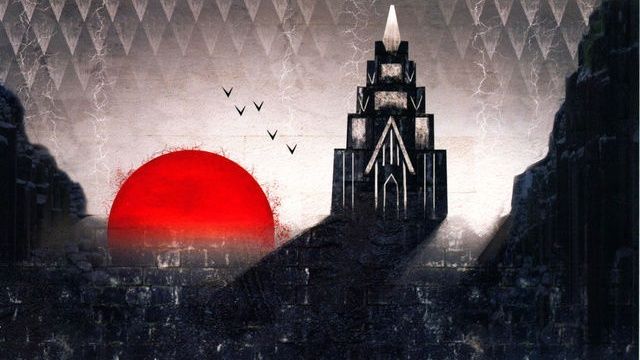 A world like Dragon Age: Inquisition
We hope that the next Dragon Age game has a map similar to the one in Dragon Age: Inquisition, by which we mean we hope it's big and open without being overwhelming. It was the perfect follow-up to the closed and repetitive maps of Dragon Age 2 and we'd like this approach to continue.
Solve that cliffhanger
Our previous point brings us to this one – we'd really like that Solas storyline to continue to be explored. He's the perfect focus for the next game and the player's approach to him is the perfect narrative crux.
(Image credits: BioWare)