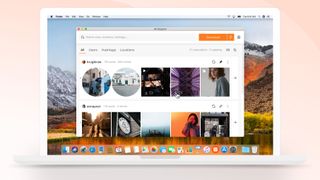 (Image credit: Stogram)
Instagram, like many social media platforms, is about sharing and spontaneity. That said, you may well come across images and photos on the site that you would like to keep for posterity.
Instagram does not make it easy to grab the content you would like to keep, and this is where 4K Stogram can help you out, making it incredibly simple to download photos, videos and stories – even from private accounts.
While there are various applications and websites that can be used to download Instagram content, the key difference with 4K Stogram is just how easy the tool makes things.
As well as making it possible to download the image and footage that other people have uploaded, 4K Stogram also serves as a great way of backing up the contents of your own account. This is a great option if you have uploaded photos and videos that you do not have stored anywhere else.
Thanks to a recently released update to 4K Stogram, the program now includes even more features and options giving you even more control over the process of download individual photos, entire accounts, and content with specific hashtags and location data. The beautifully design app is incredibly user-friendly, so let's take a look and see what it can offer you, and how to get started with it.
One of the first things worth pointing out is that it is available for Windows, macOS and Ubuntu – and you can download it here. There are three different licenses for the software, each giving you access to a different number of features – free, personal and professional.
In the free version you can have up to two subscriptions and download up to 200 posts; with a personal license, you have access to 10 subscriptions, and can download unlimited posts, stories and private users; finally, with a professional license, you can have unlimited auto-updating subscriptions and the ability to export posts and captions.
Buying a license enables you download longer playlists and playlists with captions, and at €12.24 (about US$10, AU$15) for a lifetime license for three PCs, it's a bargain, but the free edition has everything else you could wish for.
Getting started with 4K Stogram
The first thing you'll need to do is to download yourself a copy of 4K Stogram. With the app installed, you can sign into your Instagram account either by clicking the Log in now link on the opening screen, or by clicking the profile icon to the upper right and then selecting Login. With this done, it's worth configuring a few options so the program works in the best way for you.
Click the Tools menu and select Preferences, and you can select which folder the content you download should be saved to. You can also choose how often feeds should be updated – or disable automatic updating completely – as a well as choosing whether 4K Stogram should launch with Windows and remain running in the background at all times.
One of the great features of 4K Stogram is the ability to backup the contents of your Instagram account. This helps you to quickly download all of your photos, video and stories so you can use them elsewhere. All you need to do is enter your Instagram username into the box in the Backup your Instagram section, click the down arrow icon, and all of your posts will be download. Actually, you are not limited to backing up your own account, you can actually enter any username here to download that user's posts.
If you're interested in downloading Stories from Instagram, there is a full guide available, plus lots of other helpful tutorials.
Subscribing to content
A great feature of 4K Stogram is subscriptions. This enables you to browse and download content that matches specific criteria – such as content uploaded by a particular users, images that have been assigned specific hashtags, or images from certain locations.
In the search bar at the top of the program window, type the search term you'd like to used to home in on images. As you type, 4K Stogram will offer up suggestions for you to choose from; if you find that there are too many results for you to scroll through, you can use the Users, Hashtags and Locations headings to filter the list down to something more manageable.
You can subscribe to content by jumping straight in and clicking the Subscribe button, but you can also filter content first. Click the Advanced download options button next to Subscribe and you can specify a date range for 4K Stogram to download content from. You can also use the four check boxes to indicate the type of content that should be downloaded – photos, videos, stories and highlights. With your options configures, hit Subscribe.
Once you have subscribed, 4K Stogram will start the initial process of grabbing content, and then will continue to do so according to the schedule you have configured in Settings. Photos, video stores and other content will gradually be downloaded to the folder you have specified.
If you click the left arrow button to the right of a subscription box, you can see all of the content relating to it. From this screen, you can use the headings to filter content and see just photos, just videos, stories or highlights. In addition to this, you can change the order in which content is displayed by clicking the double arrow button to the upper right and selecting Default, Newest to Oldest or Oldest to Newest.
As you can see, 4k Stogram makes it incredibly simple to download precisely what you want from Instagram. The program is beautifully designed and highly intuitive. Have fun experimenting with the various ways you can find and download images, videos and more, as well as taking the time to backup your own account so you have all of your content saved forever.
Get daily insight, inspiration and deals in your inbox
Get the hottest deals available in your inbox plus news, reviews, opinion, analysis and more from the TechRadar team.