Digital disruption and how to implement emerging technologies
How can established companies digitize smoothly?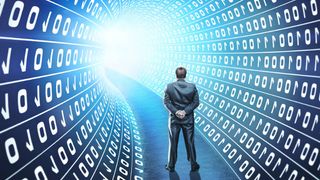 (Image credit: Image Credit: Nomad_Soul / Shutterstock)
Digital disruption is affecting businesses of all sizes across a wide variety of industries as companies look to digitally transform their operations. NIIT Technologies is just one of the companies that is helping businesses to embrace new technology models based on data, cloud and automation.
To better understand how today's market is shifting and how NIIT Technologies is helping businesses to engage with emerging technologies, TechRadar Pro sat down with the company's CEO Sudhir Singh.
Tell me a bit about your experience and how you came to be CEO of NIIT Technologies?
Before NIIT Technologies, I worked for three outstanding firms over a 22-year period: Unilever; then for close to a decade I was with Infosys; and then Genpact. The insights and experience I gained with those companies all informed my approach with NIIT Technologies.
In my first discussions with the board at NIIT Technologies, it became very clear that the company has a belief system and the strategy in place to become the most valuable and highly regarded business specific partner. Our key differentiator is to focus solely on the three verticals where we have domain expertise, Banking and Financial Services, Insurance and Travel and Transportation. This has positioned us as a leader who displays unique capabilities to transform our customers at the intersect of their business while engaging in emerging technologies.
So far, it's been a great ride. According to our most recent results, digital revenue has grown about 38% y-o-y contributing to 28% to overall revenue, new clients flow has doubled in the past few quarters, and order intake has increased by over 30% vs the same period last year.
That's quite a jump in revenues. What do you attribute that to and where do you see the business growing from here?
It's all about focus and differentiation. We are concentrating our talents and energies on industries that we know very well. In addition, we are extremely focused on the technologies which are shaping our customers' markets: automation, cloud, digitisation, and data and analytics.
Our geographic focus has also shifted and are moving our centre of gravity away from India. Most of our leadership is now based in the US, and our global head of Banking and Financial Services is in London, while our HQ (and many of our shareholders) remains in Delhi. Today, less than 20% of our revenue comes from Asia – the bulk of our business is done in Europe, North America, and Australia.
To encourage focus among our teams, we have doubled the percentage range of yearly appraisals and the incentive for closing large deals has been quadrupled. We currently employ nearly 10,000 leaders and associates and are growing rapidly.
What are the main trends you see affecting businesses from a technological perspective over the next three years?
I believe we are going to see some fairly large changes, along four axes. Decision makers for large deals in IT services are increasingly coming from the business side – rather than the CIO function - and that is having an interesting effect on the kind of work we are tendering for.
One clear aspect of change is the interest in digital transformation. It's no longer limited to sector bellwethers – businesses of all sizes want to explore how they can harness digital to boost their competitiveness. Many of them are turning to us to help them really accelerate the pace of their digitisation.
The second piece centres on automation as a framework for bringing together the middle and the back office. There's been a huge amount of investment in automating the customer-facing front end; however, we need to make sure that the backbone supports the integrity of the customer experience right through. Stockbrokers, fund managers, insurance companies, and other businesses with substantial middle and back office functions, are especially interested in what automation can do for them.
The third piece is the cloud. Businesses are moving on from 'lifting-and-shifting' their IT estate into cloud environments, to a model where they look at the underlying bedrock of what they have built and start using the cloud as a business transformation driver. We call this 'API-ification'.
Number four is cybersecurity. Our clients expect us to help them stay ahead of the key cyber risks in their markets, and we've a very robust set of capabilities which help us do that.
How do you see digital disruption affecting mid-size organisations? It can be expensive to fund "digital hubs," so how would companies without massive budgets bring themselves up to speed?
It is often difficult for established companies to move smoothly towards digitisation because the biggest hurdle to be overcome can be the culture of the company itself.
If we look at banking and financial services, for example, these are often well-established mature companies, but they face competition for customers from more agile fintech start-ups. They are learning that cultural changes are needed, and we work with them to make digital disruption work for them.
Because we recruit extensively from our target industries, we are very good at 'getting under the skin' of our clients' business challenges. That means we can help them adopt new technologies more quickly than would otherwise be the case.
With all the hype around emerging technologies, are you seeing them being implemented yet, or are most companies still evaluating and planning what they need to do?
The adoption cycle is getting faster. So, we see many client business leaders take a keen interest in what AI may be able to deliver for them.
AI is an extremely broad term – but there are two spaces in the broader AI universe where we are seeing real traction with our client engagements. The first is natural language processing (NLP) – the technology that underlies chatbots. The second is computer strategy, which has a huge range of potential applications.
For a major German transport provider, for instance, we've created a smartphone app that helps visually impaired riders figure out where the doors of a train stopping at a platform are likely to be, so that they can get on unassisted.
Sudhir Singh, CEO of NIIT Technologies
Are you a pro? Subscribe to our newsletter
Sign up to the TechRadar Pro newsletter to get all the top news, opinion, features and guidance your business needs to succeed!