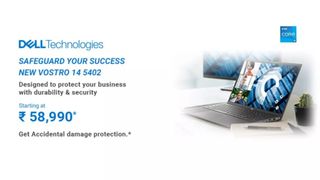 (Image credit: Dell)
When it comes to enterprise IT requirements, the question is not just about offering devices or providing seamless support. With the stake so high, it is imperative for organizations to bank upon solution providers that can offer 360-degree support - right from meeting the gruelling demands of operations to the senior executives in the organization looking for impactful devices.
This is where Dell outperforms its peers and offers computing solutions that meet the requirements of each individual depending on the role they perform in the organization and ensures enterprise-grade security even though the individual is working from the office, is on the move or even working remotely as a part of the new normal.
Some of the key highlights of the different solutions offered by Dell are as below:
Personalized hardware: Personalizing hardware based on the requirement of end-users goes a long way. For businesses that are always looking to get the maximum out of the amount spent on their hardware, especially small businesses, this matters a lot. Empowering employees with the hardware that helps them stay productive and efficient is the best way for any organization to let the employees know that it cares for their needs and increased productivity is the direct outcome of the same.
Optimized performance: Along with the personalized hardware, Dell solutions optimize the device to perform the best based on the requirements.
Uninterrupted workflow: Dell's integrated technology offers 360-degree support for maintenance of the system's fitness, security, reliability, and efficiency throughout the product's life cycle resulting in an uninterrupted and zero downtime due to system issues.
Plug and Play: Businesses need systems that are production-ready right after they're deployed. Dell understands this requirement and has a unique ProDeploy suite that offers more from day one of deployment.
Sustainable Life Cycle: Dell is sensitive about the environmental impact of the packaging and the hardware itself thus the products are designed keeping a long life-cycle in the mind.
With the underlining qualities mentioned above, Dell offers a bunch of solutions that help businesses enhance productivity:
Vostro: The Vostro lineup includes essential endpoint devices like desktops and laptops that suit most requirements regardless of the business function they are deployed at. Ideal for small businesses, the Vostro lineup offers features like enhanced security and best in class Dell support.
Not only the Vostro devices are equipped with the latest and the fastest processors apart from a few other tops of the line specifications, but they also come equipped with Full HD resolution displays and have all the connectivity ports required for a modern office device to perform right from the moment they are deployed.
Vostro lineup also boasts of enterprise-level privacy settings on the laptops and comes with features like Hardware TPM 2.0 that protects your data by encrypting the onboard storage and offering commercial-grade hardware protection. A physical webcam shutter and fingerprint scanner also rules out unauthorized access or snooping in.
Latitude: The smaller, lighter, portable yet powerful Latitude range of Laptops also now comes with an optional integrated LTE option offering seamless connectivity to the decision-makers. These modern performance devices are designed to keep mobility and productivity in mind and come with a plethora of ports and accessories.
The Latitude range of devices is built with materials like Carbon fibre and Aluminum etc. for durability and ruggedness hence working on the go is never an issue. Even though these devices are certified military-grade for their durability, they are sleek and innovative.
Thanks to the best-in-class connectivity options like Intel Wi-Fi 6, 4G LTE, 5G, and eSIM capability, the Latitude line up has all the connectivity options required for a professional.
Additionally, the Latitude range also comes with a unique and simplified back-end that not only lessens the complexity and efforts required by the IT and admin teams.
XPS: XPS is Dell's most awarded and cutting-edge product lineup. It is designed to keep consumer appeal in mind however, XPS laptops in no way compromises on features like enterprise-grade security and performance. Crafted with the finest materials, the XPS laptops are ideal for senior executives and business leaders who expect nothing less than innovative products offering visual treats and uninterrupted performance.
The XPS lineup comes with an array of Dell's class-leading features like Dell Data Protection, Encryption & Dell Data Protection, etc.
OptiPlex: The OptiPlex family includes the likes of All-in-One, Micro-computers, and Tower computers apart from the Specialty and Ultra lineup offering a class-leading solution. A trusted brand with experience of over 27 years, OptiPlex helps businesses solve their requirements of space-saving, adaptable and smart workstations.
The OptiPlex solutions offer ideal solutions for small businesses with its All-in-One computers as they are designed for functionality and flexibility. Thanks to the top-of-the-line processors, these space-saving computers offer versatile designs and purpose-built accessories.
Dell Displays: Designed for productivity, Dell Monitors are industry-leading monitors. These monitors meet a wide range of business needs based on their requirements and budgets. Dell Displays are not only ergonomically designed and come with multi-client capabilities, video conferencing certifications offering immersive user experiences and unmatched usability. The Dell Displays range includes the world's first HDR10 monitor UltraSharp with PremierColor, World's first InfinityEdge design UltraSharp, productivity-focused P series, economical E series, and Collaboration Monitors with up to 4K resolution and size varying from 24-inches to 84-inches.
Sign up to receive daily breaking news, reviews, opinion, analysis, deals and more from the world of tech.