8 reasons why you won't regret buying Microsoft's Surface Book
Looking at some of the more subtle yet still superb features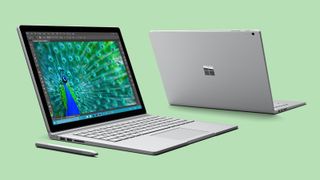 (Image credit: Future)
Introduction
Microsoft's Surface Book is a raging success, mostly thanks to the flexibility of the display. It uses a unique hinge system so you can pop the screen off and use it for drawing, sketching, and taking notes.
However, that feature is obvious from the pictures. There are a host of more subtle hardware enhancements you might not know about just from looking at images of the Surface Book – and we're going to discuss those boons in the course of this article.
It has hardware-accelerated graphics
Many thin laptops that double as a tablet don't support true accelerated graphics – the kind that can make Adobe Photoshop fly through an effects filter or even let you play games on a plane journey. Even with the tablet dislodged, the Surface Book is still speedy.
In fact, the Surface Book has two graphics processors – one dedicated processor in the base and one in the tablet. The faster graphics processing makes it easier to do 3D modelling and rendering (especially when using the Surface Book with a 3D printer). It also means corporate workers might be tempted to use the Surface Book for playing PC games.
The rear camera supports true HD video
There are HD cameras and then there are true 1080p HD cameras. The Surface Book supports real HD video recording, so if you connect up using a DisplayPort adapter to your HDTV or an HD monitor in the office, you can expect to watch recorded videos in HD resolution.
That's a big bonus for those who need to record a meeting or hold an online conference and don't want to share a video that looks washed out or unclear. It's more like a true videoconferencing camera.
The higher-end HD camera is a step up from the SD camera included on many laptops and on tablets, so Skype conference calls will look clearer and more vibrantly colourful. For field workers, it means the camera is capable of recording videos in HD quality.
It has 1,024 levels of pressure sensitivity
There's a reason the Surface Book works so well for taking notes at a meeting. You can expect to jot down notes lightly, make bold underlines, or sketch ideas and have the stylus respond like a real pen on paper. It also works great for creative pros sketching out ideas.
It's a bonus that, unlike the iPad Pro, the stylus attaches to the side of the Surface Book using magnets. For corporate workers, having the pressure sensitivity is a step up from what many older Android tablets and the original iPad could do. Writing notes was usually not easy on these sort of devices.
There are two microphones
If you have a videoconference on Skype, you can expect the Surface Book to keep pace when anyone in the room is speaking. It has two microphones – one for the front camera and one for the rear – which help pick up your voice even from across the room. In our tests, the microphones helped cancel out some background noise and made it easier to hear the person speaking in the room as opposed to making everything sound muffled.
The screen uses a 1700:1 contrast ratio
Contrast ratio is a big factor in watching movies, either those you download from iTunes or some other service, or clips you recorded yourself from the device using the rear camera. It determines the quality of the colours (blacks look blacker, whites look whiter). Lesser tablets and laptops with a lower contrast ratio tend to wash everything out to a dull grey.
What this means for corporate workers is that videos tend to look more colourful, so if you take the Surface Book on a plane or use it at home, most movies and television shows will be more palatable.
You can swap out the stylus tips
The Surface Book includes a stylus that supports interchangeable tips. You can swap out a tip for one that is softer, harder, thinner, or designed for sketching. There's a kit that costs $10 (around £6.50, or AU$14) which includes the four tips that can be used with the pen. This means you can experiment to see which one works best for handwritten notes during a meeting, sketching out ideas or diagrams, and even drawing ideas you save to Microsoft OneNote and share with a team.
It supports 1TB of storage
Microsoft also didn't skimp on storage. There's an option for a Surface Book with 16GB of RAM and 1TB of storage, as opposed to the much smaller allocation so common on many tablets (some only offer 32GB of storage).
With the space, you don't have to think as much about which apps are installed or whether you use the local storage for all your videos and photos. Most tablets do not offer so much storage, and even if you look at Apple's range of slates, the iPad Air 2 and iPad Pro max out at 128GB.
Note that the model with 1TB of storage costs $3,199 (around £2,100, or AU$4400) at the Microsoft Store.
It lasts for 12 hours
Sometimes, the estimates for battery life are a bit of a stretch, and "all-day" battery will only last that long if you use the device for email or other simple tasks. For example, the iPad Air lasts only about eight hours if you tend to use Bluetooth, Wi-Fi, and the model with a cellular data connection, or watch movies and listen to music.
The Surface Book is rated to last a full 12 hours even if you are playing a video the entire time and using most of the processor power. That's enough to keep workers from constantly having to recharge.
Are you a pro? Subscribe to our newsletter
Sign up to the TechRadar Pro newsletter to get all the top news, opinion, features and guidance your business needs to succeed!
Contributor
John Brandon has covered gadgets and cars for the past 12 years having published over 12,000 articles and tested nearly 8,000 products. He's nothing if not prolific. Before starting his writing career, he led an Information Design practice at a large consumer electronics retailer in the US. His hobbies include deep sea exploration, complaining about the weather, and engineering a vast multiverse conspiracy.