Techradar reacts: Surface Pro 4 and Surface Book
What our editors think of the new Surface tablet and laptop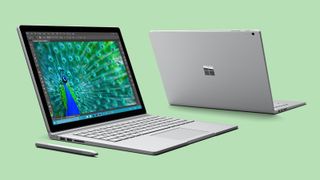 (Image credit: Future)
Reactions to Surface Pro 4 and Surface Book
Microsoft announced the Surface Pro 4 today, and it's replete with power-packing features in a thin and light design. The Redmond firm built the new tablet to knock the socks off the Surface Pro 3 and give Apple a little something to worry about, too.
But it didn't stop there: Microsoft also unveiled its very first laptop, the Surface Book. It's got all the trimmings of a laptop with a screen that can detach and become a tablet in a flash.
Can either machine take down the iPad Pro? That's one of the bigger story lines to watch as the machines hit the streets.
While Microsoft pulled no punches in unveiling its new tablet and PC, we here at techradar aren't swayed by hype speak. On the pages that follow, you'll find our knee-jerk reactions to both of Microsoft's new computing wares.
John McCann, Phones and Tablets Deputy Editor
After Apple shamelessly tried to pass off the iPad Pro as a revolutionary new product last month, Microsoft came out - dick in hand - for a real willy-waving showdown, undoubtedly attempting to stick it to its Cupertino rival.
The Surface Pro 4 packs in more power, a better screen and get this, a place to store your stylus pen. It's a great looking and sounding tablet, and for the right user it's perfect, but I still can't see past the iPad range for the casual user.
Meanwhile, I'm definitely sold on the Suface Book. I mean, look at that hinge for starters. Finally we have a Windows machine which can rival the MacBook series.
Shut up and take my money.
James Peckham, Phones and Tablets Writer
Microsoft had to hit hard after the iPad Pro launch last month... so it went and made a laptop instead. The fact Microsoft has gone and made the Surface Book proves that the company doesn't really commit to the idea that the Surface Pro 4 can replace your laptop entirely.
If anything is going to get close though, it's the Surface Pro 4. Making it thinner and more powerful than ever before is another step toward truly switching my laptop out for a tablet… but just like Microsoft, I don't think we're there just yet.
Juan Martinez, Senior Editor, techradar pro
When I made the claim last month that the iPad Pro was a more innovative device than the Surface Pro 3, many of you jumped all over me for not mentioning that the iPad Pro would run on iOS and not on a full desktop or hybrid operating system. This was an astute point, but one that I felt was negated by the introduction of the newer, sexier and better hardware on the iPad.
Unfortunately for Apple, the Surface Pro 4's hardware is on par with the iPad Pro in almost every aspect, plus it runs on Windows 10, which we all can agree is far superior to iOS (and perhaps even El Capitan) in terms of productivity. So what we've got here are two tablets with similar builds, screens and processing speeds - but one of these devices can store 1TB of data, it's got a more innovative stylus and it runs on a desktop operating system. Game, set, match, Microsoft.
Desire Athow, techradar pro UK Editor
Move along Surface Pro, the Surface Book (crap name) is what captured my attention. At last Microsoft copied Apple and now has a complete line of products to compete with its Cupertino rival. What it will offer though - and what Apple has officially said it wouldn't - is offer a seamless one-OS environment. Apple said it wouldn't merge the two OSes while Microsoft is all for it.
Anyway, back to the Surface Book: it's bold, it's gray and it is powerful. Not sure how much it will cost in the UK but based on the early spec list, all I can say is well done Microsoft. Whether or not its close partners will be happy remains to be seen. I can't imagine the likes of Dell and Lenovo being particularly appreciative of the fact that they now have YET another competitor knocking on their doors, one that has the distinct advantage of being able to tweak the operating system to perform better on its hardware and one that can afford to lose money on hardware it sells.
Gareth Beavis, Phones and tablets editor
I've never been a fan of the Surface Pro series, mostly because I've never viewed Windows as a decent platform for tablets.
Windows 10 definitely takes a big step forward to sorting that, and the Surface Pro 4 could legitimately replace your laptop. Heck, even your new Lumia phone could, and with that in mind the speed, specs and new pen make this a really attractive device right now.
Will it outsell the iPad Pro? Possibly, depending on how Microsoft markets it - but it's great to see the two going side-by-side to make consumer devices that would serve professionals well, too.
Kane Fulton, Computing Editor
The Surface Pro 4 was meant to take centre stage, but the Surface Book had other plans. I think I'm going to get one of those Magneto-style helmets because Microsoft has somehow managed to read my mind to find out just what I want from a 2-in-1. I thought it would be years until a company made a device with a comfortable keyboard, detachable display and enough internal beef to power the latest games - you're usually lucky to get two out of three.
I was wrong. It's here, now. It's just a shame that Microsoft hasn't gone the whole hog and included a 4K display, which makes system and Office fonts look even nicer than they do in QHD+. But I'm not going to moan - this is a very tasty 2-in-1 indeed - and a Surface Book Pro is something to look forward to.
Chuong Nguyen, US Writer, techradar pro
The Surface Pro 4 and the Surface Book are fraternal twins that were separated at birth. The former received only modest upgrades from the prior generation, improving on the security, typing experience, and display, but the real show stealer is the Surface Book.
Surface Book represents Microsoft's vision for convertible Ultrabooks. With a thin screen that detaches into a tablet form factor and a body constructed from machined metal, Surface Book is a well-constructed notebook with the design chops to compete with Apple's Jony Ive-designed MacBooks, but it's also a device that outclasses the MacBook Pro in a few ways: longer battery life, discrete GPU and detachable tablet display with pen support.
And despite boasting a similar form factor as the Surface Pro 4, Surface Book comes with fewer compromises. It's a lot more lapable as a laptop, and its larger canvas makes it even more productive whether you're writing or typing. If you're in the market for a laptop, tablet or hybrid and don't mind the bump in screen size, Surface Book should be near the top of your list.
Kevin Lee, Associate Editor of laptops
The new Surface Pro 4 is pretty much everything you want out of an product update: faster performance, more pixels on the display, bigger memory and storage options. There were even some surprisingly notable improvements including the screen size increase, a magnetically attaching pen and the new keyboard cover - which will be, stupidly, still sold as a separate accessory. I mean come on Microsoft, Lenovo bundles its Miix 700 tablet with the keyboard included because it's a REQUIRED accessory.
Now the real show stopper was, of course, the Surface Book. Although it has a weird-looking hinge and design only industrialists will love, it will probably set the tone for 2-in-1 laptops for years to come as the Surface Pro 3 did for Windows tablets. Not because of its aesthetics, but because of the way the keyboard deck integrates the discrete graphics chip - it's a revolutionary engineering element.
Are you a pro? Subscribe to our newsletter
Sign up to the TechRadar Pro newsletter to get all the top news, opinion, features and guidance your business needs to succeed!
Michelle was previously a news editor at TechRadar, leading consumer tech news and reviews. Michelle is now a Content Strategist at Facebook. A versatile, highly effective content writer and skilled editor with a keen eye for detail, Michelle is a collaborative problem solver and covered everything from smartwatches and microprocessors to VR and self-driving cars.