Finally, after years of being in development, we know when Hideo Kojima's upcoming title Death Stranding will release and we also know a little bit more about what to expect from the game...kind of...probably as much as we ever will.
As the game's November release date approaches Kojima has been taking advantage of events like Gamescom and Tokyo Games Show to steadily release more information about the game and show us more footage. But with Kojima, nothing is simple.
While we have now seen more gameplay footage, more trailers and learned of further confirmed features which has cleared up some of our confusion, there's still a part of us that's not entirely sure of what to expect from Death Stranding. We're not actually sure we'll have a real handle on it until we can play it in its entirety.
So while fans try to work out what to expect from Kojima's latest offering, let this article guide you through everything there is to know about Death Stranding so far.
[Update: PlayStation UK has announced that a mysterious new event for Death Stranding is coming to London at which fans will have the chance to meet Hideo Kojima. Read on to find out more about what to expect.]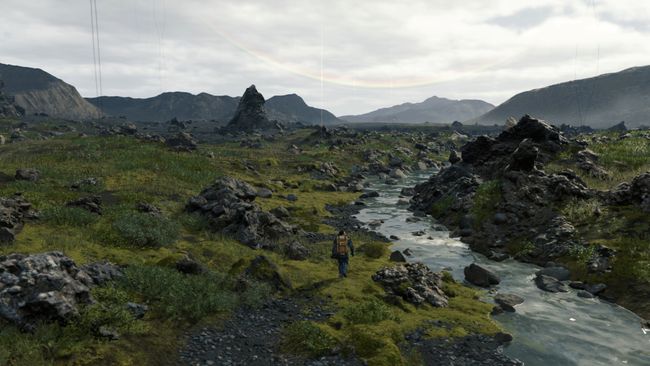 Cut to the chase
What is it? It's the debut title from Hideo Kojima's new studio Kojima Studios.
When can I play it? November 8, 2019
What can I play it on? Sony PS4 (maybe PC at a later date)
Death Stranding trailers and screenshots
Kojima made an appearance at Tokyo Games Show in 2019 and brought with him the longest chunk of Death Stranding gameplay footage we've seen so far. At just under an hour, this footage gives us a good look at how the game will play.
Death Stranding trailers are becoming increasingly focused and two released on August 19 at Gamescom 2019 brought the enigmatic infants into closer view.
The trailers revealed a new character that is the mother to an infant who was born still, and so its soul exists in a mirror plane to the real world, the world of the dead. Then, some of the characters in this world have managed to manipulate and navigate this world with actual stillborn infants connected across planes with still mothers ... we think.
It's wild stuff that borderlines on taboo – and it features Guillermo Del Toro, too.
Finally, Kojima revealed gameplay of Death Stranding, which detailed a character interacting with a character modeled after Geoff Keighley (who is literally in the game now). Then, he fell off a cliff onto the baby resting in its artificial womb on the character's chest ... unscathed. We have no idea.
Prior to Gamescom, Kojima gave us a two minute look at a brand new character: Heartman. Played by Danish filmmaker Nicolas Winding Refn, this character's heart stops every 21 minutes. Each time his heart stops he dies for around 3 minutes and enters the world of the dead before being revived by a defibrillator strapped to his chest and returned to the land of the living.
The most revealing Death Stranding trailer dropped on May 29, announcing the game's release date and attempting to shed some light on the storyline.
Check it out below:
The Tokyo Game Show 2018 trailer revealed voice-acting veteran Troy Baker has joined the cast as the mysterious villain The Man in the Golden Mask.
#TGS2018 Troy Baker's character introduced! pic.twitter.com/IT74ZU7dY3September 23, 2018
E3 2018 brought Death Stranding gameplay to our eyes and left our minds somewhat confused.
Before E3 2018, Death Stranding featured at the Game Awards 2017. Coming in at nearly eight minutes long, this isn't a quick watch and unfortunately it doesn't answer many of the questions we have about the game (actually we think we have more).
Watch it for yourself below:
The reveal trailer that was shown at E3 in 2016 may have been more than 3 minutes long, but it didn't reveal much about the game at all other than that it would star The Walking Dead's Norman Reedus.
A second even longer and 4K trailer was shown at The Game Awards at the end of 2016. This trailer starred Hannibal's Mads Mikkelsen and Guillermo Del Toro and although it didn't give us any more of an idea of what the game will actually even be about (in fact leaving us more confused than we were before) it did send expectations soaring.
Death Stranding release date
Death Stranding will release on November 8. 2019.
Death Stranding is available to pre-order now from the PlayStation Store. The standard digital edition will cost you £54.99 / $59.99 / AU$99.95, while the deluxe digital edition costs £64.99 / $79.99 / AU$114.95.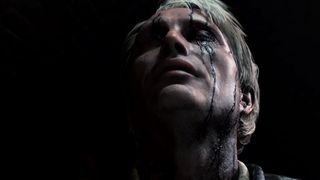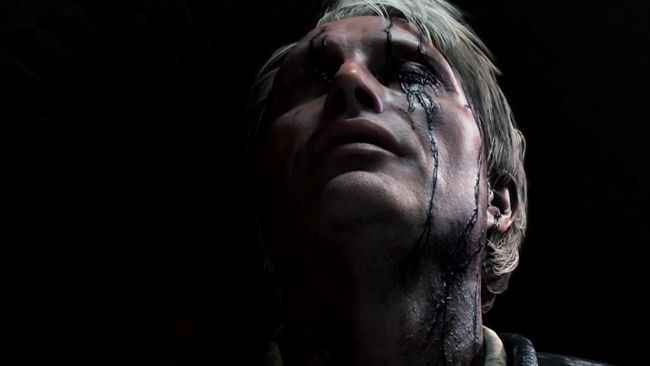 What do we know so far about Death Stranding?
London Event
PlayStation UK has announced that it will be holding a Death Stranding event in London and that Hideo Kojima himself will be in attendance. Called The Death Stranding Experience, the event will be non-ticketed and will take place on November 2 between 10am and 7pm with the chance to meet Kojima between 11.30am and 1.30pm.
Hideo Kojima is coming to London!Meet him in person on November 2nd, 11.30am to 1.30pm.The #DeathStranding Experience will be open on the 2nd, 3rd, 8th, 9th & 10th. Giving you insight into the world of Death Stranding and the chance to buy limited edition merchandise. pic.twitter.com/X1JY3b4QmjOctober 22, 2019
For those who cannot make the initial day when Kojima is attending, further Death Stranding Experiences will be available on November 3, 8, 9 and 10 from 10.30am until 6pm.
What exactly will happen during The Death Stranding Experience is currently unclear and we've heard little other than that it will be a "unique experience that draws on the environments of the game." For those not entirely sure what Kojima's game will be about, this is probably a good opportunity to get a better idea. Naturally, there will also be opportunities to purchase official merchandise.
It seems likely that this is part of Kojima's World Stranding Tour which is happening in the run up to the game's release on November 8. Before London, Kojima will be visiting Paris and afterwards he will be touring around Berlin, New York, San Francisco, Tokyo, Osaka, Seoul, Taipei and Singapore.
#DeathStranding World Tour. Starting from Paris on 10/30, we will have an event in London, Berlin, NY, SF, Tokyo, Osaka, Singapore, Taipei, and Seoul! Looking forward to connecting with all the fans, together with Hideo Kojima! (details will be announced later for the tour) pic.twitter.com/XoazMuYPcsOctober 9, 2019
Tokyo Games Show
Hideo Kojima and Death Stranding made an appearance at Tokyo Games Show; quite a long one as well. The creator took to the stage to show off almost an hour of gameplay footage which is the longest look at the game yet. From what we could see from the footage, there's a lot of walking in Death Stranding though it's mercifully broken up by some vehicles and, of course, some combat with enemies. As Reedus' character Sam, players will pull their cargo across the game world, struggling as it gets heavier. As players walk they'll need to contend with the little things like replacing their worn out boots and they'll be able to pick up cargo dropped by other players in their playthroughs.
Another round of footage was shown at the close of the show which gave us a glimpse of the game's Safe House, a more intimate place in the game world where time will be spent between missions. The Safe House is a place where you can hang out as Sam and mess around with selfies, customise your gear, plan your next move, take a shower and, er, eat some bugs.
Kojima also took some interviews during the show and in one particular interview he admitted that the game won't get "really fun" until players get around halfway through it. According to Kojima the game will have a slow start and "there is no explanation or anything". The reason for this is, in part, to make the game more accessible to every kind of player which has been a key concern for Kojima.
Accessible difficulty settings
According to a tweet by Kojima, Death Stranding will have a "very easy" mode (via GamesRadar). This is one for movie fans who are interested in the game's leading actors but aren't really interested in playing the game. Kojima is known for his long cinematic cutscenes so this isn't an entirely inexplicable move for Death Stranding.
Normally there's only Easy Mode, but we added Very Easy Mode for movie fans since we have real actors like Norman, Mads, Lea starred in. Even Yano-san who never completed the 1st stage of PAC-MAN, was able to complete the game on Very Easy Mode 👍🌈🦀😅 https://t.co/fMZmuZltZwSeptember 6, 2019
No longer listed as PS4 exclusive
All mentions of Death Stranding being a 'PS4 exclusive' have been removed from all official PlayStation sites (via Resetera). Previously we've heard rumors that Death Stranding may only be a timed exclusive on PS4 and now it seems more likely than ever the title will be coming to PC at a later date.
Gamescom 2019
We knew Hideo Kojima was going to make an appearance at Gamescom: Opening Night Live to premiere new footage from Death Stranding, but it was probably too hopeful of us to think his appearance would be straightforward. Kojima just doesn't roll like that.
While the gaming auteur certainly tried to explain Death Stranding, and in particular the baby we see Norman Reedus carrying about, it still manged to be a convoluted affair.
We kind of have a better idea about what Death Stranding's Bridge Babies are about thanks to a couple of new trailers.
It seems like Bridge Babies (or BBs) are babies who are born on "the other side" (aka stillborn). However they remain attached to their mothers via some sort of supernatural umbilical cord, which means they exist in a kind of mirror plane to the real world - ethereal, but still 'connected' to their mothers.
The babies then seem to be used to allow people in the real world, like Norman Reedus' character Sam, to see BTs (supernatural, shadowy creatures). So Sam attaches a device to him that acts like a mother's womb, so the BB thinks it's still in there.
It seems Sam needs to keep his BB calm and happy because they're "unpredictable" and can possibly fail. It seems like Sam will die if the BB dies. So essentially you're a delivery man and a surrogate mother...
After the two trailers on BBs, Kojima revealed gameplay of Death Stranding which started with Sam urinating to empty his "tank". The pee also caused a mushroom to grow a bit. We can only assume there's a survival mechanic that means you need to drink, eat and pee. We assume...
Next, the trailer detailed Sam interacting with a character modeled after Game Awards founder Geoff Keighley (who is literally in the game now). Sam delivers a package and then a new strand is uncovered, showing more of the map. Then, he fell off a cliff face-down into the ground, flat on the baby resting in its artificial womb on the character's chest, which was... unscathed. We have no idea.
The baby then start crying and Sam has to rock it to calm it down.
The new trailers didn't shed a whole lot of light on Death Stranding but it seems the babies are technically dead and create a link to another world, allowing Sam (and anyone attached to BBs) to see the shadowy BT figures. Maybe? Who knows.
Death Stranding could be out on PC as soon as May 2020
Death Stranding will only have a period of exclusivity for the PS4, before seeing a PC release, according to a fresh rumor.
Bear in mind that it is just a rumor, and nothing more at this point, but the source of the speculation, an Italian journalist by the name of Antonio Fucito, previously leaked the game's release date correctly (before it was officially revealed as November 8).
In a livestream session, Fucito said that Death Stranding would be a PlayStation 4 exclusive for a set period, before releasing on PC (but not Xbox). Regarding the possible length of exclusivity period, he added: "I don't know if it's a 6 or 12 months exclusive."
So we could potentially be looking at a PC release in May 2020, a year from now, or November 2020. Of course, that's pure guesswork, and we still have to be cautious about any PC release happening at all.
Keanu Reeves was almost cast in Death Stranding
During a panel at San Diego Comic-Con, Death Stranding creator Hideo Kojima revealed that Reeves was initially recommended for a main role in the game. However, Kojima decided to go with Hannibal's Mads Mikkelsen instead.
"I originally was recommended Keanu Reeves but I wanted Mads," Kojima explained during the panel, according to Twitter user Kalai Chik.
Check out the tweet below:
Hideo: "I originally was recommended Keanu Reeves but I wanted Madds." #DeathStranding #hideokojima pic.twitter.com/KY442aQsIxJuly 21, 2019
Release date revealed in trailer
According to the latest Death Stranding trailer, the game will release on November 8, 2019. The trailer is pretty odd and includes scenes such as Norman Reedus' Sam traversing open-world grasslands on a motorbike, Mads Mikkelsen leading an army of undead soldiers and more jar babies.
Kojima has stated the game centers around 'connection'
Following the release of the new Death Stranding trailer, Kojima tweeted an image which states what he believes the game is about and what its key themes are.
Check the tweet out below:
https://t.co/z7WMowED3a pic.twitter.com/n9km7hKlQKMay 29, 2019
Death Stranding's pre-order page is live now
Death Stranding's pre-order page is now up on the PS Store, showing off a bunch of pre-order bonus content.
Check out all the items below: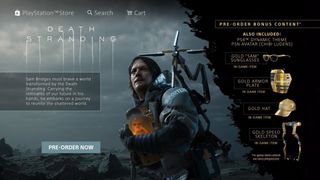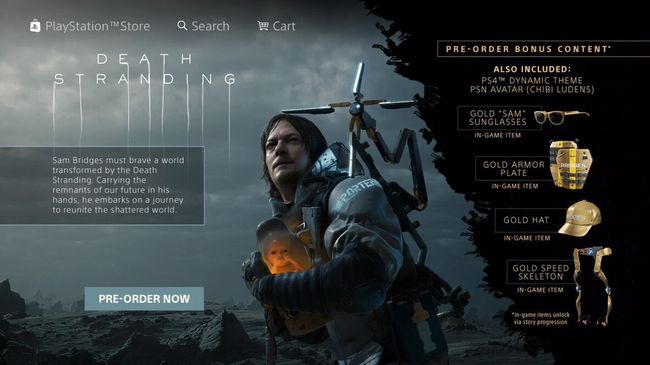 Tribeca Film Festival
We learnt a few new tidbits at the Tribeca Film Festival, which hosted a panel discussion with Hideo Kojima and Norman Reedus. Much of it was about how immersed Reedus was with development, with his entire face and body (tattoos and all) having been scanned into the game.
"In Death Stranding I'm trying to put every aspect [of Norman] in there," Kojima said through his interpreter, "and you will see his … everything, in the game," he finished, suggestively, cracking up the crowd. By the end of the game, he says, you'll "love Norman".
Non-branching narrative
Kojima also stated there would be some painful choices to make in the game, though followed up by saying the player wouldn't really be able to influence the story through their decisions. Sounds like some different cutscenes or dialogue options, though not much in the way of affecting plot.
Online features
One of the biggest teases at Tribeca was the recurring mention of online features, though Kojima avoided talking directly about what this would look like in the game: "You're connecting the game, and everyone is playing it together, and you'll be connected, everyone will be connected together as well." Maybe a way to communicate or leave notes for other players, in the vein of Dark Souls?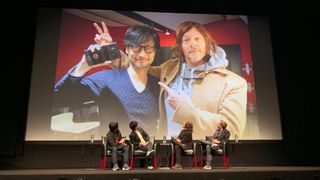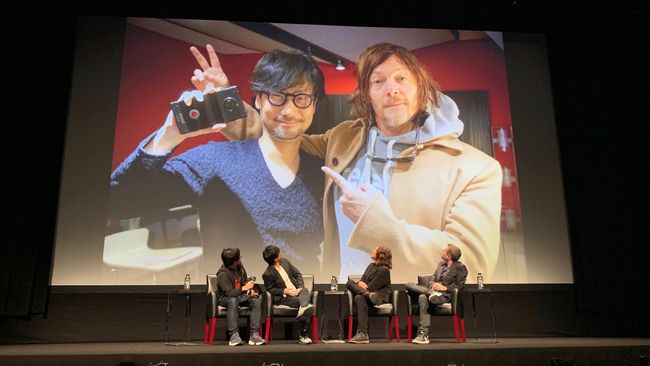 Troy Baker is a villain
Veteran voice-actor Troy Baker (who voices Joel in The Last of Us series) stars in Death Stranding as the enigmatic antagonist The Man in the Golden Mask. Baker was introduced in a teaser trailer shown during Tokyo Game Show, with his skull-masked character summoning a black tar-like demon to take on Norman Reedus' character.
E3 2018
E3 brought a brand new trailer, few answers and even more questions. The trailer for the game had the most revealing description we've seen yet, stating the game is about Sam 'Porter' Bridges, a delivery man who must journey across a vast world so that he can "reunite the shattered world one step at a time."
We also got look at two more famous faces who will make an appearance in the game – Léa Seydoux and Lindsay Wagner.
Something edgy
Back in 2015 Kojima starting giving hints around the game's tone and star-studded voice cast in an interview with IGN. According to Kojima his first title with Sony is going to be "slightly more edgy", as while he wants "to create something that's what people expect" he also wants to bring "something new that people haven't seen before."
We do know that Kojima is planning to do something different with the game's mechanics, most notably around the concept of dying and involving the baby that has appeared in every trailer. Kojima said in the interview that the mechanics of Death Stranding were inspired by a Japanese short story.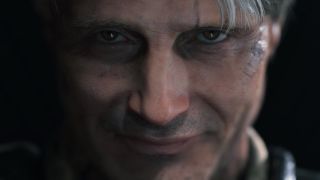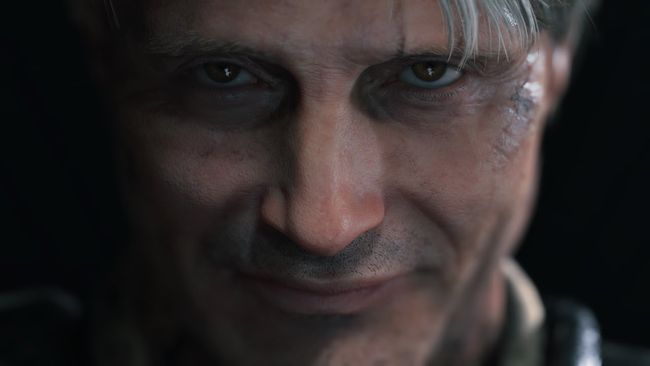 In the story it's stated that the first tool mankind creates is a stick for protection, but that the second tool mankind created was a rope to keep things close and secure. "Most of your tools in action games are sticks," Kojima explained, "You punch or you shoot or you kick. The communication is always through these 'sticks.' In [Death Stranding], I want people to be connected not through sticks, but through what would be the equivalent of ropes… But of course you will be able to use the sticks too."
Unfortunately we haven't seen any gameplay that would give us a better insight into how this rope approach will actually work.
A mystery to its own devs
At a Q and A session at the E3 Coliseum in 2017, Kojima himself said that his own team didn't understand the game: "I started explaining a year ago to the team what I wanted to make. No one got it!"
Before this, the game's star Mads Mikkelsen admitted he "got lost" when Kojima tried to explain the game's plot to him.
Sporadic details
Though Kojima has been coy, he's given some nice teases into what we can expect from Death Stranding in terms of tone and gameplay modes.
We know the game will run on the Decima engine which was created by Horizon: Zero Dawn developers, Guerilla Games. Kojima praised this engine during PSX 2016 as being an excellent engine for creating open world games, something that Horizon: Zero Dawn's reception suggests has an element of truth to it.
Though its unsettling trailers suggest otherwise, Kojima has said that Death Stranding won't be as dark as some fans are expecting. It's certainly not a horror game, he told Glixel, and it would have comedic moments which isn't entirely surprising considering the overarching tone of the Metal Gear series.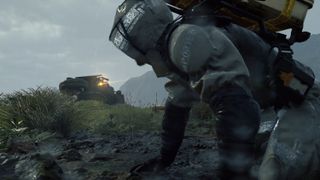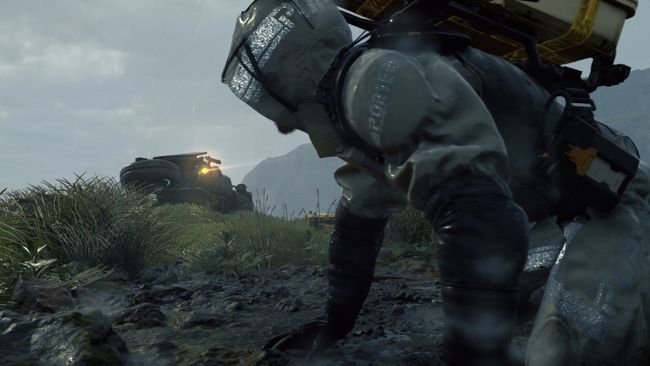 An impressive cast
We already knew Death Stranding had some big names attached to it including Norman Reedus and Mads Mikkelsen . But now we know they'll be joined by writer and actress Emily O'Brien and the voice of video games, Troy Baker.
O'Brien posted a picture to Instagram which showed her alongside Baker and Reedus, with a caption stating "Honored to be working alongside these two fine lads on [Hideo Kojima's] new project Death Stranding."
While Baker is well known for his starring roles in video games such as The Last of Us and Bioshock Infinite, O'Brien has had roles on both TV and in games, featuring in Telltale's Guardian's of the Galaxy and Batman: The Enemy Within as well as Rock in a Hard Place.
Players won't die
In an interview with IGN, Hideo Kojima was slightly more open with details than he usually is. The strange underwater sequence from the 2017 Game Awards trailer for example? That's apparently a kind of purgatory where players will go and freely explore when they die in the game, though Kojima notes that "death will never pull you out of the game."
The game apparently explores the themes of life and death and it's for this reason that Kojima would like to explore the traditional death mechanic in games and let players know that in-game death isn't the end for them when it happens.
In this underwater area, he explains, "you're not dead or alive. It's the equivalent of that screen that says 'Continue?' and a counter ticking down towards zero." When players decide they're ready to leave and return to the game world, they won't be returned to a point before their death. Instead the game acknowledges their defeat and coming back to life is more of a reincarnation than a respawn.
There's a weird time rain
During the trailer shown at the 2017 Game Awards, fans noticed there's a strange kind of rain that has an effect on time. In makes plants grow and wilt and makes human bodies age and degenerate when it touches them. The rain is apparently called Timefall and it has a big role to play in the game's story.