How to sell a domain name
Simple, step-by-step guide for newcomers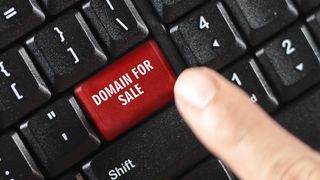 (Image credit: Shutterstock/Kunst Bilder)
While buying a new domain name is easy, selling the one you own is a bit more complex, particularly if you have no clue where to start. Perhaps you've purchased a domain name on the spur of the moment and never got to create the website you planned. Or your current domain name can't cut it anymore so you want to switch to another one.
Whichever the case, why would you let your domain sit collecting dust when you can sell it and make some money on the side? Once you figure out how things work, perhaps you can even take a leaf out of popular domain registrars' books and turn this domain name business into a side gig and create a steady source of income for yourself.
Truth be told, not every domain name can be sold for a hefty fee. However, selling it at any price beats having a domain that has no purpose. So, let's continue with our step-by-step guide. By the end of it, you should come up with your selling strategy and make your first successful sale.
How to sell a domain name in five simple steps
Before making your first moves, you'll probably want to do some research on your own. Once you figure out why some domain names are worth more than others (like top-level domain names or TLDs), how you can sell them, and where, you'll be ready to set things in motion.
1. Put a price tag on your domain name and pick out a pricing strategy
As you've probably noticed, not all domain names are equal in popularity and price – some are pocket-friendly and others cost a pretty penny. There are a couple of reasons for this and we'll cover most of them right now.
For starters, if a domain was already used and has pre-existing traffic, it can be sold for a higher price. After all, it's easier to utilize a domain that people already know and search engines trust than to start from scratch. Another thing search engines love are keyword-rich domains (let's say SmartPhoneRepairs.com), so if you got one of these rare gems, put the right price on it.
After this, check the length and complexity of your domain name. Most people prefer memorable ones, so having a short and sweet domain beats a long and hard-to-remember one. Also, not having any special characters or numbers is another big plus for a domain name.
As we've mentioned, TLDs (such as .com, .org, and .net) are more pricey than other less popular domain names.
Now, that you've determined you're domain's value, it's time to decide on a pricing strategy. So, do you want to sell your domain at a fixed or flexible price? If you have one of the premium domain names, it's smarter to set flexible pricing so you drive the price up if your domain proves to be popular. At the same time, it's better to stick with fixed pricing for less valuable domains.
2. Choose where you'll sell your domain name
Now, it's time to choose whether you want to sell your domain on your own or sell it through one of the popular platforms - online marketplaces, auction sites, or domain brokers.
If you want to do it on your own, you'll need to take care of marketing your domain, handling the talks, and arranging a secure payment processing. While the private selling method calls for some technical know-how (or going through a few guides), it gives you complete control over the process. Plus, you won't have to share your profit with third-party providers.
Meanwhile, if you want to go with third parties, you should familiarize yourself with some heavy hitters. Namecheap, Sedo, NamePros, Afternic, and Flippa are among the best domain name marketplaces and will allow you to put your domain on auction too. If you want to hire a domain broker (and don't mind paying a hefty fee), check out GoDaddy, Grit Brokerage, and Domain Holdings.
3. Make your domain listing as close to perfect as possible
Some sellers will simply upload their URL and shut up the shop but we're sure you're not one of those - you want to make your domain stand out in the crowd. So, once you've chosen the platform you'll use to sell your domain, you'll want to optimize its listing.
For this, you'll want to provide plenty of information about your domain. For instance, if your domain has any existing traffic, any existing authority, or any current value, you'll want to bring it up. Put yourself in the shoes of someone who's buying a domain name and think about what would you like to know about.
Also, don't forget to update your information on the WHOIS directory and make sure it is made public, so potential buyers can reach you directly.
4. Secure your domain sale with an escrow service
Once you've got a buyer, it's smart to utilize an escrow service to streamline the money transfer and make it more secure. It will serve as a neutral third party that will securely hold and process the funds while helping you steer clear of scam buyers.
If you've previously picked out a platform that includes this service (such as Sedo), you've saved yourself a step. If not, you'll have to hire an escrow service by yourself (something like Escrow.com).
We should note that while you can skip this step, we don't recommend doing it if you own a particularly valuable domain name - it's not worth the potential headaches.
5. Transfer your domain name to its new owner
Once you've received your payment, it's time to transfer your domain to the buyer. The transfer process itself depends on the method you used to sell the domain as well as the domain provider.
For example, if you've sold your domain through a marketplace, you'll get all the assistance you need for transferring the domain there. If you're doing it on your own, you'll have to check how the process goes with your domain provider.
While the domain transfer process is pretty simple, it can take up to one week before the sold domain reaches its new owner. So, try to keep in touch with the buyer until the transfer is complete.
Now, it's time to sell your domain name
While selling a domain name might not seem so simple at first, once you understand the core steps and work out a selling strategy, you'll be on your way to mastery.
However, if you find selling a domain on your own too tiresome or time-consuming, you can always list it on one of the online domain marketplaces - it's the easiest way after all.
Are you a pro? Subscribe to our newsletter
Sign up to the TechRadar Pro newsletter to get all the top news, opinion, features and guidance your business needs to succeed!
Mirza Bahic is a freelance tech journalist and blogger from Sarajevo, Bosnia and Herzegovina. For the past four years, Mirza has been ghostwriting for a number of tech start-ups from various industries, including cloud, retail and B2B technology.