Former Assassin's Creed lead producer thinks AI in game development is inevitable
Everquest 2's co-director thinks money will drive "everybody" to use it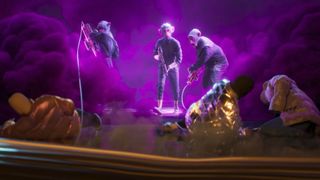 (Image credit: Haven Studios)
Haven Studios' head Jade Raymond and Everquest 2 co-director Raph Koster both think that no matter what the public opinion is on AI in game development, it'll happen regardless.
In a discussion in the latest issue of Edge Magazine (via GamesRadar+) the former Assassin's Creed lead producer and Koster talked about the hot topic of AI being used as a tool in AAA game development, with both agreeing that it's an inevitability that will be driven by money, as well as how it can help improve production timelines.
"AAA games have gone from taking teams of 50 people two years to make to now sometimes taking teams of hundreds of people more than ten years to make," Raymond said.
"At Haven, one way we are evolving to improve our production processes is through investing in R&D around generative AI and machine learning, in the belief these technologies will eventually help game developers reverse that trend, and unlock more creativity from developers and players alike."
Koster believes that money will be the driving force behind the use of AI and that it'll become a solution for game development expenses, and said: "Developers hate it, many players dislike it, there's a general current against it, and the money is still going to drive absolutely everybody to do it, because otherwise the cost curves are not sustainable."
The developer went on to say that as of right now, AI "suck at generating plots" and for now can only be used for simple phrases used by characters in games. Raymond added that the technology could be more advanced in the future and could positively impact gamers in their old age.
"I believe that this will open up the market for a new type of mass-market game tailored to the needs of retired gamers," Raymond explained. "Multiplayer games that are designed to be experienced and played across generations could be a new trend. Immersive games built to learn and develop hobby skills like gardening could be another niche. Designing games to meet the needs of a mass market of retirees is kind of fun to imagine and not the target audience we currently focus on."
Amid the ongoing SAG-AFTRA (Screen Actors Guild-American Federation of Television and Radio Artists) strike, last month the union voted overwhelmingly in favor of authorizing a strike on the Interactive Media Agreement which covers its members' work on games.
The union wants to negotiate for vocal-stress protection for voice actors and protections surrounding AI when it comes to transparency, consent, control, and compensation, alongside other demands like fair wages.
So far, negotiations have failed, with SAG-AFTRA stating that companies have refused the terms, but the labor union will continue fighting. However, its negotiating committee and National Board "will do everything they can to reach an agreement without a strike".
For more, check out our top picks for the best single-player games, along with our list of the best cooperative titles.
Sign up for Black Friday email alerts!
Get the hottest deals available in your inbox plus news, reviews, opinion, analysis and more from the TechRadar team.