Final Fantasy 14 patch 6.5 Growing Light launches early next month
Patches 6.51 and 6.55 also have release windows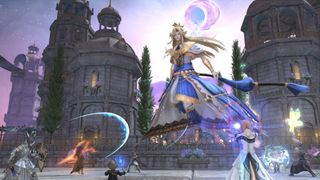 (Image credit: Square Enix)
Square Enix has announced that Final Fantasy 14 patch 6.5 'Growing Light' will launch on October 3.
Growing Light will continue the ongoing post-Endwalker main scenario in the run-up to the next major expansion, Dawntrail (which is set to release next year). It's the first part of the final patch and will include a ton of new content.
During the 79th Letter from the Producer Live broadcast at Tokyo Game Show, director and producer Naoki Yoshida and his team debuted a brand-new trailer for Growing Light featuring Zero - who looks to be playing a major role in the upcoming events of the story - as well as the return of Ryne, as the Warrior of Light takes another trip back to The First in search of answers to the ongoing threat of Golbez.
Players can anticipate the usual addition of new duty content that comes with every major patch, including a story dungeon called Lunar Subterrane, a Trial called The Abyssal Fracture - which will offer a challenge against Zeromus in both normal and extreme difficulties - and more.
Alongside the official release date, fans were also treated to a look at the Myths of the Realm, Part Three: Thaleia - the next chapter in the Alliance Raid series. Players will once again return to the Phantom Realm to uncover the true identities of the Twelve, and this time make their way to "the monument at the heart of the Omphalos," as well as earn some good-looking gear, which was also revealed.
Final Fantasy 14 will receive some Job adjustments along with some updates to PvP and Island Sanctuary, the latter of which will be getting ranks, a new gathering area, more craftable items, crops, animals, and more.
Additionally, Yoshida shared further details on new content to come following 6.5, as well as the release dates for the next updates. Patch 6.51 will arrive in late October, so players won't have to wait very long after 6.5, while 6.55 will be released in mid-January.
6.1 will mainly feature a new Variant dungeon called Aloalo Island, a new arena called The Red Sands for Crystalline Conflict, tool enhancement quests, and more. 6.55 seems to be prioritizing questlines and will introduce another chapter in Tataru's Grand Endeavor, additional Hildibrand quests, weapon enhancement quests, and Endwalker Tribal Alliance quests.
There's a lot to look forward to ahead of Dawntrail. You can find out more details about 6.5 on the official special site.
Looking for something new to play? Check out our list of the best free-to-play titles, or the best RPGs for console and PC.
Sign up for Black Friday email alerts!
Get the hottest deals available in your inbox plus news, reviews, opinion, analysis and more from the TechRadar team.