Batman: Arkham Knight's first update in 8 years added Robert Pattinson's Batsuit, but now it's gone
The update was quickly removed after making its rounds online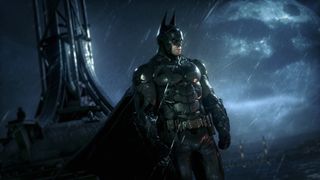 (Image credit: Rocksteady Studios)
Batman: Arkham Knight just added Robert Pattinson's Batsuit in a free update, but it was quickly removed soon after.
Yesterday (October 26) players discovered that the 2015 superhero action game had received its first update in eight years, adding the Batsuit worn by the Hollywood actor in The Batman movie which was released last year (via GamesRadar).
Since Rocksteady hadn't released any updates in a long time, this caused some excitement, leading players to share the costume in action on social media.
The suit is called "The Batman Skin - 2022" with the description "I am the shadows", which is fitting for the iconic DC comic book character. It also looks great in-game, showcasing Pattinson's more structured suit and metallic coloring, complete with the updated Batman logo on his chest. The helm is identical too, and helps Arkham Knight's Bruce Wayne look just like the actor from the movie.
However, soon after the new update began making its rounds online, it was swiftly removed from the game, with no notice as to why. At the time, the Batsuit was made only available through an update on the Epic Games Store and didn't appear on either PlayStation, Xbox, or Steam versions.
Some theories suggest that the free update may have something to do with the upcoming release of the Batman: Arkham Trilogy - which is set to arrive on Nintendo Switch later this year. The collection will include Arkham Asylum, Arkham City, and Arkham Knight along with every piece of DLC ever released for the series.
It's possible that the surprise Arkham Knight update was pushed out too early and was supposed to coincide with the release of the Arkham Trilogy, but, for now, the mystery remains unsolved.
We've reached out to WB Games as to the reason for the sudden update and its removal. We have yet to hear back for comment.
For more, check out our list of the best Batman games of all time, as well as our list of the best superhero games.
Sign up for Black Friday email alerts!
Get the hottest deals available in your inbox plus news, reviews, opinion, analysis and more from the TechRadar team.