A rare Nvidia GeForce RTX 3080 Ti Founders Edition graphics card has just popped back into stock at Scan for £1,049 (opens in new tab). That's MSRP for this super speedy GPU and arguably the price you should be paying.
While some may not call this news (even we wouldn't call it a deal), this is one of the best opportunities we've seen in the past year to snag a high-end GPU without a significant mark-up. As we all know, gamers have been faced with absurdly high graphics card prices (opens in new tab) and demand recently, without much hope on the horizon.
That looks to be changing now, thankfully. This particular RTX 3080 Ti (opens in new tab) Founders Edition listing was posted yesterday and still hasn't sold out. That's a very, very positive sign that the graphics card (opens in new tab) market is headed into a much more consumer-friendly territory.
If you're interested, you'll also find the truly insane Nvidia GeForce RTX 3090 Ti Founders Edition at Scan for £1,879 (opens in new tab). Again, this is a true MSRP for this card without any mark-ups or retailer shenanigans. It's a niche card indeed that will appeal to only the most hard-core enthusiast, but this FE version has been in stock since its launch in late March. People aren't rushing out to buy this stupidly powerful (and stupidly expensive) card, but the fact it's readily available to buy makes us hopeful for the future.
RTX 3080 Ti FE now in stock at MSRP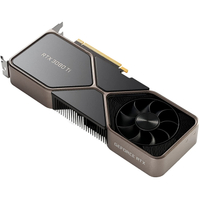 (opens in new tab)
GeForce RTX 3080 Ti Founders Edition: £1,049 at Scan (opens in new tab)
A rare Founders Edition RTX 3080 Ti has just popped back into stock at MSRP at Scan in the UK this week. Surprisingly, it hasn't sold out yet either which is a fantastic sign for things to come. Let's not get ahead of ourselves here - this is one pricey card and one that's difficult to call a deal at full price. That said, we haven't seen stock hold up like this for a full year so we're cautiously optimistic right now.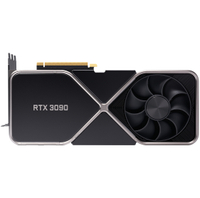 (opens in new tab)
GeForce RTX 3090 Ti Founders Edition: £1,879 at Scan (opens in new tab)
And you'll also find a Founders Edition RTX 3090 Ti on sale at MSRP at Scan this week. If you thought the RTX 3080 Ti above was expensive, you're not going to like this one, but it is the most powerful GPU on the market. While we wouldn't recommend this one to the average gamer, professionals and enthusiasts with big cases and even bigger power supplies will love this one.
Is now a good time to buy a graphics card?
Yes and no. Right now is the best time in the past 18 months or so to be looking to snag a new GPU. Stock is plentiful, we're starting to see MSRP cards, and gamers aren't putting up with lame scalping tactics anymore. In short, we're in a great place right now, even if we're not fully back to 'normal' yet.
However, the burning question is whether graphics card prices have more wiggle room to fall even further. Personally, we think it's likely that we'll see prices fall quite a bit over the next few months. Not only do we have the next generation of Nvidia cards looming now (the RTX 4000 series (opens in new tab)), but it's highly likely we'll see Ethereum shift to proof of stake (opens in new tab) this Summer. These should have a knock-on effect in driving prices of the soon-to-be older RTX 3000 cards down. Note the should here.
When we talked to a leading retailer in the UK back in late March, it stated that it sees May as when prices will start to become more 'attractive (opens in new tab)'. While vague, this is one of the best indicators we've seen so far regarding prices.