Best MMO games: multiplayer worlds to sink into on PC and console
Best
Contributions from
last updated
New adventures are waiting in the best MMO games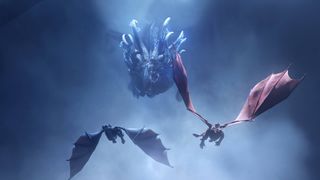 (Image credit: Activision Blizzard)
The best MMO games are more than just breathtaking adventurers. These ambitious multiplayer offerings invite you into vibrant communities where you can be part of something bigger than yourself.
Also known as Massively Multiplayer Online games, these titles take advantage of online infrastructures to allow huge numbers of players to interact and adventure together on their own terms. The best MMO games come in a wide range of different flavors. Some are more linear, story-driven affairs in the mold of the best RPGs and the best story games. Conversely, others are more open-ended sandbox experiences where player agency comes first. Whether you're looking for a sci-fi epic or a fantasy adventure, you'll find a game on this list that'll suit your tastes.

At TRG, we've played thousands of hours of MMOs, putting us in the best position to help you find your next big game. Whether you're looking for a cooperative PvE experience or a PvP bloodbath, we've collated the very best MMOs to help you find the exact experience you're looking for. Read on for colorful communities, breathtaking worlds, and unforgettable stories.
The best MMO games 2023
Why you can trust TechRadar We spend hours testing every product or service we review, so you can be sure you're buying the best. Find out more about how we test.
Why we love it
World of Warcraft is the forerunner to the modern MMO, artfully combining exploration and accessible quest design. Despite its age, Blizzard's flagship MMO has an enduring appeal, on account of its deep storylines and rewarding endgame content.
Platforms: PC
Payment structure: Free trial up to level 20, then a monthly subscription fee
Easily one of the best MMO games ever made, Blizzard Entertainment's World of Warcraft has been going since around 2004. A cornerstone of the MMO pantheon for nearly two decades now, World of Warcraft is responsible for shaping the modern genre as we know it.
Though World of Warcraft: Shadowlands disappointed fans, the latest offering, World of Warcraft: Dragonflight has been warmly received by players. Aiming to take the game back to its roots, Dragonflight reintroduces old-school talent trees, allowing players to meaningfully customize their builds. The Evoker class has also spiced things up somewhat by adding a more dynamic class to the ensemble. It's well worth a look, be you newbie or veteran, and, with three new expansions on the horizon, it looks like there will be plenty more to enjoy in future.
PlanetSide 2
Three empires strike back
Why we love it
Planetside 2 is a massive battle simulator where armies clash in glorious sci-fi warfare. There's nothing quite like riding out in a troop carrier with 12 buddies as part of a massive ongoing war. Once you drop, battles are fought, territory changes hands and heroes are forged.
Platforms: PS4 and PC
Payment structure: Free-to-play with optional purchases
Planetside 2 is a first-person shooter on a massive scale and is arguably the best MMO game of its kind. If you're not interested in the kind of granular play offered by games like Black Desert Online, then this game's focus on all-out war against other players might appeal to you.
The FPS revolves around three factions in a constant state of war. Players choose their faction and then spend their time attacking and defending bases on a huge map to remain ahead of the competition. One day you could be on the attack, the next you could be desperately defending. Either way, you're always fighting.
These days, there are of course other, more popular options when it comes to free FPS gameplay, such as Destiny 2, but the fact that Planetside 2 is still going strong speaks for itself. It may be old, but the gunplay, action, and community-based conflicts have an enduring appeal that keeps players coming back.
Guild Wars 2
High fantasy, low hassle
Guild Wars 2 is a refreshingly accessible MMO experience, offering plenty of content upfront with no need to put down any cash. Action-oriented combat and heavy use of high-quality voice acting make for a distinctive experience.
Platforms: PC
Payment structure: Free base game, expansions for purchase
Though it's over a decade old, Guild Wars 2 still has some of the strongest combat we've seen amongst the best MMO games so far. Its action-oriented system allows you to customize your build, using different weapon load outs to access varied move sets. The title also rewards players for exploration, bursting with rewards for players who choose to venture off the beaten path.
Guild Wars 2 also boasts a gripping single-player story, full of memorable writing and lovable characters. Thanks to new expansion Secrets of the Obscure, there's never been a better time to give Guild Wars 2, especially since this fresh addition to the game has been built to take the MMO in a bold new direction.
The Lord of the Rings Online
Online to rule them all
Why we love it
The Lord of the Rings Online is a devoted love letter to Tolkien's beloved fantasy universe. The graphics may be dated, but the loving recreation of Middle Earth is a must-see for fans of the epic tale and its iconic characters.
Platforms: PC
Payment structure: Free-to-play, with purchasable DLC and optional subscription
Few fictional worlds in the best MMO games are as suited to the genre as Tolkien's Middle-Earth. Sure, Frodo's adventure was thrilling, but we all know we could have one equally as exciting if we'd only had the chance.
Expect to find the usual World of Warcraft style of questing here, alongside crafting mechanics and even the ability to purchase and set up your own home. Overall, it's a pretty standard MMORPG in terms of mechanics, but its lavish treatment of the setting elevates the experience, making The Lord of the Rings Online one of the best MMO games out there, especially for Tolkien fans.
Though the game is free-to-play, there are expansions available for purchase that add to the game's story and introduce new items and mechanics. It may be long in the tooth, but The Lord of the Rings Online is a love letter to Middle Earth well worth exploring.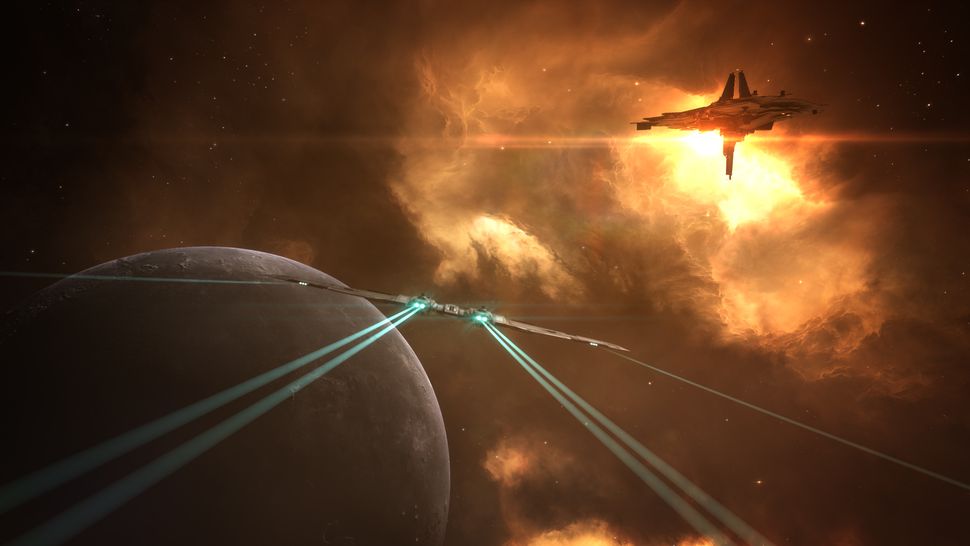 EVE Online
A cruel and beautiful void
Why we love it
EVE Online is a ruthless sandbox where players rise and fall alongside great corporations and empires. In EVE, you pit your wits against thousands of other players. Whether you're a miner, a corporate soldier, or a pirate. For the right sort of player, EVE allows you to write your own sci-fi epic.
Platforms: PC
Payment structure: Free-to-Play or subscription
EVE Online may be complex, but, in terms of providing a realized and persistent player-driven world, it's one of the best MMO games out there.
First and foremost, a sandbox, EVE Online places huge emphasis on player agency. The sci-fi MMO's game world is driven by its player base; a player base capable of dragging out wars and schemes over periods of months with plenty of fighting, smuggling, and sabotage in between. Machiavellian power plays and massive battles between player-owned corporations are just another day of the week for the citizens of New Eden.
Though the game does have a scarily steep learning curve, developer CCP has attempted to make EVE Online slightly more accessible and put together a thorough and helpful tutorial for beginners. Besides, sometimes there's no better lesson than getting something horrifically wrong.
The Elder Scrolls Online
Stop scrolling
Why we love it
The Elder Scrolls Online offers a mind-bogglingly well fleshed out single player experience, worthy of Skyrim or Oblivion in its scale and ambition. However, contrary to its single player cousins, this MMO lets you share those experiences with thousands across the globe.
Platforms: PC, PS4, PS5, Xbox One, Xbox Series X/S
Payment structure: Buy-to-play base game with purchasable optional expansions
The Elder Scrolls Online is one of the best MMO games when it comes to capturing a single-player experience and placing it in a multiplayer context. With The Elder Scrolls 6 still a long way off, The Elder Scrolls Online is your best bet for getting your fill of Bethesda's beloved high-fantasy setting.
Much like Final Fantasy 14, ESO struggled initially but has stabilized in more recent years, offering hours of content for fans across the base game as well as its numerous expansions.
Here you'll find the traditional Elder Scrolls systems and combat, but all neatly tied in with those traditional MMO features like crafting systems, player housing, and plenty of PvE and PvP to boot. ESO is still regularly updated and full of events – the latest expansion Necrom, adds a new class, we well as new companions, locations, and storylines. Themed around the Daedric Prince of Knowledge, Necrom has a lot to offer, especially for fans of the more occult side of The Elder Scrolls.
Why we love it
Runescape is charmingly simple, offering an accessible fantasy sandbox that's ideal for those new to MMOs who might want to see what the genre is capable of. It can also be played on a phone - appealing to those who might lack a dedicated gaming PC.
Platforms: PC, Android, ioS
Payment structure: Free-to-play, optional membership for extra content and mobile access
Like World of Warcraft, Runescape is a must-include in any list of the best MMO games, partly because it's one of the oldest games in the genre still going. Given that Runescape's user base has continued to grow in recent years, it looks like the old warhorse is still very much alive and kicking.
Originally a browser-only game, over the years Runescape has expanded into its own program with vastly improved visuals and mechanics. At its heart, though, it remains a game that's dedicated to giving players freedom in combat and questing across an impressively large, if rather generic, fantasy world. It's perhaps this commitment to this core principle that has kept Runescape one of the most popular and updated games in the MMO genre.
If you want to start playing Runescape, be aware there are now two versions. The modern version, enjoys regular updates, while Old-School Runescape offers an experience reminiscent of the early browser game and reminiscent of World of Warcraft Classic in its nostalgic appeal.
Black Desert Online
Dune it right
Why we love it
MMOs are all about leaving your mark on a world, and Black Desert Online's character creator lets you do just that - offering a jaw-dropping selection of options. Despite the grinding Black Desert Online's open-ended sandbox allows you to take your unique character and blaze your own trail.
Platforms: PC, PS4, Xbox One, Android, ioS (last-gen versions available on current-gen consoles PS5 and Xbox Series X|S)
Payment structure: Buy-to-play with optional in-game purchases
Black Desert Online is possibly the least accessible game on this list. However, for those to whom it appeals, Black Desert Online is one of the best. In the tradition of Korean MMOs, Black Desert Online places a heavy emphasis on grinding, but for anyone looking for in-depth profession and crafting systems, it's a contender for one of the best MMO games out there.
More than many other MMOs, this one will make you feel like you're living a second life in a fantasy world. Once you make your way through Black Desert Online's impressive character creation system, the title will allow you to engage with its systems on your own terms. Want to fish and farm? You can do that. Want to participate in massive guild battles? Also very much an option.
Don't expect a vast story here – this is very much a sandbox game where you craft your own story and adventure. Black Desert Online caters to very specific tastes, but if you enjoy crafting, grinding, and player-driven content, then it may well be the MMO for you.
Final Fantasy 14
A story for the ages
Why we love it
Final Fantasy 14 has one of the best story experiences we've ever seen in an MMO. What's more, you'll get to experience the dramatic tale alongside thousands of others - allowing you all to share in the delicious drama.
Platforms: PC, PS5, PS4
Payment structure: Buy-to-play with a subscription and a free trial up to level 60
Under the stewardship of Square Enix's Creative Business Unit Three, Final Fantasy 14 has risen from the doldrums to become one of the best MMO games on the planet.
With an engrossing storyline that will warm even the hardest heart, Final Fantasy 14 skilfully draws you into the world of Eorzea. However, it's the welcoming community that'll keep you there. Known as 'sprouts', veteran players are incentivized to encourage and mentor Final Fantasy 14's new players, making for a wholesome social dynamic.
Final Fantasy 14 also boasts impressive character customization, as well as the possibility to buy player housing. There are also plenty of Final Fantasy 14 classes to choose from, all drawn from across the series' history. What's more, your hero can freely swap between any classes they've unlocked, removing the need for secondary characters. If you're looking for a great story and a welcoming community, you'd be hard-pressed to do better.
Best MMO games: FAQs
What is considered the best MMO?
Though Final Fantasy 14 is my personal favorite, any of the titles on this list could qualify as the 'best MMO' depending on your tastes and preferences. The best MMO games are exceptionally diverse, offering experiences that vary wildly.
For instance, EVE Online may seriously appeal to someone looking for a granular and unforgiving sandbox game. However, those in search of a more directed story-driven adventure might find themselves more at home with the likes of World of Warcraft or Guild Wars 2.
Is WoW still the best MMO?
Though World of Warcraft still offers a strong experience worthy of our best MMO games list, it is no longer unambiguously the strongest MMO out there. Final Fantasy 14 offers stiff competition in the story department while EVE Online offers a cutthroat sci-fi playground with a unique appeal of its own.
That said, World of Warcraft is still worth a try if you haven't already given it a go. Despite its age, Blizzard Entertainment's MMO juggernaut still has a lot to offer in terms of single-player storytelling and endgame content.
How we made our best MMO games list
Our best MMO games list is the product of thousands of hours of play across a wide range of titles and genres. We wanted our list to reflect the depth and breadth on offer across MMOs of all kinds to make sure that, no matter your own tastes, there's something on our list for you. It was also crucial that we included older titles alongside newer releases to give you as complete a picture of the genre as possible.
Looking for more great titles? Check out our lists of the best Xbox Series X games and the best PS5 games out there.