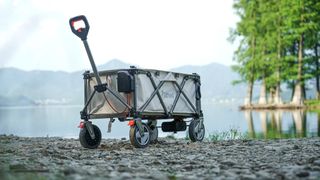 (Image credit: Litheli)
Electric cars aren't the only kind of transport embracing the power of electricity: you can take electric power off-road and indoors too, thanks to Litheli's eWagon W1 Pro and its power partner, the Eclair 1000. The eWagon W1 Pro is the world's first electric utility wagon to be powered by a power bank, and its revolutionary power system has serious stamina for shifting even the heaviest loads and saving your energy.
You'll find the same clever thinking that created the eWagon W1 Pro in the Eclair 1000, Litheli's portable power station. With an 1,800W rated output and the capability of driving appliances with a maximum rated power of 2,200W, a clever and convenient modular design, super-fast charging and very long battery life, it's perfect for camping, daily life and even unexpected emergencies such as power outages.
Revolutionary power for endless adventures
The eWagon W1 Pro may look like an ordinary wagon, but its power is extraordinary. Its UltraSpeed Power System has a 500W motor to effortlessly conquer grasslands, rocky roads and muddy paths, and its detachable U-BATTERY Plus is good for a whopping 3.4km of travel on a single charge. You can also swap another one in to double that distance. With completely controllable speeds of up to 1.3 metres per second and 8-inch multi-terrain wheels, the eWagon W1 Pro adapts to multiple paces or terrains.
That power is completely controllable, and its triple switch system and startup protection give you total peace of mind. And with gentle acceleration and automatic stops your eWagon W1 Pro is safe to use with the family and around pets.
The eWagon W1 Pro's big power is teamed up with equally big capacity. The fold-down tailgate takes the storage space to around 200 litres, so you can keep everything organised without sacrificing convenience. And its easy folding mechanics mean you can say goodbye to trunk space nightmares too. That makes it an ideal companion for every kind of adventure.
Share energy without limits
One of the smartest things about the eWagon W1 Pro is that it is based on Litheli's unique Infinity Power Share (IPS) model. As the eWagon W1 Pro is powered by a power bank, the U-BATTERY Plus, that battery can also power multiple tools such as lawnmowers, leaf blowers, strimmers and more – as well as powering up your tech too, such as phones and laptops. That's a win-win because it's more convenient for you, and because the U-BATTERY Plus charges over USB-C there's no need for an extra charger or cable. That means it saves you money and it reduces energy waste too.
The eWagon W1 Pro's U-BATTERY Plus also works with Litheli's Power Hub Eclair 1000. Together they're ideal for every kind of adventure.
Smarter. Safer. Speedier
The Eclair 1000 portable power station is the perfect combination of power and portability, as a 1069Wh powerhouse, the Eclair 1000 boasts an ideal power capacity that can be fully charged at an industry-leading speed with the support of industry leading BlitzFull charging technology, 921Wh of the Eclair 1000 could goes from zero to full in just 59 minutes! Equally impressive is that it can house and charge 2 detachable 74Wh U-BATTERY Plus units that power the eWagon W1 Pro simultaneously. You can recharge it from a standard electric point, from your vehicle or from solar energy for complete flexibility, and with 1,800W of on-demand output power ( able to drive maximum rated power of 2,200W) it's ideal for going off-grid or dealing with blackouts.
The Eclair 1000 handles high power loads without breaking a sweat, enabling you to poweThe Eclair 1000 handles high power loads without breaking a sweat, enabling you to power even the most demanding appliances, and with 14 interfaces it can recharge your most important devices all at once. Not only that, but it does it quietly: its low-noise fan makes it ideal for delivering outdoor power that you don't need to shout over.
That's not all. The Power Uninterrupted Shield technology in the Eclair 1000 ensures that your devices don't suffer from sudden outages, and the battery is designed to last for a very long time: even after more than 3,000 full charge/discharge cycles, it still retains more than 80% of its original capacity.
The power to do everything everywhere
Whether you're planning epic adventures or need a backup to power your essential appliances during outages, Litheli's industry-leading products deliver all the power you could ever wish for – and because those products are built tough and have serious stamina, you know you can rely on them whether you're going off-grid or powering a party.
Click here to discover how Litheli's eWagon W1 Pro and Eclair 1000 can deliver the ultimate power for everything everywhere.
Sign up to receive daily breaking news, reviews, opinion, analysis, deals and more from the world of tech.