Apple Watch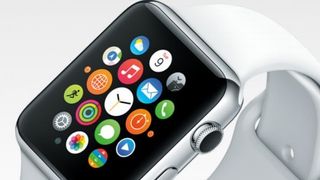 Chalk vs cheese? We can't ignore a comparison with the Apple watch, especially with some retailers dropping the price for the cheapest Sport model to £249/$249. It lasts even less long than the Pebble Time Round, and is both chunkier and heavier, even in its smaller 38mm frame version.
The Apple Watch can do more, and has more big-name apps, but the question of whether it can really do anything extra that's really life-changing is up for debate. It's a clear winner for iPhone owners, though, given the still slightly limited features of Pebble with iOS.
Pebble Time Steel
If you like Pebble's style, this is really the Time Round's biggest rival. It's not as pretty or as light as the Time Round, but the Time Steel is still fairly petite and very comfortable. It also has better app support right now, while lots of apps won't work with the Time Round thanks its round screen.
The real difference is battery life. The Time Steel lasts for up to a week, the Time Round two days. As it costs the same amount as the Time Round, it's the better choice for many.
Moto 360 2
Is Android Wear worth considering over the Pebble Time Round? Well, the top pick Moto 360 2 is a bit more expensive than the Time Round and a lot thicker, but also looks pretty great if you don't mind a more eye-catching look.
However, as with the Apple Watch, battery life is worse. In return you get a more vibrant-feeling apps space, but Wear doesn't actually handle basics such as notifications any better than the Pebble Time Round.
Samsung Gear S2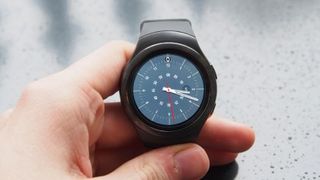 Samsung's latest smartwatch may be a good choice for you if you're not a fan of the Pebble Time Round. The Gear S2 runs on Tizen software and in our review we called it a real rival to Watch OS and Android Wear watches.
It features a rotating bezel that gives it an entirely different design to everything else you can buy right now. There's a round design, which is thicker than the Pebble Time Round but also looks great on your wrist.
If you're after another beautiful round smartwatch, this may be the choice for you. Just be warned about the lack of apps, Tizen is still struggling with that at the moment.
Garmin Vivoactive
If the Vivoactive wasn't a bland-looking block, the Pebble Time Round would be in big trouble. This watch offers full GPS (not dependent on your phone), multi-sport tracking and smartwatch essentials like an app store and notifications. And battery life is streets ahead: three weeks basic use, 10 hours of GPS.
It doesn't handle notifications as well, and earns far fewer smartwatch points. But we wish the Pebble Time Round had some of its chops.