Specs, performance and fitness
Works mostly as a step tracker, rewarding points for steps taken
Won't be perfect if you're looking for a running device
Lacks heart rate tracking tech that many fitness devices offer
The Misfit Shine 2 may be shaped like a watch, but in order to save on battery life there's no screen. It's not completely incapable of providing information though. When you're getting a phone call or a text the Shine 2 will vibrate on your wrist, or you can tap it to see the time.
This is displayed via 12 multicolor LEDs around the edges of the Shine 2, which can also indicate the steps you've taken and any notifications.
This may seem complicated at first, but you'll naturally pick up how to tell the time and how to understand the other things it can display.
Don't expect exact step counts though. You'll be able to track how far towards your target you're getting, but for specific values you'll need to boot up the Misfit app.
For step tracking we found the Misfit Shine 2 to be as accurate as other fitness trackers on the market right now.
Wearing this on the same day as a Fitbit Charge 2 the two devices were only a few hundred steps apart by the end.
This isn't the optimum device to take on a run though - there's no GPS or heart rate monitor here, so if you're looking for a true fitness device there are better options on the market.
Something the Shine 2 does offer though is swim tracking, and it will be able to count laps for either 25 or 50 meter pools. You'll need the Speedo version of the Shine 2 for this to work, but that's the most common version now.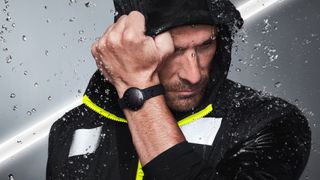 There's also sleep tracking on the Shine 2, if you want to see how well you're sleeping.
We tried this for a few evenings, and its lightweight nature means it's comfortable and easy to fall asleep while wearing the Shine 2. Some trackers can be too bulky and end up being uncomfortable at night.
The fact you don't have to recharge the Shine 2 is also a big bonus, as you won't want to take it off and put it on a pad overnight for a battery top-up.
The sleep tracking on the Shine 2 isn't very in-depth though - it's just to see how restless your nights are. The app will give you a percentage of how close to your eight hour - or whatever number you set - target you got to.
Again, if you're looking for a device to track marathon running all the way down to the exact yard you're on, you don't want a Misfit Shine 2.
This is designed for someone who just wants a gentle nudge to keep moving and get fitter, in a similar way to the Fitbit Flex range.
App and compatibility
Simple to use app, which allows you to take in lots of information
Will work on most mobile phones
Misfit allows you to use two different apps for your Shine 2, which can make things seem a little complicated, and to run them you'll need either iOS 7, Android 4.3 or Windows 8.1 or above.
Any phone you've bought in the last two years should be able to handle this, but it's worth checking the version of the software on your device just to be sure.
This is one of the few fitness trackers you can use with a Windows Phone handset, which is a big selling point if you're using Microsoft's mobile operating system.
The normal Misfit app has a great design that you'll likely enjoy, though it doesn't feel as simple as the Fitbit app and you may need to spend a little while getting used to it.
That's because unlike other fitness apps, this shows your movement in points rather than the steps you've actually taken, as well as detailing the calories burned, distance traveled, the activity you've undertaken and sleep.
Everything is easy to view though, and there are even social features, so you can share a particularly great exercise session with your Facebook or Twitter followers.
Then there's the Misfit Link app, which you can pair with the Shine 2 to control smart devices around your home. It allows you to control your music or even connect the wearable with a Nest thermostat.
It works by having you set up a three-tap function for different things on your phone. For example, we were able to tap the Shine 2 three times to take a selfie, which would be useful for when you want to place your phone far away for a picture.
You can also set it up so the three taps will pause or play your music, but the problem is you can only set up one of these things at a time. It would be useful to have different tap rhythms mean different things, but it's still a nice addition.
It's a shame these features aren't included in the normal Misfit app, but you may find it worth downloading if you want wrist-based control of something.
Battery life
Great battery life ensures you don't have to take off the Shine 2 at night
Replaceable battery, which you should only have to do twice a year
The Misfit Shine 2 isn't just shaped like a watch – it also offers a similar battery life to a normal watch. The Shine 2 will last you at least six months on a single watch battery.
It's powered by a Panasonic CR2032 coin cell, which you'll be able to pick up from most stores or online for around $3/£2/AU$4. Given that you don't have to charge this up, that's a cost worth paying.
Considering the Apple Watch will only last a full day of use, while a Fitbit Charge 2 will only last five days at best, the Shine 2's life is impressive.
It also means you can take a few days off from wearing it and know that when you go to put it back on you'll have charge left over.
We didn't manage to run down the battery on the Shine 2 so we can't give you a full verdict on how long it will last - just know it's going to be a long time.