It's no secret that the modern office is becoming increasingly populated with gadgets and tools aimed at improving connectivity, efficiency and productivity.
But how can you spot the products that will give you that extra boost?
We've rounded up some of these clever extras, from an ultra-secure USB drives, through a tiny docking station, to one of the weirdest gadgets ever to land on Techradar Pro, courtesy of a Kickstarter campaign.
Want to make sure you've also got the best of the basics? Check out: Best gadgets 2018 guide for all the top tech you can buy right now!
A seriously powerful multipurpose battery charger at a price
Hard-wearing design
Huge power capacity
Bulky build
No UK outlet
High price
Omnicharge's Omni Ultimate battery charger is not for everyone. It is big, it is bulky and expensive. Note that the Omni Ultimate has been approved as plane safe - so you can take it with you in the cabin when travelling. You just need a form to fill in for it pre-boarding, which you can get at the airport/gate.
For a growing community of demanding power users though, this battery pack is likely to be an absolute godsend. So much so that an Indiegogo campaign started beginning of October 2018 is likely to raise nearly $1 million from more than 4000 backers, nearly 20x its original flexible goal.
The external battery is built like a tank and is both dust and splash resistant with rubber flaps covering its power outputs. And its list of features is just as impressive: it has a power outlet that can delivery up to 150W DC or 120W AC output, a 40.3Ah/145Whr capacity, a USB Type-C connector that can deliver up 60W power, two USB ports supporting 15W (5V3A) each, a three-hour fast charging (QC3.0-compatible), pass-through charging and a useful OLED display that shows you battery capacity in real time (and to three decimal places).
You can charge it using a solar panel and it is equipped with pass-through charging plus you can even add a spare battery pack. Note that there is a 230V EU version available (but no UK because of the plug size).
With an SRP of $599 though, it will be a tough sell especially when there are cheaper (but less powerful) options around. The MaxOak K2 for example is cheaper and has a higher battery capacity but doesn't have AC output or USB Type-C connectivity. The RavPower AC Power Bank can output to AC but has a battery capacity of only 27Ah.
The Omni Ultimate will be available via Amazon in Q1 2019 (planned for end of January/start of February) in the UK and in the USA. Other territories will follow.
A one-stop solution to solve your multi-PC connectivity issues
Slimline build
Dual PC connectivity
4K support
Easy set up
No standalone HMDI port
As many jobs require more computing power, the need for extra connectivity is also becoming a common demand among workers. StarTech's latest hub allows users to connect two PCs, allowing for multi-hardware and screen access all from a single source. The hub supports two Mini DP PC connections, and resolutions up to 4K AT 60Hz, making this ideal for designers, animators, or other graphics-based roles.
Switching between the two connected PCs is as simple as pushing a button on the front of the hub, and users can also set up hotkeys to make usage even easier. As well as the PC connections, there are three USB 2.0 ports on the front, including a dedicated mouse and keyboard slot that offers plug-and-play support for Windows, Linux and Mac accessories.
The hub is also small and light enough at 845g to be carried around in a laptop case or backpack, making it an ideal partner for those moving around different locations.
An all-in-one work hub that is a must-have for MacBook Pro users.
Slim build
Stylish design
Great connectivity via multiple ports
Quick recharging
Only for USB-C powered devices
Can be scratched easily
Ensuring your device is powered up on the go is a daily worry for many of us, and there's nothing worse than running out of battery at a crucial time. Linedock thinks it has the answer with its slim and stylish power bank to keep your Macbook charged up when you need it the most.
At just 9mm across, the device slips in neatly under your laptop and packs in a massive 20,000mAh rechargeable battery that should keep you powered up on the move.
Linedock has nine ports in all, including three USB-C ports, three USB 3.0 ports equipped with Qualcomm QuickCharge 3, an SD card and a DisplayPort hub, and multiple devices can be connected at once.
But that's not all - as Linedock can also act as a spare SSD for your device, with the option of adding 256GB or 1TB of storage as an extra bonus to make this a true mobile work hub.
Lindeock has been designed for 13in MacBook Pro devices, but the company says that it is compatible with any laptop powered by USB-C, meaning PixelBook owners are in luck. At $299, this is simply a must-have for Mac users that work on the go, offering style, power and flexibility.
A portable, but sometimes tricky smart speakerphone
Stylish portable design
High quality sound
Smart Assistant links
Set up can be tricky
Hard to purchase and quite pricey
With conference calls becoming an increasingly common part of modern business life, the need for reliable hardware to support this is greater than ever. The OfficeCore M2 is the latest release from Chinese firm EMeet, and looks to provide a smart and stylish way to make sure your calls go off without a hitch.
The OfficeCore M2 offers 360-degree voice recognition thanks to a number of embedded microphones, supporting a range of up to 26 feet away, with the company adding that should support calls with up to 12 people without interference. The device can also link to mobile smart assistants to facilitate greater communication, with Siri, Cortana and Google Now all supported via Bluetooth, although our tests found that this was often patchy to set up.
The major selling point of the OfficeCore M2 is its portability. Equipped with a 2500mAh battery that should easily last through even the longest conference calls, the device can quickly be picked up and carried around in a shoulder bag or rucksack. At $189, it's not the cheapest speakerphone on the market today, but if you're in the market for a device that can easily be taken on the go, this could be the one for you.
Slim and lightweight design
Superfast speeds
Easy set-up
Day-long battery life
Fragile build
High price
Staying online when working on the go has become an incredibly important issue for all mobile workers, as an unreliable connection can be a disaster.
Netgear is looking to solve these worries with its new Nighthawk M1 mobile router, which it says is the company's fastest yet. Capable of supporting Gigabit LTE speeds, the Nighthawk M1 uses four-band carrier aggregation and Qualcomm's Snapdragon X16 LTE modem to support mobile downloads of up to 1000MBps, as well as uploads of up to 150MBps. Our time with the device found the actual speeds to be fractionally lower, however streaming and uploading were both fast and reliable, both at home and out and about.
The Nighthawk M1 is slim and lightweight, meaning it can be easily carried around in a rucksack or messenger bag. Netgear says that the battery life of the can last 24 hours, and our tests found it comfortably survived a full working day. Set-up is a quick plug-in process, with no external software needed, and the device can even use its USB connectors to charge your mobile device.
In the UK, the Nighthawk M1 can be purchased from Amazon for £299, or via pay-monthly contract with BT or EE. Both options are fairly pricey, with EE offering the device for £29 a month for 24 months after a £99 upfront payment, but if you're looking for fast and reliable connections, this device is ideal.
A stylish, noise-cancelling addition for when you need some quiet at your desk.
Compact design
Comfortable fit
Good sound quality
Excellent battery life
Patchy Bluetooth connectivity
Offices can often be noisy places to work, so if you are looking to cut yourself off from the world around you, Jabra's latest Bluetooth headset could be the answer.
The Jabra Evolve 75e is the company's latest attempt to help boost the productivity of office workers everywhere with a comfortable headset that offers long battery life and stylish design.
Jabra says that the Evolve 75e are the world's first professional UC-certified wireless earbuds, making the device ideal for carrying out external or conference calls wherever you are without the need for tangled phone wires or complicated UC set-ups.
Set-up is simple, as the headset connects to your smartphone, laptop or desktop via Bluetooth and a USB plug-in. There's no need to download any extra apps or services, meaning you can jump on calls right away. The sound quality was excellent, with the buds cancelling out the noise of an active workplace, and the in-built microphone able to deliver a clear input.
The only issue we had with the Evolve 75e is that Bluetooth connectivity would occasionally drop for no apparent reason, but with the compact design and long battery life (Jabra promises up to 14 hours) provided, this seems like a minor hiccup.
An invaluable tool for small businesses everywhere
Highly portable
Easy to set up
Full mobile integration
Extremely affordable
Possibly too small
As more and more consumers ditch cash for contactless and digital payments, businesses of all sizes also need to adapt. Square has long been one of the most exciting payments companies around today, and has now finally brought its Reader product to the UK for the first time.
The product acts as a mobile POS, allowing customers to quickly pay for their items using a contactless card, mobile or wearable device. Targeted predominatly at small businesses or traders, the Square Reader is slim and compact, easily fitting in the palm of your hand.
The £39 reader weighs in at just 56g, meaning it can be handheld, or tethered to a till or counter using an additional £19 dock, allowing for a truly mobile steup. Anyone signing up to Square's service can get approval to start using the system within the hour, taking much of the headache out of setting up a new payments platform, with Square's own software system offering a POS service as well as in-depth analytics.
The tool seems like an invaluable asset to any small business looking to grow or expand, or any company looking for a more mobile setup. Perhaps our only gripe would be that the device is potentially too compact, and could be lost - but asides from that, a Square Reader could be the key to taking your business to the big time.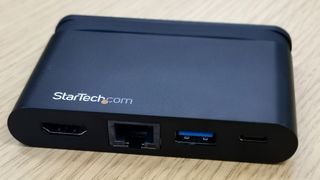 Turn your smartphone into a one-stop work hub
Light and portable build
HMDI connectivity
Easy to plug and play
Feels quite flimsy
High price
Dealing with a number of connectivity options is now an increasing challenge not only for office workers, but also those whose working habits are a bit more flexible. If you're someone who is constantly connecting in different locations, for example hot-desking in multiple offices, then StarTech has you covered. This new mobile hub hooks up to your smartphone or laptop via USB-C, coming with connections ports for USB, HMDI, ethernet and USB-C, meaning you should never be caught short - and it's small and light enough to be carried in your pocket. The HMDI connection supports UHD 4K displays, with the USB-A supporting Fast-Charge technology, meaning you can power both the adaptor and your device in one go.
Tough and portable design
Good download speeds
All-day battery life
Easy set-up
Tricky to track down in the UK
Another option for workers constantly on the go, the TP-Link M4750 offers download speeds of up to 300Mbps, and 50Mbps. That's not enough to reliably stream high-quality media or teleconferencing, but if you need to work on documents or other files, the LTE Cat 6 network connection should be ideal.
Our tests found that the device was reliable in reaching these speeds, even in central London, and more than enough to enjoy reliable connections whilst on the move. The battery life for the device was excellent, lasting a full working day with ease, as TP-Link says that the M4750 can offer up to 15 hours of juice, and recharging the huge 3000mAh battery is also quick and easy using the microUSB port.
The M4750 is also light and portable, being small enough to fit inside a jacket pocket, and its rubber build will help protect from any accidental drops or bumps. Set up is remarkably easy, requiring you to just insert the SIM card and turn on, making this much more straightforward than other similar devices.
The device can also work as a wireless hotspot, supporting up to 32 devices at once, across 2.4GHz and 5GHz networks, meaning you can set up multiple connections around the home, or even in a small office if needs be - although speeds will drop if you do so.
However buying the device in the UK is a bit tricky, as you'll have to go through a reseller to get your hands on one - with prices varying among stores, so stay on the lookout for the best deal.
A stylish and portable way to turn any room into a boardoom - but at a high price.
Highly portable
Quick and easy to set up
Good audio quality and pick-up
High price
Many of us know the pain of conference calls being ruined by poor connection or call quality, and with many businesses today choosing to embrace mobile working ideas and services, the need to stay flexible yet connected is paramount.
Sennheiser is looking to solve these woes with its ultra-mobile TeamConnect Wireless - in essence a portable conference room, which can be packed up and carried around for workers on the go. Made up of four speakers, all carried around in a stylish case which doubles as a charging hub, the system can be connected to any laptop, smart device or VC system via Bluetooth, USB or 3.5mm jack.
Set-up is quick and easy, allowing users to get up and running in a matter of minutes, with Sennheiser saying the kit can support up to 24 participants at once. Our tests showed the audio quality to be very effective, even with multiple participants on different lines, with no connectivity issues.
The ultra-portable design of the TeamConnect Wireless is the major selling point here, as the stylish case is able to charge up the speakers to ensure you're never caught short, and takes up less space than a rucksack.
However this stylish product doesn't come cheap, costing £3,940, meaning it may be out of the price range for some SMBs. For those that can splash out though, this is an eye-catching piece of kit that allows you to stay connected and conversant with your team or customers wherever you are.
A hugely flexible, but slightly bulky, laptop power bank that will keep you online all day.
Huge capacity
Flexible usage
Slimline design
Travel-friendly
Slightly weighty
If you're someone who travels for work a lot, staying powered up on the move may often prove a challenge. Although power banks for mobile devices have been popular for some time, anyone looking for a laptop equivalent could be caught short. However Orico's new SC28 offering provides a huge capacity that should be perfect for staying charged up on a trip. With a capacity of 28,800mAh, the SC28 provides easily enough juice for even the thirstiest laptops, which can be quickly recharged via USB or power socket.
The latter features a number of adaptors for different markets, meaning you should never be caught short, with Orico promising five hours of life for a 13in laptop. The SC28 can charge up to three devices at once, meaning you can power your laptop, phone and router all at once for the ideal mobile working solution. The device itself looks stylish, with a sleek aluminium alloy body that weighs in at just under 1kg, but should still easily slip into a rucksack or laptop bag.