Best business gadgets and accessories of 2023
Best
Contributions from
last updated
Our round-up of the best business productivity tools around.
Upgrade your remote working experience with this compact laptop docking station
Specifications
Ports:
: 4xUSB-A, 2xHDMI, SD card reader, audio jack, Ethernet
Reasons to buy
+
Loads of ports
+
Dual HDMI
+
SD Card Reader
+
Dual fast charging
Reasons to avoid
-
No USB-C data transfer port
-
Massive power brick
Although a thin-and-light laptop can easily be carried around the office, many employees now find themselves working from home where staring at a small screen all day can be tiresome. While you could invest in a desktop computer for your home, a docking station is a much cheaper option that will allow you to use the laptop you already have with a monitor which will give you more screen real estate and hopefully increase your productivity as well.
If you're in the market for an affordable docking station, the VAVA 12-in-1 Dual 4K Docking Station provides you with all the ports you'll need to plug in a mouse, keyboard, external hard drive and more for just $99.99. The company's thin and compact docking station has a long rectangular shape and can easily be put away when not in use or tucked in a bag when you need to get some serious work done while traveling.
VAVA's docking station comes with 12 ports including two USB 2.0 ports, two USB 3.0 ports, two HDMI ports, an Ethernet port capable of reaching speeds up to 1000Mbps, an SD card reader and an audio jack. It's worth noting that the device only really has 11 usable ports as you'll need to use the DC IN port to power the device with the included power brick.
Since the device includes dual HDMI ports, you'll be able to connect two monitors which will certainly make multitasking much easier than it would be on just your laptop's screen. You can either use mirror mode to show your laptop's display on two monitors or you can extend your laptop's screen to both displays at up to 4K at 60Hz. VAVA notes that only the 2019 Macbook and above support 4K at 60Hz and other displays will go down to 4K at 30Hz when using the docking station's dual HDMI ports.
The docking station can also be used to fast charge your devices so they'll be ready to go when you are. A USB-C connector on the left side of the dock can provide 65W fast charging for your laptop while the USB-C PD output port can provide 18W of power to fast charge your smartphone. Transferring data from an external hard drive or flash drive using VAVA's docking station is also quite fast as the device's USB 3.0 ports can reach speeds of up to 5Gbps.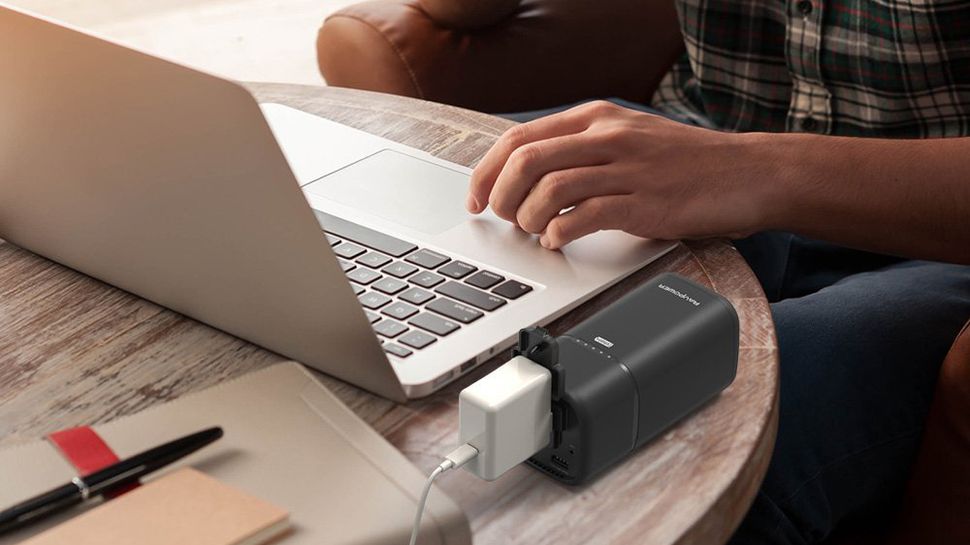 A compact portable laptop charger with a short recharge time
Reasons to buy
+
AC wall socket
+
USB C and USB A ports
+
Carrying case included
Keeping all of your devices topped up and ready to use has certainly gotten easier with the advent of portable power banks. However, what about when you also need to power a laptop, portable monitor or even a small TV when outdoors and away from a power outlet? Thankfully, some manufacturers have begun to add AC outlets to their portable batteries so you can charge or power almost any device regardless of whether it connects via USB or with a plug.
For those looking for a portable laptop charger that won't break the bank, RavPower has you covered. The company's PD Pioneer 20000 costs only $89.99 and can charge all of your devices as it features a USB-C port, a USB-A port and a three-prong AC wall socket. RavPower also makes two different variants of the device depending on whether you need a North American or UK wall socket to charge your laptop or other AC-powered devices.
As its name suggests, the PD Pioneer 20000 contains a 20,000mAh battery capable of delivering 74Wh of power. The device's 30W PD port can fully charge a 2015 Macbook in around two hours while its Quick Charge 3.0 port can deliver up to 18W of power to compatible USB-A devices. The PD Pioneer 20000's AC port can even reach a max AC output of 100W.
If you're getting ready for a trip and just remembered to pack your PD Pioneer 20000, you won't have to wait too long to fully charge the device as it can be recharged in just three hours. While certainly larger than most power banks, the device can easily be slipped into a side pocket of a backpack or messenger bag as it is 2.7 inches wide and 5.8 inches long. However, you won't want to be lugging the PD Pioneer 20000 around for too long as the device weighs 660g.
In addition to one USB-C to USB-C cable, RAVPower also includes a carrying pouch complete with pockets to keep its portable laptop charger safe on the go. It's worth noting that a USB-C adapter isn't included but if you're in the market for a portable battery with a USB-C port, you'll likely still have the one that came with your smartphone or laptop.

Sandberg 20,000mAh Laptop Powerbank
Capable, powerful battery charger
Reasons to buy
+
Charges up very quickly
+
Can charge laptops
Reasons to avoid
-
No support for USB-C laptops
-
Bulkier than most chargers at this capacity
Sandberg's Powerbank is neither the cheapest or the most powerful around. However, it does come with a couple of features that make it a rather enticing option.
It outputs to a number of voltages (12V, 16V, 19V and 20V), automatically choosing the right one depending on the device connected to it.
There are also two USB ports and these are obviously hardwired to output 5V on both. There are also 12 different charge tips but none would fit my Dell XPS 13, and they won't be useful for USB Type-C models like the Dell XPS 13 2016 edition.
There are a couple of things that differentiate this from most of its rivals on the market: it uses a brushed, premium, aluminium finish, with bright blue LED status lights that clearly indicate the amount of juice left or how close the battery is to being charged.
Speaking of charging, Sandberg decided to equip the Powerbank with a dedicated input port which allows the device to be charged in record time thanks to a 36W (18V/2A) power supply unit.
In comparison, the Aukey 30Ah we reviewed recently could only be charged using a 12W USB port which makes charging a lengthy process, often an overnight affair. It also means that you don't rely on your laptop or mobile charger to get the battery replenished.
Sandberg has equipped the Powerbank with an automatic 'switch on and switch off' mechanism to save power. It can deliver up to a total of 85W meaning that it can accommodate a massive 70W on its laptop/DC Out port. Note that the device comes with an industry-leading five-year warranty.

Startech mDP to HDMI adaptor
Great for 4K
Reasons to buy
+
Cheap
+
Works out of the box
Quite a lot of Ultrabooks (and even a fair few graphics cards) now come with Mini DisplayPort connection as standard in lieu of the traditional D-Sub or HDMI ports; which can prove to be a pain if you're planning to deliver a presentation at a client's office and they only have a HDMI projector.
In theory, Mini DisplayPort – which is popular with Apple - has enough bandwidth to drive 4K monitors at 60Hz (HDMI can only do it at 30Hz) which results in a smoother end-user experience. However, today's product doesn't achieve this (it does reach 4K at 30Hz though).
What it does is merely converting the Mini DisplayPort to a HDMI port, all for just over £23 (about $35, AU$45), more specifically from DP m1.2 to HDMI 1.4 without the need for drivers or external power source.
Unlike other passive video adaptors, this one offers active signal conversion which means that it doesn't require a multi-mode DisplayPort source signal (like AMD's Eyefinity) which greatly expands its compatibility option. In addition, mDP supports 5.1 Surround Sound out of the box and is compatible with most Intel Thunderbolt devices. You will still need to have a HDMI cable at the other end though.

Lindy KVM cable
A nifty accessory for Windows and Android users
Reasons to buy
+
Affordable
+
Multi platform
From a distance, it looks like a standard USB cable with a microUSB connector on one end and a bigger-than-average one on the other.
But look closer and you will see that it is a mirroring and KM (keyboard and mouse) sharing accessory. The KMC6105 allows you to view and interact with your Android device regardless of the brand and platform (i.e. tablet, Chromecast, smartphone) as well as sharing your keyboard and mouse.
Perhaps more importantly, it charges your Android device while in use, something that the previous generation model did not offer. Unlike that one, it allows you to use your smartphone as an additional screen. It also offers copy/cut and paste as well as drag and drop across the platform.
You will need to install a small executable file that is located on the device itself. Otherwise it will only behave like a standard (expensive) cable. You will need to enable Developer Options in newer smartphones by clicking seven times on the "build number" menu.
Subsequently, you will need to allow USB debugging which is how the KMC6105 works its magic. The installation process will also download the device's driver where necessary. Note that the device carries a standard two-year warranty and is USB 2.0 only.
The Android OS Mirroring and KM sharing cable is on sale at Lindy for £24.96.

Startech USB Stereo Audio Adapter
Add an SPDIF digital output to your laptop
Reasons to buy
+
Simple to use
+
Two year warranty
Reasons to avoid
-
5.1 surround sound supported by Windows only
Audio has historically never been a forte for laptops and that hasn't changed for Ultrabooks especially for those at the lower end of the spectrum (one might even say that it became worse).
Which is why something like an external sound card comes in quite handy. USB devices in general usually carry a performance penalty mostly because they use the host's processing power.
They also have a small impact on the battery life. However, given how powerful the recent crop of Intel-based processors has been, that shouldn't be an issue.
The ICUSBAUDIOMH External USB Card lets you add an S/PDIF digital audio output or a standard 3.5mm analog audio connection to your system through USB and essentially adds a 5.1 sound card.
The device, which is about the size of a lighter, has two 3.5-inch jacks for headphone and microphone (some Ultrabooks like the Lenovo Yoga 2 Pro only have one port).
Startech's external card comes at the end of a rather long USB cable, uses a Via VT1630A chipset and is capable of sampling audio at up to 96kHz.
Available in black or white, it does support Sony's PlayStation 3 gaming console and comes with a two-year warranty.
This USB Stereo Audio Adapter External Sound Card is available for sale at Startech.

Satechi Slim Aluminum Type-C Multi-Port Adapter
Versatility in your pocket
Specifications
Ports:
: 2xUSB-A, 1xHDMI, 1xUSB-C
Reasons to buy
+
True plug and play
+
Great design
Reasons to avoid
-
No true 4K
-
Aluminium can get scratched
The trend for thinner, lighter and more aesthetically pleasing laptop designs gave us the Apple Macbook, a stunningly beautiful device with only one connector, a lonely USB Type-C port.
There's a plethora of accessories - adapters and docking stations - on the market to solve that problem though, especially as more and more laptops are following Apple's lead and cutting the number of connectors to a minimum.
The Satechi Slim Aluminum Type-C Multi-Port Adapter is one of them. Available in four Apple-friendly colours, this device quadruples the amount of ports of the aforementioned MacBook.
There's a pass-through USB Type-C as well as two USB Type-A ports and an HDMI connector capable of supporting 4K video content, albeit at 30Hz - we'd certainly have preferred a DisplayPort.
Physically, the device is about 105mm long and comes with a 150mm USB Type-C cable. The enclosure is made entirely of aluminium which has a propensity to get scratched and marked when flung around too often.Compared to other products on the market, having a cable is preferable to avoid accidental damage to your laptop's port.
Note that each USB port on the Slim Type-C hub can provide 5V/1A (or 5W) and that Satechi advises that the maximum power load on the hub shouldn't exceed 10W, which excludes using it for heavy duty activities (e.g. charging two tablets).
The product comes with a one-year warranty.

Turn your smartphone into a one-stop work hub
Reasons to buy
+
Light and portable build
+
HMDI connectivity
+
Easy to plug and play
Reasons to avoid
-
Feels quite flimsy
-
High price
Dealing with a number of connectivity options is now an increasing challenge not only for office workers, but also those whose working habits are a bit more flexible. If you're someone who is constantly connecting in different locations, for example hot-desking in multiple offices, then StarTech has you covered. This new mobile hub hooks up to your smartphone or laptop via USB-C, coming with connections ports for USB, HMDI, ethernet and USB-C, meaning you should never be caught short - and it's small and light enough to be carried in your pocket. The HMDI connection supports UHD 4K displays, with the USB-A supporting Fast-Charge technology, meaning you can power both the adaptor and your device in one go.

A decent laptop battery charger in a very crowded market
Reasons to buy
+
High-quality finish
+
LED status light
+
compact design
Reasons to avoid
-
High cost
-
Two ports only
-
Smallish capacity
The Mophie Powerstation USB-C XXL looks like no portable battery we've seen before. It uses a soft fabric finish and while it has some hard edges, it minimizes the risk of getting your items scratched by eliminating pointed corners altogether. At $149.95 though, it will be a tough sell with so many choices out there in the market.
Its relatively low capacity (19,500mAh) will be a concern when competitors routinely offer 30,000mAh or more. That said, Mophie claims that the battery will be able to add up to 14 hours to the battery life of a USB-C Macbook which is no small feat especially as Mophie says that this would be additional video playback time rather than having the laptop just sitting idle.
Apple states that the MacBook has a battery life of up to 10 hours so you'd be more than doubling that. The battery charger also supports Fast Charge and can send 30W of power to any compatible devices. At 390g for a thickness of merely 23mm, it is very portable.
Add in a two year warranty and it looks like a decent deal. Bear in mind though that it has only two ports (one USB Type-C and one USB-A) and that the competition offers more features at less than half the price (albeit without the cachet).
Jackery, for example, offers a 19,200mAh battery with a 45W output that can charge bigger laptops, ditto for the RavPower Turbo series which packs a larger 20100mAh battery. Both have three USB ports and come with a very significant discount compared to the Mophie (up to 67% off).
Note that there is an even bigger (and even more expensive) Mophie 3XL battery that comes with an additional port and a third extra capacity.

A seriously powerful multipurpose battery charger at a price
Reasons to buy
+
Hard-wearing design
+
Huge power capacity
Reasons to avoid
-
Bulky build
-
No UK outlet
-
High price
Omnicharge's Omni Ultimate battery charger is not for everyone. It is big, it is bulky and expensive. Note that the Omni Ultimate has been approved as plane safe - so you can take it with you in the cabin when travelling. You just need a form to fill in for it pre-boarding, which you can get at the airport/gate.
For a growing community of demanding power users though, this battery pack is likely to be an absolute godsend. So much so that an Indiegogo campaign started beginning of October 2018 is likely to raise nearly $1 million from more than 4000 backers, nearly 20x its original flexible goal.
The external battery is built like a tank and is both dust and splash resistant with rubber flaps covering its power outputs. And its list of features is just as impressive: it has a power outlet that can delivery up to 150W DC or 120W AC output, a 40.3Ah/145Whr capacity, a USB Type-C connector that can deliver up 60W power, two USB ports supporting 15W (5V3A) each, a three-hour fast charging (QC3.0-compatible), pass-through charging and a useful OLED display that shows you battery capacity in real time (and to three decimal places).
You can charge it using a solar panel and it is equipped with pass-through charging plus you can even add a spare battery pack. Note that there is a 230V EU version available (but no UK because of the plug size).
With an SRP of $599 though, it will be a tough sell especially when there are cheaper (but less powerful) options around. The MaxOak K2 for example is cheaper and has a higher battery capacity but doesn't have AC output or USB Type-C connectivity. The RavPower AC Power Bank can output to AC but has a battery capacity of only 27Ah.
The Omni Ultimate will be available via Amazon in Q1 2019 (planned for end of January/start of February) in the UK and in the USA. Other territories will follow.

An all-in-one work hub that is a must-have for MacBook Pro users.
Reasons to buy
+
Slim build
+
Stylish design
+
Great connectivity via multiple ports
+
Quick recharging
Reasons to avoid
-
Only for USB-C powered devices
-
Can be scratched easily
Ensuring your device is powered up on the go is a daily worry for many of us, and there's nothing worse than running out of battery at a crucial time. Linedock thinks it has the answer with its slim and stylish power bank to keep your Macbook charged up when you need it the most.
At just 9mm across, the device slips in neatly under your laptop and packs in a massive 20,000mAh rechargeable battery that should keep you powered up on the move.
Linedock has nine ports in all, including three USB-C ports, three USB 3.0 ports equipped with Qualcomm QuickCharge 3, an SD card and a DisplayPort hub, and multiple devices can be connected at once.
But that's not all - as Linedock can also act as a spare SSD for your device, with the option of adding 256GB or 1TB of storage as an extra bonus to make this a true mobile work hub.
Lindeock has been designed for 13in MacBook Pro devices, but the company says that it is compatible with any laptop powered by USB-C, meaning PixelBook owners are in luck. At $299, this is simply a must-have for Mac users that work on the go, offering style, power and flexibility.

An invaluable tool for small businesses everywhere
Reasons to buy
+
Highly portable
+
Easy to set up
+
Full mobile integration
+
Extremely affordable
As more and more consumers ditch cash for contactless and digital payments, businesses of all sizes also need to adapt. Square has long been one of the most exciting payments companies around today, and has now finally brought its Reader product to the UK for the first time.
The product acts as a mobile POS, allowing customers to quickly pay for their items using a contactless card, mobile or wearable device. Targeted predominatly at small businesses or traders, the Square Reader is slim and compact, easily fitting in the palm of your hand.
The £39 reader weighs in at just 56g, meaning it can be handheld, or tethered to a till or counter using an additional £19 dock, allowing for a truly mobile steup. Anyone signing up to Square's service can get approval to start using the system within the hour, taking much of the headache out of setting up a new payments platform, with Square's own software system offering a POS service as well as in-depth analytics.
The tool seems like an invaluable asset to any small business looking to grow or expand, or any company looking for a more mobile setup. Perhaps our only gripe would be that the device is potentially too compact, and could be lost - but asides from that, a Square Reader could be the key to taking your business to the big time.

An elegant docking and charging solution for your Apple notebook
Reasons to buy
+
Surprisingly affordable on preorder
+
Elegant design
Reasons to avoid
-
Cheap, tacky white plastic
-
Cable could be longer
Another Indiegogo/Kickstarter campaign brings us a product range that will put a smile on owners of Apple MacBook and MacBook Pro laptops. The DockCase adapter is essentially a docking station that expands the number of connectors that the aforementioned notebooks offer.
Unlike previous attempts, the designers have opted for a enclosure that wraps around the Apple power supply unit and essentially augments its capacities: think of it as an exoskeleton for the USB-C power adapter. The 30W MacBook adaptor gets a HDMI connector (v2.0, so capable of handling 4K) and a USB 3.0 port, the 61W MacBook Pro 13-inch model gets an additional USB port while the 87W dock for its bigger sibling adds another two.
We had access to one of the first finished units and we're glad to report that, after a few hiccups, it worked as advertised. Check if the Apple power brick is well connected with the product; the light will be lit up once DockCase Adapter is connected to the MBP. Also use the cable in the box, rather than your original cable as the Apple cable for MBP can only transmit power, not data.
We'd love if DockCase's bundle cable could be a tad longer and would wish that Seesaw use a sturdier white plastic case for the dock design. One thing we can't really complain though is how affordable it is, at least during the early bird period.
The MacBook HDMI model costs a mere $40, reaching $47 for the MBP 13 and $52 for the MBP 15 (costs are without shipping) with adding a pair costing $30, $35 and $44 respectively, great if you work at home and in an office.
Are you a pro? Subscribe to our newsletter
Sign up to the TechRadar Pro newsletter to get all the top news, opinion, features and guidance your business needs to succeed!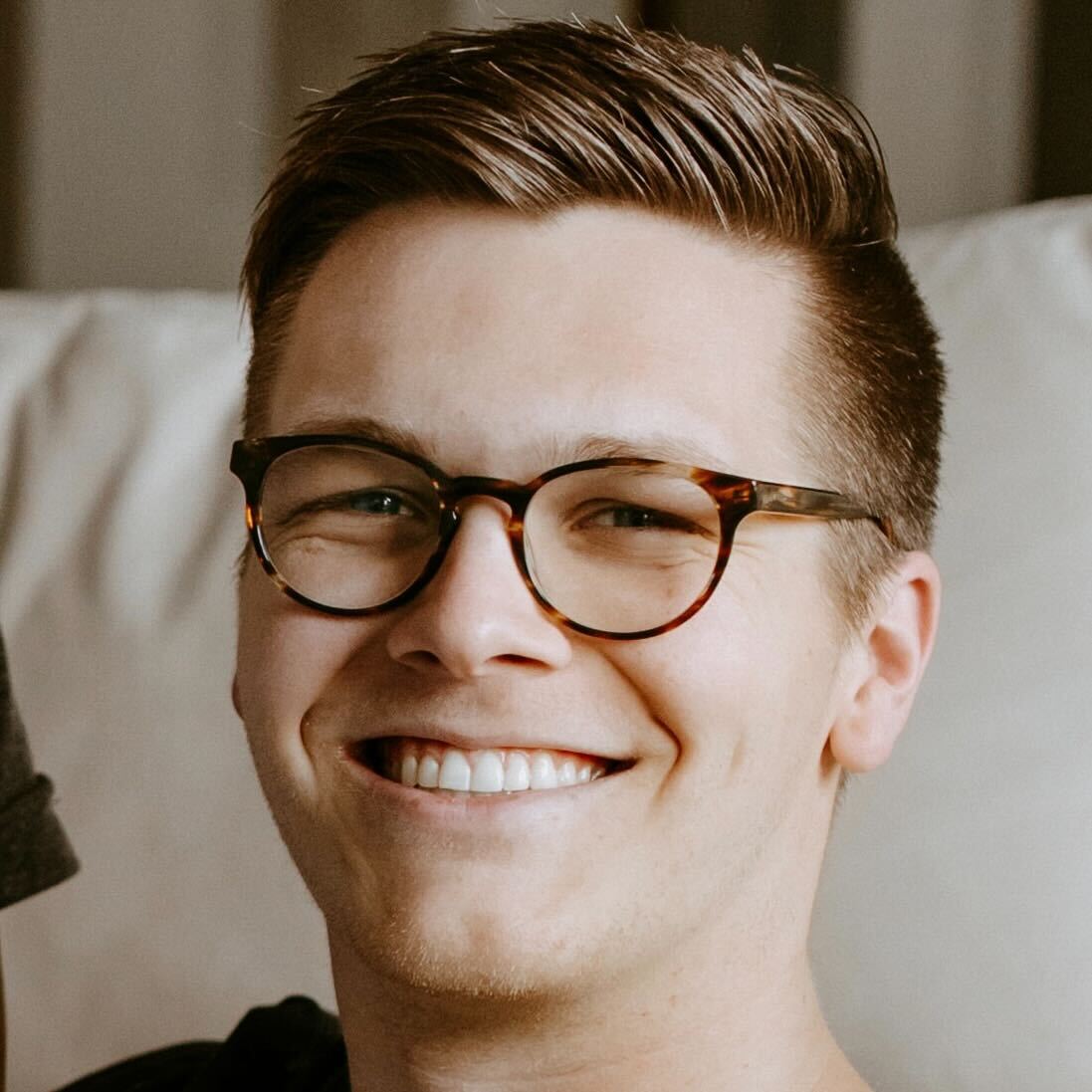 B2B Hardware Editor, TechRadar Pro
Collin is the B2B Hardware Editor for TechRadar Pro. He has been in journalism for years, with experience in small and large markets, including Gearadical, DailyBeast, FutureNet, and more.
Collin is an experienced individual who has an abundance of knowledge when it comes to all things professional hardware. He is the go-to subject matter expert for TechRadar Pro and focuses on standing desks, office chairs, business laptops, "pro" monitors, and other similar topics. With his in-depth understanding of these areas, Collin can provide invaluable insights and advice to readers looking to make informed decisions about their hardware investments.