NewsgroupDirect may be more affordable than other Usenet providers but you may want to consider its sister site Newsdemon instead if you're looking for better retention.
Pros
+

Impressive admin UI

+

Free Ghost Path VPN with subscription

+

Price matching
Cons
-

Block accounts are pricey
Why you can trust TechRadar We spend hours testing every product or service we review, so you can be sure you're buying the best. Find out more about how we test.
Often the search for a specialist Usenet provider will come down to how long it has been serving customers. for After all, some knowledge and specialisation will surely have been built up. NewsgroupDirect has been online for 16 years - does its experience count for anything?
Claiming to be "providing customers with the best Usenet access possible and unmatched customer service," NewsgroupDirect was launched in 2004.
Offering servers in the US and European Union, NewsgroupDirect is the sister site of Newsdemon, which features better retention.
Features
Top features make or break a Usenet provider. NewsgroupDirect boasts "uncapped speeds," "exceptional retention," and "free posting," not to mention the "lowest Usenet prices."
Interestingly, it also offers price matching with competitors, along with "unparalleled security." A VPN, Ghost Path VPN, is included in some NewsgroupDirect plans.
Claiming 115,000 satisfied customers and an 100% uptime, NewsgroupDirect also offers 30 days "risk free" sign up so that you can try the service without committing.
NewsgroupDirect's website also declares "fantastic customer service" however it needs some work.
For example, Usenet server addresses are not provided in the welcome email, account creation email, or even in the account dashboard. Leaving a new user - potentially one new to Usenet - to track down the server address is a striking oversight.
Retention
Signing up to a Usenet provider requires checking various features to ensure you're going to get the level of service and performance that you expect. Speed and security are important, as is retention.
This is the length of time files uploaded to Usenet have been kept on the provider's servers. Some providers - often those operating since the early days of the internet - offer retention going back to the first decade of the 21st century. Others only offer data from the past few years.
NewsgroupDirect offers a retention limit of 3,500 days. To clarify, that means data from 2010 should still be available to search and download. This covers text files in discussion newsgroups as well as uploaded media files (known as "binaries" in Usenet).
Security and privacy
According to the website, NewsgroupDirect offers "Bank grade SSL-encryption." This would imply the standard 256-bit SSL/TLS used by other providers.
Signing up to NewsgroupDirect requires just an email address, although your country and email address are also required. Payment is by credit card, PayPal, or BitPay for anonymity - but if you've already given your approximate address away that seems a bit pointless.
NewsgroupDirect has published a detailed privacy policy that outlines how it uses customer data. It is intentionally vague when it comes to logging activity on its Usenet servers. There is simply no mention of this practice, which would indicate that logs are kept. After all, logless activity is a major selling point.
Further, the section headed "Use of Information" includes this gem: "To enforce our agreements with third parties." That indicates an exchange (potentially sale) of customer data. You can draw your own conclusions about NewsgroupDirect based on that.
On a more positive note, NewsgroupDirect specifically excludes under 18s from its service, and a DMCA/copyright takedown policy is also in operation.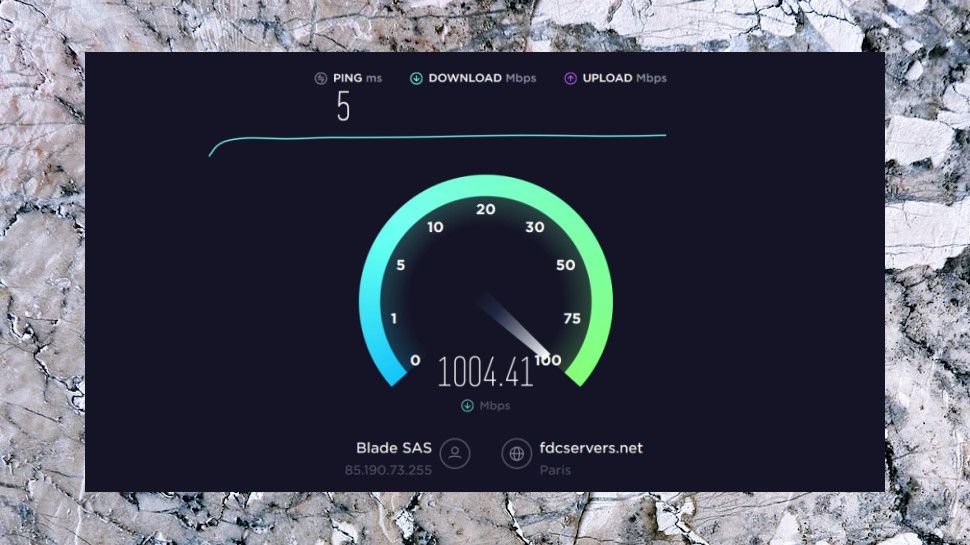 Performance
Eagle eyed readers with experience of Usenet will notice that NewsgroupDirect doesn't list any maximum speeds in its feature list. Speed is a key aspect of Usenet access and often a deal breaker if the service doesn't perform as advertised or fails to even come close to a competitor.
We tested NewsgroupDirect on a domestic internet connection, mid-morning. Using Ookla's Speedtest, the connection was judged to be 44.01Mbps, connected via a VPN in the Netherlands to bypass any ISP traffic shaping.
A 164-day old video binary was chosen, measuring 1.8GB. This took around 90 minutes to download, managing an average rate of 690Kbps, peaking at around 1230Kbps.
Pricing
A combination of standard packages and blocks are available from NewsgroupDirect, aimed at catering to every Usenet need.
All monthly plans offer unlimited usage, 3,500+ days retention, 100 connections, SSL, and Ghost Path VPN. The monthly rate for this is $10 (£7.74 or €8.54) but if you want to pay for six months in advance, the price is $40 (£30.96 or €34.18). NewsgroupDirect also offers a 12-month package, for $75 (£58.06 or €64.08). The savings on offer by buying in advance are considerable. For example, the 12-month package works out at $6.25 a month (£4.84 or €5.34).
In addition, NewsgroupDirect offers a range of blocks. These have a download limit, the same retention and connection limit, and SSL, but don't have Ghost Path VPN, don't expire, and don't have automatic renewal. Pricing depends on the volume of expected downloading. For example, 50GB for $5 (£3.87 or €4.27), all the way through to 2TB for $45 (£34.83 or €38.45).
Final verdict
While affordable, NewsgroupDirect perhaps suffers from comparison with its faster "sister site" Newsdemon. The privacy policy is sadly not clear enough by current standards, but NewsgroupDirect gives you everything you need to take your first steps into the world of Usenet.
Nicholas Fearn is a freelance technology journalist and copywriter from the Welsh valleys. His work has appeared in publications such as the FT, the Independent, the Daily Telegraph, The Next Web, T3, Android Central, Computer Weekly, and many others. He also happens to be a diehard Mariah Carey fan!