Early Verdict
Honor continues to push the boundaries of what a mid-priced phone is capable of with the Honor 10. It has a great design, fast performance and a camera that screams flagship.
Pros
+

Beautiful design

+

High-end performance

+

Very affordable
Why you can trust TechRadar We spend hours testing every product or service we review, so you can be sure you're buying the best. Find out more about how we test.
Although expensive flagship phones will continue to steal the headlines, it's the mainstream segment that's going to be extremely competitive this year.
With the Honor 10, Honor continues the tradition of bringing top hardware and cutting-edge design into an affordable product. But with the likes of the Nokia 7 Plus and the Moto G6, this space is getting harder to compete in.
We received the Honor 10 at our offices a couple of days back and have been testing it out. Powered by the Kirin 970 processor and AI cameras, it's a super beefed up version of the Huawei Nova 3e which isn't surprising considering that Honor is a sub-brand of Huawei.
Honor 10 release date and price
The Honor 10 will be priced around AED 1,699 (around US$460) when it arrives at store shelves on the 22nd of May. The Middle East variant of the phone will come with 4GB RAM and 128GB storage, though different parts of the world may get a 6GB RAM option as well as a 64GB storage option.
Design
Although the Honor 10 looks very similar to the Huawei nove 3e, there are some differences. Immediately noticeable is the ultrasonic fingerprint sensor located on the front of the phone but under the glass panel which gives the front side of Honor 10 a smooth finish.
The phone measures 149.6 x 71.2 mm and is just 7.7 mm thin with a weight of 153 g which makes it very comfortable to use with one hand. It is quite slippery though and prone to fingerprints- pretty much like all other phones with glass backs.
For the past couple of generations, Honor has produced very striking finishes and that continues with the Honor 10 which has a 15-layer process glass. Honor states that the glass back takes as much time in the making as the entire smartphone.
We received the Phantom Blue color for review and depending on which angle you look at it at, it either appears as blue or purple. The effect changes every 5 degrees of tilting the phone. It's a brilliant finish that somewhat resembles previous previous Honor phones but takes it to a new level.
Coming to the ports and connectors, on the left is the dual SIM tray which can accept two nano SIM cards but no expandable storage- we think 128GB should prove to be sufficient. On the right are the volume keys and a power button while at the bottom, you can find the USB Type-C port and, thankfully, a 3.5mm connector.
The Honor 10 supports fast charging with Huawei's standard power charger bundled in the box. Don't expect wireless charging though.
Screen
The Honor 10 joins the notch party and works similar to other EMUI based phones with a notch. That means that you can make the notch disappear from the setting menu and replace it with a black bar with notifications.
Hiding the notch makes the front of the phone appear more symmetric - though we must say that phones do look a bit more futuristic with the notch enabled. Either way, it's a choice that Honor gives you.
The screen technology on the Honor 10 is IPS LCD and it's sized at 5.84 inches with a resolution of 1080 x 2280, which translates to Full HD+. Being an LCD screen, it is a tad bit warmer in colors than OLED screens, however you have an option to adjust color temperatures to you liking. It is bright enough to easily be readable in direct sunlight.
Camera
The Honor 10 has a dual-lens camera setup on the back and powered by AI thanks to the Kirin 970 chipset and an integrated NPU. There is a 16MP RGB sensor paired with a 24MP monochrome sensor which, along with the magic of AI, helps getting good shots even if you're not a very experienced photographer.
We've only tested the camera on the Honor 10 in broad sunlight for this hands-on article but we will add more shots taken in low light to see how this camera fares in more challenging conditions. Expect that in the full review.
Image 1 of 6
The front facing camera is also of 24MP and supports face unlocking, though that feature is very dependent on lighting conditions.
Battery life
We haven't had a lot of time to test the battery on the Honor 10 but what we can say is that it has a capacity of 3,400 mAh which, considering the FHD+ screen should go a long way.
Based on our previous experience, EMUI has generally been very good at power management and the couple of days that we've had the Honor 10, the phone has managed to last us till the end of each day.
Early verdict
For the past few years, Honor has provided its consumers with features you'd only expect on much higher priced phones. The Honor 10 continues down that path with a brilliant design, a powerful processor and a camera that can put some flagships to shame.
We're looking forward to testing it some more but based on our initial tests, it looks like Honor has built another fantastic phone. As long it's priced appropriately, the Honor 10 has the potential to be one of the best mid-ranged phones for this year.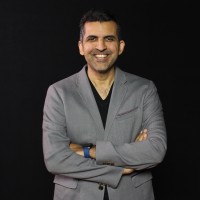 Managing Editor - Middle East
Abbas has been living and breathing tech before phones became smart or clouds started storing data. It all started when he got his very first computer- the Sinclair ZX Spectrum. From computers to mobile phones and watches, Abbas is always interested in tech that is smarter and smaller because he believes that tech shouldn't be something that gets added to your life- it should be a part of your life.
What is a hands on review?
Hands on reviews' are a journalist's first impressions of a piece of kit based on spending some time with it. It may be just a few moments, or a few hours. The important thing is we have been able to play with it ourselves and can give you some sense of what it's like to use, even if it's only an embryonic view. For more information, see TechRadar's Reviews Guarantee.