Building a website can be a daunting task, especially for those with limited technical knowledge. Luckily, there is a solution to make your life easier: the Elementor website builder.
This powerful program allows you to create stunning, professional websites in minutes without any coding experience. It's no wonder why Elementor is one of the best website builder platforms on the market today. Let's explore the tool in detail and review what it has to offer businesses and individuals alike.
What is Elementor website builder?
Elementor is a website builder that allows you to create beautiful websites without any coding knowledge. The website builder has an intuitive drag-and-drop interface that allows you to easily move elements around the page, customize text and images, add new sections or blocks, and more. Plus, with Elementor's vast library of widgets, you can add extra functionality like sliders, Google maps, contact forms, and more with just a few clicks.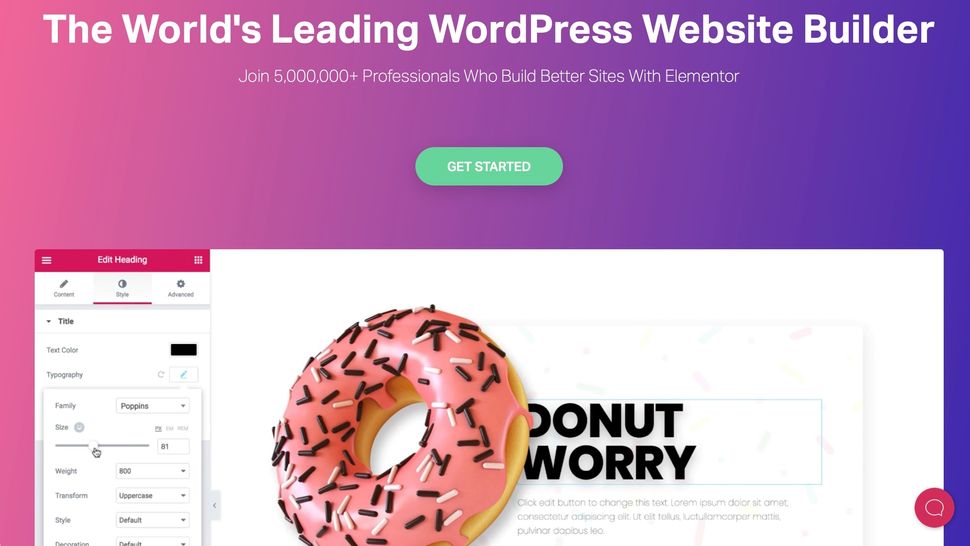 Features
When designing a website, it's important to be able to make changes without worrying about breaking something on your live site. That's why one of my favorite features of Elementor is its staging environment. With the staging environment, you can create and test out new designs without affecting your public-facing site. This feature allowed me to experiment with different designs and made sure everything looks exactly how I wanted it before publishing it on my live site.
Another feature I appreciate is that Elementor offers SSL encryption and CDN hosting from Cloudflare. This means that all of my data is securely encrypted, protecting both me and my visitors from any malicious attacks. Additionally, the CDN hosting ensures that my site loads quickly, no matter where in the world someone is trying to access it from.
Elementor also offers some interesting design features like motion effects and loop builder which allow me to create dynamic graphics that move on the page when viewed. These motion effects help capture people's attention and keep them engaged with my content longer than static images would otherwise allow me to do. Similarly, loop builder enabled me to create seamless loops of video and animation which have helped bring more life and personality into my webpages.
I also love the popup builder feature which allowed me easily create popups whenever needed for promotions or special offers. Additionally, Elementor integrates seamlessly with most popular social media platforms so I can easily add sharing buttons to my pages in order to increase reachability across multiple channels at once. Finally, the payment method integration feature makes accepting payments through Stripe or PayPal fast and easy while Google map integration allows visitors to quickly find directions if they are looking for physical store locations associated with my business.
Elementor tools
One of the first things I loved about Elementor was its excellent collaboration tools. This allowed me to quickly share my work with colleagues, clients, or freelancers so that everyone can stay up-to-date on progress. This feature not only saves time by eliminating the need for manual updates but also keeps all stakeholders informed on any changes that are made. Plus, the collaboration tools are intuitive and easy to use so anyone can contribute.
The landing page builder tool was especially helpful for me because it allowed me to easily create customized landing pages for my products and services without having to learn any coding language. The drag-and-drop editor was simple enough for me to use right away and gave me full control over every aspect of my page design. Plus, the library of pre-made templates provided plenty of ideas on how I could customize my landing page to make it truly unique while still maintaining a professional look and feel.
Another great tool was the form builder which allowed me to collect user data easily using customizable forms like polls, surveys, and contact forms, all without having to write any code.
The drag and drop editor tool allowed me to design web pages with ease and precision within minutes. With just a few clicks, I could add buttons, images, videos, columns & grids, adjust font sizes, choose different colors, add animation effects, insert widgets such as sliders or carousels, customize backgrounds, and create custom menus.
The image carousel tool was another great addition as this helped liven up my web pages with dynamic slideshows featuring multiple images at once. This tool not only adds visual appeal but also allowed me quickly showcase various products/services within seconds instead of long lists that may put off viewers from sticking around longer (which would be bad for SEO).
Is Elementor easy to use?
Elementor truly lives up to its reputation for being one of the most user-friendly website builders available.
The drag-and-drop feature makes it a breeze to create entire pages from scratch with no effort at all - all you have to do is select an element from the left sidebar menu, drag it onto your desired location on the page, customize it as needed then click "publish" when you're done.
You can also quickly edit existing pages by dragging new elements over to them and making changes until they look exactly how you want them to look.
Pricing: Is Elementor good value for money?
The basic plan from Elementor is ideal for those just starting out. It offers all the essential features needed to get your website up and running quickly. With this plan, you'll receive 1 hosted WordPress site with 10 GB of storage, 25K monthly visits, 30 GB/mo bandwidth, 14 days of backups, SSL & CDN from Cloudflare, and 1 premium member support. All this comes at a monthly cost of $9.99.
If you're a business owner looking for more advanced features then the business plan may be right for you. This plan includes everything included in the basic plan plus 20 GB of storage, 50K monthly visits, 50 GB/mo bandwidth, 30 days' backups, staging environment access, and two premium member supports - all for a monthly cost of $19.99.
The Grow plan is priced at $22.99 per month. This plan includes up to three WordPress-hosted websites as well as Elementor Pro website builder features, 25GB storage, 75K monthly visits, 75GB bandwidth, 30 days of backup, SSL & CDN from Cloudflare, premium support with up to four members and a staging environment.
If you need more than the Grow plan offers or if you have higher traffic needs, then the Scale plan may be the better choice for you. The Scale plan is priced at $49.99 per month. This plan includes up to 10 WordPress-hosted websites as well as all of the features included in the grow plan plus 40GB storage, 100K monthly visits, 100GB bandwidth and premium support with up to six members.
Interface
Just like any plugin, Elementor is installed via your WordPress Dashboard. Its interface is clean and easy to figure out. When you create a new page, you're now given the option to "Open with Elementor". The traditional WordPress tools are then replaced by Elementor's.
Front and centre are two main buttons. A dark red + one ('add a new section') and a dark grey folder one ('add a new template').
These pages are made up of sections, within the sections are columns, and inside those columns are widgets.
Elementor has various widgets, elements, and settings to choose from, and you're able to choose between a pre-designed page or start building your own. The drag and drop feature of the interface allows you to choose what you want from the left column, then drag over to any section on your web page.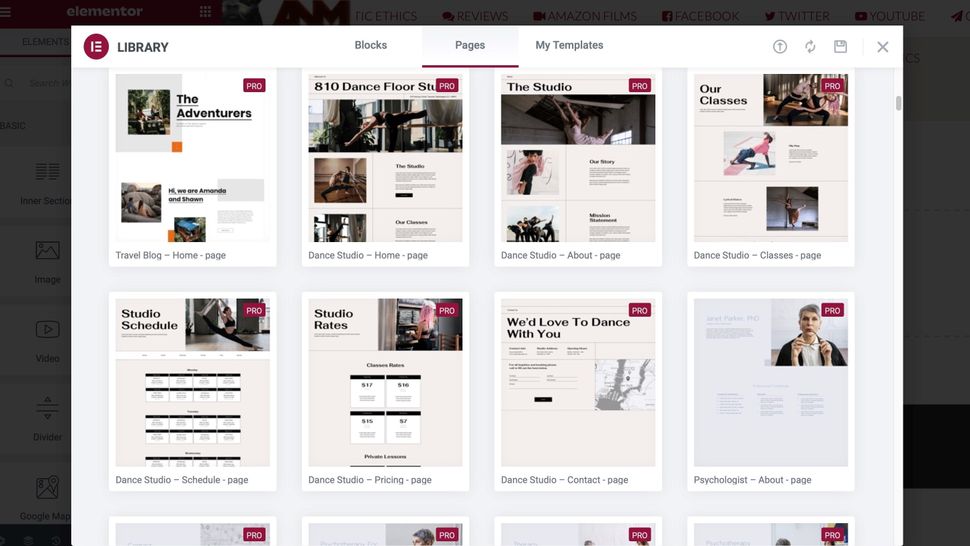 Do note that you can't access any of Elementor's templates, be they for pages or blocks, without setting up an account with them first. However this process is free and easy: all they need from you is your email address and a password.
The number of tools at your disposal is quite impressive, from the basics like alignment, to more advances features such as motion effects, and responsive rules. You can design some truly unique pages.
Elementor comes with over 150 pre-designed SEO friendly pages, which can be extremely helpful if you're looking for a style that's quick, professional, and already put together. 40 of these are available in the free version, but they're not so easy to find as they're interspersed throughout the list. You can't really miss the ones that need to be paid for, as they have a 'Pro' label top right of their thumbnail, but you have no alternative but to scroll through the list to locate the free ones.
It's clearer with the widgets: only the Basic 10 are free. As you'd expect, the more interesting ones, such as Accordion, Social Icons, and Menu Anchor, are located in the Pro section, and need a yearly plan to be used.
Regarding templates, it's also possible to upload some from third party clients to use in Elementor, giving you even more variety if you're looking for a specific design, but want to use the platform's drag and drop features.
As you build your page, you'll notice how useful this drag and drop capability is: want to move a section, column or widget around? Just drag it to its new location. It's really that simple. Column widths can be altered by dragging them. It's all very intuitive, and it's not hard to achieve pixel-level precision.
Security
A Secure Sockets Layer (SSL) certificate is an essential component of any secure website. It is a digital certificate that encrypts the data sent between your server and browser, ensuring that any information entered on your site remains confidential. The Elementor website builder includes an SSL certificate so you can rest knowing that your website is fully protected and secure.
Another important feature of Elementor's website builder is malware scanning. Malware refers to malicious software programs such as viruses, worms, Trojans, or ransomware which can be used to gain access to sensitive information or damage a computer system.
The Elementor website builder provides real-time scanning for malware threats to prevent malicious attacks before they happen. In addition to the immediate protection offered by its scanning service, it also provides a detailed report after every scan along with recommendations on how to address any potential threats found on your site.
Customer support
If you're an Elementor Pro user, you have access to 24/7 premium support via forms and tickets from a team of experts who are ready to answer any questions or address any issues.
The Elementor help center provides a wealth of information about using the website builder. This includes extensive documentation that covers topics such as design fundamentals, tips on getting started with Elementor, how-to articles and tutorials, and more - which we found useful when creating our test site.
In addition to Pro support and help center resources, there's also an active community of web creators where you can connect with each other to share tips, ask questions, find inspiration, and get answers from experienced professionals.
The competition
Weebly is an all-in-one website builder that makes it easy for anyone to create a professional website without the need for coding or design skills. It features drag-and-drop functionality that allows users to customize their websites with ease, and also includes access to hundreds of free themes and templates.
Squarespace is another popular website building platform that offers users drag-and-drop customization options. It provides an easy way for people with little or no coding experience to create beautiful websites with ease. Squarespace also provides access to hundreds of free templates and themes, and has an impressive array of ecommerce features that make it easy for businesses to set up online stores.
Wix is one of the most popular website building platforms on the market today with over 110 million users worldwide. It offers an intuitive drag-and-drop interface that makes customizing your site easy, as well as access to hundreds of free templates and themes. Wix also includes powerful ecommerce features, such as payment integration and invoicing capabilities, so businesses can easily set up online stores on their sites.
Is Elementor the right website builder for you?
Elementor is one of the highest-rated website building platforms available, and it's easy to see why. With its helpful front-end page builder, live editor, and wide variety of pre-designed templates, Elementor is a helpful tool for creating your own professional website. The front-end builder approach makes it easy to see the changes you're making to your website as you edit, rather than blindly working your way through WordPress and hoping for the best, making even the free option an ideal partner for anyone looking to build a site.