Why you can trust TechRadar We spend hours testing every product or service we review, so you can be sure you're buying the best. Find out more about how we test.
Usage and performance
Many laptop makers are offering machines with the slower Core i5-8250U that runs at 1.6GHz, but less have the Core i5-8350U (1.7GHz) used in this machine.
That's only 100MHz quicker, or 200MHz with Turbo, but this machine performs much better in many respects. It breezes through most office tasks, and the SATA SSD allows the laptop to wake rapidly from sleep and be ready to do something immediately.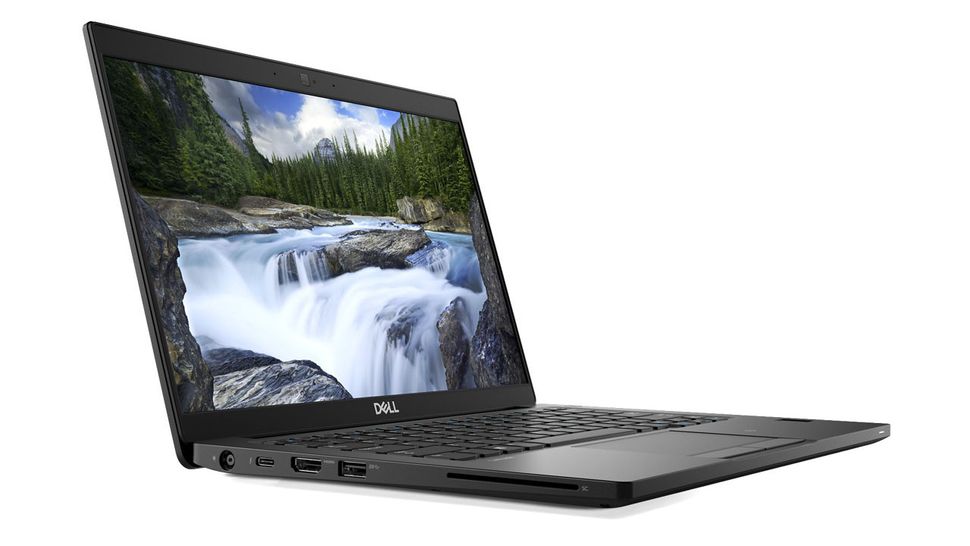 The only place this device doesn't shine is when doing 3D graphics work, because the UHD Graphics 620 GPU is something of a slug at that job.
Benchmarks
Here's how the Dell Latitude 7490 performed in our suite of benchmark tests:
Passmark: 2,967
Passmark CPU: 8,819
CPU-Z: 399.7 (single-thread); 2060.4 (multi-thread)
Geekbench: 4,259 (single-core); 13,327 (multi-core); 18,035 (compute)
Cinebench: OpenGL: 46.48 fps; CPU: 627
CrystalDiskMark: 556.8MBps (read); 364.8MBps (write)
Novabench: 1363
Atto: 563MBps (read, 256mb); 507MBps (write, 256mb)
Sisoft Sandra (KPT): 8.4
Windows Experience Index: Did not run
UserBenchmark (higher is better): 71
Combining the Thunderbolt and HDMI ports, it is possible to drive three displays simultaneously with this GPU. Just don't expect much to happen rapidly on all of them if you do this, as only one will be GPU accelerated.
Without a discrete GPU this hardware isn't of interest to a designer or gamer, but for general business use, it is an excellent workhorse.
The benchmark scores reveal that there is only one part holding back this Dell notebook, and that's the SATA-based SSD. Compared with a machine using a conventional hard drive it is flying, but any drive-related scores could be improved by using an NVMe solution.
Dell used an Intel 545s M.2 SATA drive in the review hardware, and on paper, it looks fine. But in some of our writing tests, it didn't perform that well, and the IOPS it delivers don't compare favorably with those you'd get from a Corsair or Western Digital.
The CPU-related tasks all hit great numbers, and not far from what the Core i7-8550U-based machines are capable of. As they share an identical Intel UHD Graphics 620 GPU, the results for anything graphical are almost the same.
That's the other weakness of this design, but it shares this limitation with every Intel 8th-gen machine of whatever specification.
Using a Datacolor Spyder5 calibrator, we analyzed the screen and found that it could display 99% of the sRGB gamut and 75% of AdobeRGB. Those are good numbers for a portable device, even if they're not high enough for professional color work.
Battery life
Portable computers are often defined by their power resources and management. And the battery tests we did on the Latitude 7490 underlined what an efficient and streamlined package it is where power is concerned.
Using the PCMark08 Work test, we ran the machine at maximum speed for 7 hours 51 minutes, and configured for longevity, the laptop managed an impressive 10 hours 51 minutes.
What substantially helps this model is the 60WHr battery with a whopping 7500mAh, at least 20% more capacity than most competitive products offer. With this capacity, running all day including additional time on a commute is both realistic and practical.
There is only one aspect of the machine that we don't care for, and that's the Dell proprietary PSU. It might have a nice glowing end so that you can find it in the darkest hotel room, but this machine has a USB Type-C port, and a Type-C charger would have been ideal.
A peek inside
We can't resist opening up machines, even if the makers occasionally aren't keen.
Inside the 7490 is a very refined space with almost no room for anything extra, except an unused DDR SODIMM module slot, and a PCIe slot for the optional LTE modem.
There isn't room for a conventional 2.5-inch SATA device, though the M.2 slot will take a bigger module, and it is also compatible with NVMe PCIe M.2 drives.
For those who want to go inside the laptop, removing the base is a very straightforward exercise that only requires the undoing of eight screws. A nice touch is that the plastic base panel retains the screws, so you can't misplace them once the cover is taken off.
Final verdict
There is so much to like in the Latitude 7490, despite it being a very derivative design from what came before. The new Intel silicon performs admirably, and this Dell machine has enough battery longevity so it won't disappoint those who like to work on the move.
In short, the Latitude 7490 ticks more boxes than we have the right to expect at this price.
Mark is an expert on 3D printers, drones and phones. He also covers storage, including SSDs, NAS drives and portable hard drives. He started writing in 1986 and has contributed to MicroMart, PC Format, 3D World, among others.