Beelink SER6 Pro 7735HS: 30-second review
Beelink SER6 Pro 7735HS Specs
Here is the Beelink SER6 Pro 7735HS configuration sent to TechRadar for review:
CPU: AMD Ryzen 7735HS (8 cores, 16 threads)
Graphics: AMD Radeon 680M
RAM: 32 DDR5 RAM (Expandable to 64GB)
Storage: 512 GB PCIe Gen 4 NVMe SSD
Ports: 1x USB 4.0 Type-C, 3x USB 3.2 Gen 2 Type-A, 1x USB 2.0, 2x HDMI 2.1, 1x universal audio jack
Networking: Intel i226V 10/100/1000/2500 Mbps RJ45 Ethernet, Intel Wi-Fi 6E AX2111, Bluetooth v5.2
Size: 126 x 113 x 42 mm (W x D x H)
OS installed: Licensed Windows 11 Pro.
Accessories: Adapter19V/6.32A
In a previous review, we said that the Intel NUC 13 Pro would be the mini PC that would be the judge of others released in 2023. But within weeks, the Beelink SER6 Pro 7735HS appears, using the latest AMD Ryzen technology, and promptly dethrones it.
The AMD Ryzen 7000 series processor in this tiny computer has eight cores and can process sixteen threads, making it one of the most powerful small system platforms we've seen so far.
When that's combined with 32GB (or even 64GB) of DDR5-4800, a Gen 4 NVMe drive and a chipset that includes Thunderbolt, a 2.5GbE LAN port and Intel Wi-Fi 6E AX2111, then expect a very positive user experience.
This diminutive powerhouse can drive three displays, offers plenty of USB 3.2 Gen 2 ports, is almost silent while running and crushes our range of benchmarks delivering some results that would make full desktop systems blush.
It's not perfect, and those wrinkles are covered in our full review, but overall this is the NUC that Intel needed to better and didn't.
The asking price is not especially cheap. But it's still $300 less than the highest specification Intel NUC Pro 13, representing good value for money.
Beelink SER6 Pro 7735HS: Price and availability
How much does it cost? From $520
When is it out? It is starting to be available now
Where can you get it? Direct from Beelink and also through online retailers
The official price of the Beelink SER6 Pro 7735HS is $799 (£679), but we found it on Amazon.com for just $519.20.
When you consider the processor, RAM and storage in this single SKU, that is an amazing deal and easily worth the asking price.
Personally, we'd invest in more NVMe storage, but budgeting for that still won't make this system approach the price of an Intel NUC 13 Pro.
For those that want a small system with punch, the low cost is extremely tempting.
Beelink SER6 Pro 7735HS: Design
Evolution from previous SER designs
Upgradeable
Poor Thunderbolt placement
There is only a single SKU of the Beelink SER6 Pro 7735HS, so the review hardware will probably be identical to that anyone ordering this system would receive.
The enclosure used in this NUC is very similar to others we've seen from Beelink, specifically the Beelink SEi12.
It features a very similar fabric lid, port layout and the same airflow that sees air drawn through grills on the side and ejected over the I/O area on the back.
There are good things here, but also some other aspects that make little sense.
Internal access is achieved by removing four small screws from the underside and lifting away the metal base plate from the chassis.
Unfortunately, removing that plate doesn't give you access to the NVMe drive or RAM slots. These are further hidden beneath a plastic cradle designed to take a 2.5-inch SATA HDD or SSD.
We wouldn't recommend you install that drive, as it will restrict the airflow from the fan mounted on that cradle that cools the mainboard below it.
Another three screws will release the cradle, although you must detach the fan connector from the mainboard to get it entirely out of the way.
Underneath is a mainboard with a single 2280 NVMe drive on one end and dual DDR5 SODIMM slots on the other. In the review hardware, these memory slots had two 16GB Crucial DDR5-4800 modules installed. These can be replaced, allowing up to 64GB of RAM on this platform.
The NVMe didn't look branded and had a large pink thermal transfer sticker on it. We've no idea why this thermal transfer sticker was on it. Because the only thing in contact with it is the 2.5-inch drive tray, and that's made of plastic, a poor heat conductor. Maybe in a previous incarnation of this and the Beelink SEi12 designs, the cradle was metal, and this was a logical design, but now it isn't.
The final feature that we're going to question is the placement of the single Thunderbolt 4 port, which is on the front of the machine.
If you have an external Thunderbolt SSD, then this might be the perfect place for it. However, this machine would work very nicely with a Thunderbolt docking station, and for that connection, it would have been better placed on the rear. Many people who use Thunderbolt have a docking station, as it reduces the cable clutter to the computer, but evidently, Beelink didn't consider that.
We've pointed out the things that we think are wrong here, though so much of this machine is excellent, and in the section on features, we'll cover all the places Beelink made better choices.
Intel NUC 13 Pro: Features
Powerful CPU with eight cores
Improved GPU
Power efficiency
The new AMD Ryzen 7735HS CPU is the star of this show and demonstrates just how competitive AMD has become across the wider spectrum of mobile X86 processors.
Designed for laptop use, the Ryzen 7735HS has a power TPD of between 25W and 54W, and was fabricated by TSMC using its 6nm FinFET process.
AMD designed the 7735HS as a Zen 3 architecture CPU with eight cores and 16 threads with a base clock of 3.2GHz and a maximum boost clock of 4.75GHz.
This silicon doesn't use the split performance and efficiency core model that Intel has moved, so all eight cores can run at whatever speed they are capable until the chip reaches its thermal throttling limits at 95C.
Alongside this impressive computing platform, the integrated GPU has also had a notable boost, with the inclusion of an AMD Radeon 680M. This graphics engine has 12 compute units (equalling 768 shaders) and a clock speed of 2200 MHz.
The 680M is the GPU that AMD should be putting in all its mobile processors since it puts the Intel Iris Xe to the sword.
However, this processor and GPU combination can pull more power than cheaper NUC models using the Intel N95 or Celeron N5105, and some might consider less than ideal for those operating on battery power due to those potential power demands.
The 54W cap of this platform is a rough limit, and in normal use, it typically uses much less power. The 6nm fabrication of this chip makes it much more efficient than the older 10nm Intel processor, and when you factor in the likely power demands made by any monitor, the SER6 Pro won't be the biggest user of power.
Intel NUC 13 Pro: Performance
Rapid at multithreaded tasks
Best Integrated GPU
Office workhorse
Benchmarks
Here's how the Beelink SER6 Pro 7735HS scored in our suite of benchmark tests:
3DMark Wild Life: 15435; Fire Strike: 6344; Time Spy: 2692;
Cinebench R23 CPU pts: 1541 (single-core); 11451 (multi-core)
GeekBench 5: 1567 (single-core); 9477 (multi-core), 31122 (OpenCL)
CrystalDiskMark: Sequential Read: 3652MB/s; Sequential Write: 2353 MB/s
PCMark 10 (Office Test): 6818
Windows Experience Index: 8.2
Having just covered the Intel NUC 13 Pro, we were surprised how little time at the top of the NUC performance hill that machine got before this came along and kicked it off.
The tests the Intel chip did well are the Cinebench 23 scores and the GeekBench single and multithread benches, where the AMD Ryzen 7735HS smashed all the 3DMark tests, the GeekBench OpenCL, and PCMark10 Work 3.0 test.
That might seem a reasonable balance, but when the Intel CoreT i7-1360P won, and it's a 12-core CPU, its margin of victory was generally small. When the Ryzen 7000 won, it was by a much larger margin.
For example, the Intel winning Cinebench 23 Multicore test was 11951, but the AMD Ryzen score was just 11451, or 95%. But the GeekBench OpenCL scores were 31,122 for AMD against only 19,160 for Intel. That's just 62% of the AMD score.
One place Intel won handsomely is that they put in a decent Gen 4 NVMe drive superior to the OEM device that Beelink installed. And, because of that device, they bettered the Windows Experience Index score by 0.1.
Had Beelink used a better NVMe drive, it would probably have won the Windows Experience Index result, and its winning margin in the PCMark Office test would have been even greater.
Overall, even if it has four fewer CPU cores, the performance of the AMD Ryzen 7735HS is better than the Intel CoreT i7-1360P used in the NUC 13 Pro in the majority of tests.
And, given the price differential, it's also better value.
We have only a few significant complaints about the Beelink SER6 Pro 7735HS, and neither is a showstopper.
The way the internals are designed makes upgrading a bit annoying, although many will never venture inside, and those that do will probably only do this once.
An encouragement for the upgrade is the slow OEM NVMe that Beelink gave this machine, which isn't big enough for fast enough given the performance possible with this hardware.
We recommend budgeting for at least 1TB Gen 4 NVMe and swapping out the 512GB pre-installed from the outset.
Once over that hurdle, this is an excellent NUC design that shows how mature the AMD mobile Ryzen platform has become and the raw power it can unleash when not limited by the battery consumption of a laptop.
The Beelink SER6 Pro 7735HS is one of the few NUC designs that makes gaming a realistic possibility, and it's exciting to consider what it might inspire the next generation of these devices to offer in competition with it.
Beelink SER6 Pro 7735HS: Report card
Swipe to scroll horizontally
| | | |
| --- | --- | --- |
| Value | When compared with the Intel NUC 13 Pro, the Beelink SER6 Pro 7735HS looks increasingly like a bargain | 4 / 5 |
| Design | A design that carried some mistakes from previous Beelink models, but not a disaster. | 4 / 5 |
| Features | Powerful and power efficient. Truly a desktop replacement in a tiny box. And, it comes with Thunderbolt and 2.5GbE LAN. | 4 / 5 |
| Performance | An absolute powerhouse that even tops the latest Intel mobile chips when it comes to OpenCL. The AMD 680M is the integrated AMD GPU that many wanted. | 4 / 5 |
| Total | Even budgeting to to replace the NVMe drive, this is still a very cost-effective solution for those that want a high-performance NUC. | 4 / 5 |
Should you buy a Beelink SER6 Pro 7735HS?
Buy it if...
You want an ultimate performance NUC
This machine is at the very top of the NUC food chain and substantially better than all the Intel 12th Gen or AMD Ryzen 5000 machines. Except for card slots, the Beelink SER6 Pro 7735HS has everything needed for desktop computing.
Graphics is a requirement
The AMD 680M in this NUC is easily one the better integrated graphics engines we've seen so far, and can even handle some 1080p gaming without turning detail settings down.
Without using a discrete Geforce or AMD RTX GPU, and those don't generally fit in a NUC, it doesn't get any better than this.
Don't buy it if...
You have a tight budget
Cheaper NUCs than this are available if you are willing to reduce your expectations. It is possible to spend $160 and get a working machine, but it won't run like this one does and handle the processing or graphical tasks similarly to the SER6 Pro.
You insist on Intel
Some businesses insist on Intel, mostly for historical reasons, and this NUC uses an AMD platform. If you must have Intel, then this isn't for you, although Beelink makes other NUC using silicon supplied by that brand that you might want to consider.
Also consider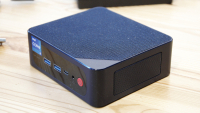 Beelink SEi12
Built on the 12th Gen Core i5-1235U, this machine has Iris Xe Graphics, a M.2 Gen 4 slot and dual HDMI. It's a good platform and much cheaper than the SER6 Pro. If you don't need the very best performance, this is an excellent alternative.
Check out our Beelink SEi12 review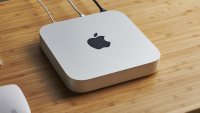 Apple Mac Mini M1 (2020)
For those that like Apple products, the Mac Mini M1 is effectively the only choice in its mini PC category. At nearly $700, you pay for that privilege, as expected. This machine can't be upgraded, and a replacement was due this year but has so far failed to materialise.
Read our full Apple Mac Mini M1 (2020) review