Intel NUC 13 Pro: 30-second review
Intel NUC 13 Pro Specs
Here is the Intel NUC 13 Pro configuration sent to TechRadar for review:
CPU: Core i7-1360P (12 Cores, 16 Threads, 18MB Cache, up to 5 GHz)
Graphics: Intel Iris Xe Graphics (96EU)
RAM: 32GB DDR4 RAM (Expandable to 64GB)
Storage: 512 GB PCIe Gen 4 NVMe SSD
Ports: 2x Thunderbolt 4 (USB 4.0 Type-C), 3x USB 3.2 Gen 1 Type-A, 2x USB 2.0, 2x HDMI 2.1, 1x universal audio jack, Intel i226V 10/100/1000/2500 Mbps RJ45 Ethernet port
Connectivity: Intel® Wi-Fi 6E AX2111 + Bluetooth v5.2
Size: 126 x 113 x 42 mm (W x D x H)
OS installed: Licensed Windows 11 Pro.
Accessories: Adapter12V/3A, VESA mounting plate
The Intel NUC, or Next Unit of Computing, was first revealed in 2012, and the first generation was available to purchase in 2013.
That we've reached the 13th generation in just ten years is testimony to the very rapid development cycle of these devices. But also the effort that Intel has made to keep them concurrent with the latest mobile silicon and other technologies.
Our review here is for a NUC 13 Pro sporting a Core i7-1360P "Arena Canyon" processor, 32GB of DDR4 and an NVMe drive. Intel makes these machines in an extensive range of processor options and as barebones solutions with no RAM or storage included.
In addition to the packaged kits, the motherboards are also sold by Intel for those wanting to use them in a bespoke NUC enclosure.
The lowest cost options for the NUC 13 Pro start with an Intel i3-1315U processor, and the very highest is the i7-1370P vPro chip, with various i3, i5, i5 vPro and i7 SKUs between these bookends.
Whatever the processing power you choose, all machines have dual Thunderbolt 4 ports, space for up to 64GB of DDR4 memory and an M.2 NVMe Gen 4 SSD slot.
They also come in a "Slim" case or a slightly larger 'Tall' enclosure with enough room for a 2.5-inch HD or SSD inside.
What Intel is selling here is the repackaged internals of a high-end laptop, minus the keyboard, screen and battery. It is possible to mount these on the back of a display and make a highly portable ad hoc all-in-one that's punchy enough for the most demanding office use.
In the coming months, other Mini PC makers will offer the same chip platform in branded enclosures, probably cheaper than Intel, but this hardware defines the standards by which all those will be judged.
Intel NUC 13 Pro: Price and availability
How much does it cost? From $340 to $1080
When is it out? It is starting to be available now
Where can you get it? A limited selection of specialist retailers, expanding to more online retailers by June 2023.
The price of a NUC 13 Pro is directly related to the processor option, with the cheapest being the Core-i3 models and the most expensive being the Core-i7 vPro derivatives.
It's worth budgeting that these costs do not include either RAM, M.2 NVMe storage, or an operating system. Once these items are factored in, the complete cost of the deployable solution would be in the $500-$1500 range, depending on how much memory and storage you decide to use.
A ballpark figure for the review hardware is around $700, with 32GB of DDR4-3200 and 512GB of Gen 4 NVMe storage, adding approximately $100 to the cost of the barebones system.
Obviously, you will also need a display, keyboard and mouse if you don't already have those items.
The bigger issue about the NUC 13 Pro is availability. At the time of writing, a few specialist retailers have the product, but it's on backorder for most. Intel has promised to open up the number of outlets to include the more prominent online retailers in June, and it should appear on Amazon and NewEgg by then.
Intel NUC 13 Pro: Design
NUC sized system
Effective cooling
Easy to upgrade
The review hardware provided by Intel was the NUC13ANKi7 SKU in the 'Slim' enclosure, and while it wasn't included with ours, the retail version comes with a VESA bracket to attach it to the rear of a monitor.
The enclosure isn't very different from the NUC 12 or 11, using grills on the side to source fresh air that, after heating internally, is ejected through a series of slots along the top rear edge.
On the front are two USB ports alongside the headphone jack and the power button, and all the other ports are located on the back. As you can see, that can make the rear of the NUC busy once you've connected it to a monitor, LAN, and various USB/Thunderbolt peripherals.
One oddity is that having given this design Thunderbolt, Intel chose not to use a USB-C power supply, but instead, it uses a proprietary barrel connector on the PSU.
The only other noticeable external feature is that the left side has a security slot, something that might be a good plan to use, considering how easily pocketable this computer is.
Accessing the inside is very straightforward. The top pops off if you pull it, although other than the top side of the cooling system, there is little to see there.
More useful is the underside, which can quickly be removed with four screws that go through the rubber feet mounted at each corner.
With this panel removed, all of the upgrade possibilities come into view, with a 22x80 M.2 NVMe slot for PCIe Gen 4 modules, dual DDR4-3200 SODIMMs, and an M.2 22x42 key B slot for PCIe x1 Gen3 modules. There is also a header for SATA, but in the Slim enclosure, there isn't any feasible place to put that drive.
None of this is a radical departure from what we've seen in previous NUCs from Intel. The major differences are the new silicon that replaces the 12th Gen chips from the previous model with more impressive 13th Gen alternatives.
That said, if you want a high-quality NUC, the Intel NUC 13 Pro combines the latest technology with a tried and tested enclosure right now.
Intel NUC 13 Pro: Features
Powerful CPU with ten cores
Improved GPU
Excellent connectivity
We previously noted how much better the 12th Gen parts in the previous NUC generation were dramatically improved over the decidedly lack-lustre 11th Gen silicon in both single-thread and multi-threading processes.
The new 13th Gen chip used in the NUC 13 Pro is another step up, but possibly not at significant as the previous uplift.
Our review machine came with a Core i7-1360P, a twelve-core design with four performance and eight efficiency cores. The performance cores on this chip support hyperthreading, enabling it to process 16 threads simultaneously.
This silicon is a natural development of the 12th Gen silicon seen in the Core i5-1235U, and this architecture is ideal for high performance when needed and the good thermal management required for enclosures this small.
The part of this technology that hasn't seen any enhancement is the GPU, as this chip still uses the Iris Xe with 96 Execution Units.
It should be noted that some of the Core-i3 processors available in this product line come with much older UHD Graphics, while the Core-i5 and Core -i5 vPro come with an 80 Execution Unit Iris Xe GPU. All the Core-i7 chips have the 96EU GPU, which is as good as it gets on this platform.
Much is made in the Intel promotional material of how with dual HDMI 2.1 and dual Thunderbolt ports (via DisplayPort 2.1), it is possible to connect four monitors to these machines. But being more realistic, the Iris Xe, even with 96EU, doesn't have the performance to drive four 4K monitors for video playback or 3D rendering.
While fine for web work and some basic video editing, these devices don't have much gaming potential, and there is no room inside for discrete GPU technology.
The strength of the NUC 13 Pro over previous hardware is the connectivity included, which makes it ideal for those that need to move data around, need an ad hoc mini server, or have externally connected storage to manage.
The dual Thunderbolt ports allow for fast external SSD drives, which are well augmented with USB 3.2 Gen 2 that allows for 1,000MB/s transfers.
For those working with NAS machines, the 2.5GbE LAN could be remarkably useful, and the inbuilt WiFi 6E provides a good alternative if that infrastructure isn't available.
This NUC, combined with a Thunderbolt or USB docking station, could have many ports and peripherals hanging off it, and only a couple of cables are needed at the NUC end.
The only trick Intel missed was to not have the NUC be powered by Thunderbolt.
Intel NUC 13 Pro: Performance
Big performance boost multithreaded
A better GPU than UHD on most models
Gen 4 NVMe drive
Benchmarks
Here's how the Intel NUC 13 Pro scored in our suite of benchmark tests:
3DMark Wild Life:13658; Fire Strike: 5174; Time Spy: 1969;
Cinebench R23 CPU pts: 1969 (single-core); 11951 (multi-core)
GeekBench 5: 1860 (single-core); 10519 (multi-core), 19610 (OpenCL)
CrystalDiskMark: Sequential Read: 6826MB/s; Sequential Write: 4847 MB/s
PCMark 10 (Office Test): 6247
Windows Experience Index: 8.3
The benchmarks of this machine are a slightly curious mix of truly amazing numbers and others that are only modestly better than we've seen from NUCs that use Gen 11, Gen 12 and AMD Ryzen 5 silicon.
For example, the Core i7-1195G7 in the GEEKOM Mini IT 11, an 11th Gen part managed a score of 11630 using the same GPU in 3DMark Wild Life, and the 13th Gen part in this machine scored 13658, or just 17% better.
The limiting factor in that bench is the GPU, with both machines having the same Iris Xe (96EU), and processing power have only a minor influence on the maximum performance.
However, to show the full potential of the newer chip needs something like the CineBench multithread test. The score of 11951 overshadows the 4616 achieved by the Core i7-1195G7 by almost a factor of three.
Another major win for this platform is the performance of the PCIe M.2 slot, as it is Gen 4. When used with a suitable Gen 4 drive, as the Samsung module supplied in the review hardware, a performance of 7000MB/s reading and 5000MB/s write isn't unrealistic, almost double what a PCIe 3.0 NVMe drive can shift.
Testing reveals, unsurprisingly, that the latest 13th Gen silicon is significantly better than what came before. Still, how much those improvements impact you will depend on the types of computing you do.
Those that don't multitask and have multiple applications running simultaneously or working with large data sets won't see the advantages of these chips over previous designs, but those that do will.
As we've come to expect, the Intel NUC is often the best option for those wanting the latest technology unless the price is a significant factor in the purchasing decision.
Cost probably isn't a critical consideration if you're buying in small numbers, but for an operation looking to deploy dozens of these in an embedded solution, older Intel NUCs or those made by Beelink, Geekom or Zotac might offer significant savings over the latest and greatest direct from Intel.
Until those new 13th Gen options appear, Intel will have a short period of exclusivity, and for those wanting the very latest, there aren't any alternatives yet.
The double-edged sword for Intel of its release is that perfectly serviceable 11th and 12 Gen Intel NUCs could be experiencing price reductions that might make them more affordable for those that don't need the latest technology.
Intel NUC 13 Pro: Report card
Swipe to scroll horizontally
| | | |
| --- | --- | --- |
| Value | When you buy RAM and storage, this NUC can become expensive, but it is not excessively priced for the technology inside. | 4 / 5 |
| Design | Like many shark species, the NUC may have reached an evolutionary plateau. But why change what works well? | 4 / 5 |
| Features | 13th Gen mobile CPU with Iris Xe graphics, plenty of memory, and Gen 4 NVMe storage makes for an effective team. | 4 / 5 |
| Performance | Faster than 12th Gen, but only those that use multitasking or work their storage hard will notice the difference. | 4 / 5 |
| Total | A classic NUC design with the best Intel mobile chips they've made for some time. | 4 / 5 |
Should you buy a Intel NUC 13 Pro?
Buy it if...
You want 13th Gen silicon
This machine uses the latest Intel chips, even if the user experience isn't that different from 12th Gen machines for most users.
Silence is golden
The power efficiency of this platform makes the NUC 13 Pro very quiet and ideal for a working environment where hearing calls might be important.
Greater than Office app performance is needed
While it is still sporting the same Iris Xe GPU as the previous generation, it offers more power for intensive apps and a Gen 4 PCIe M.2 slot that can potentially double drive performance. Those wanting desktop-level performance in a NUC package need to look no further.
Don't buy it if...
You have a tight budget
As with everything new from Intel, the NUC 13 Pro, especially with the review hardware processor, isn't a bargain. There are cheaper options from other brands and previous Intel NUC generations if all you need is a very small computer.
You need a discrete GPU
The limitation of a NUC enclosure is that there is no PCIe slot or room to mount a video card. If you want to game or work on CAD, then this machine, or any other NUC, isn't for you.
You want to game on this PC
As much as the Iris Xe is a giant leap over the UHD integrated graphics, this machine still isn't good for gaming. The demands of modern game titles and the resolutions they are often best at don't fit well with the capabilities of this system.
Also consider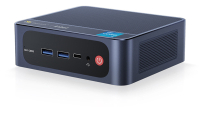 Beelink SEi11 Pro
A similar platform to the SEi12, the SEi11 Pro uses the Core i5-11320H processor, reducing the cost to less than $330.
Check out our Beelink SEi11 Pro review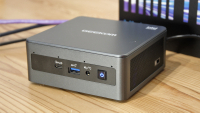 GEEKCOM Mini IT 11
A NUC built around the 11th Gen Core i7-1195G7 processor that offers plenty of great features for around $590, but that price does include RAM and storage. Depending on what the job is, the Mini IT 11 can easily be more than enough computer for the task.
Check out our GEEKCOM Mini IT 11 review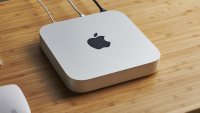 Apple Mac Mini M1 (2020)
For those that like Apple products, the Mac Mini M1 is effectively the only choice in its mini PC category. At nearly $700, you pay for that privilege, as expected. This machine can't be upgraded, and a replacement was due this year but has so far failed to materialise.
Read our full Apple Mac Mini M1 (2020) review